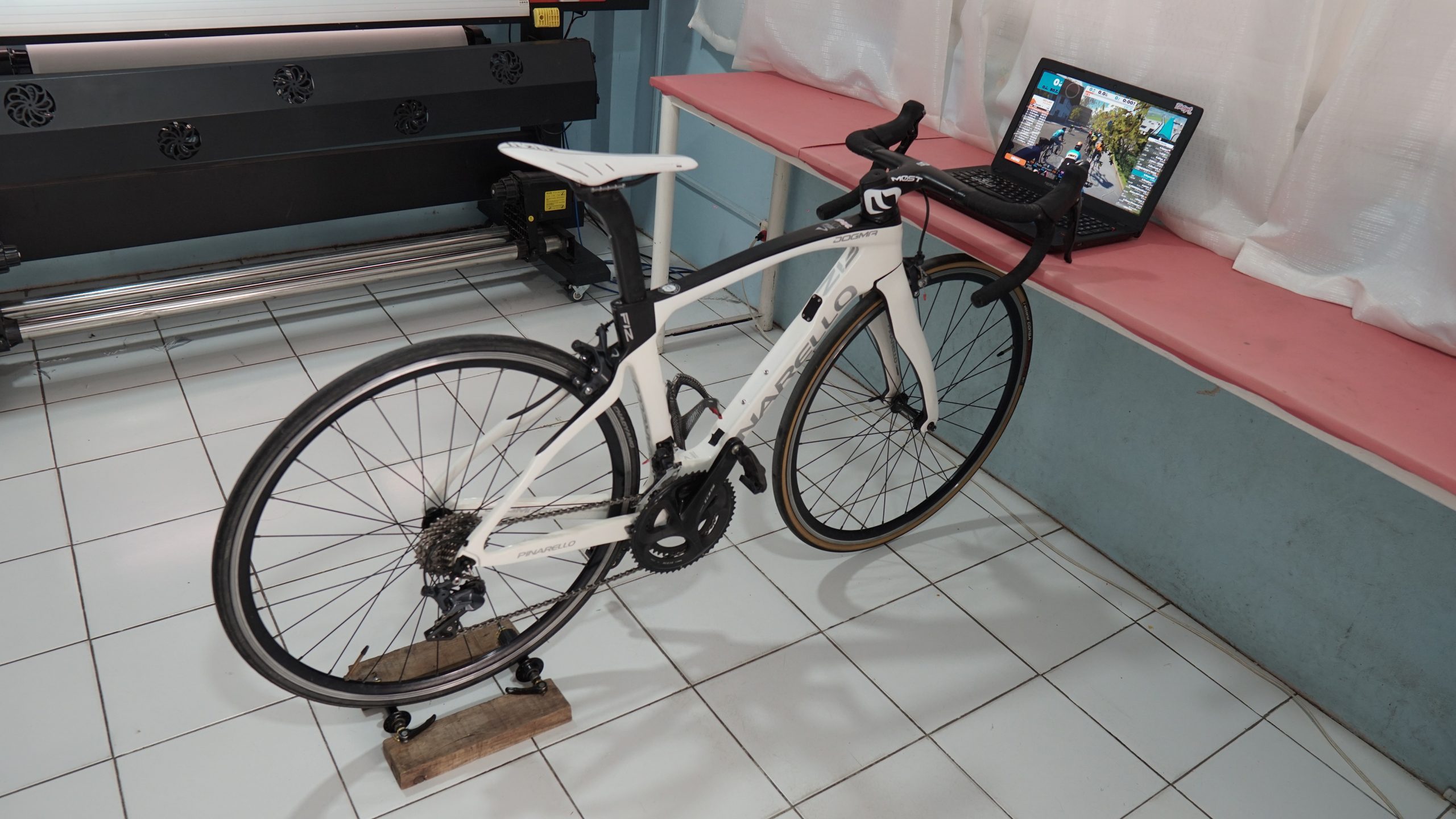 With the onset of the Covid-19 Pandemic, it's no question why indoor bike trainers are one of the hottest commodities for cyclists and multisport athletes.
Zwift is currently the de-facto app of choice of everyone when it comes to training and riding indoors. How to use it? You have several options which also depends on how high your budget is.
Here are the things needed to ride on Zwift:
1. $14.99 a month cost of Zwift Membership
2. Your own bike.
3. Heart rate monitor (optional).
4. Your choice of smart or dumb bike trainer.
5. Speed & Cadence sensors (if you're not using a smart trainer).
After you nail that, riding becomes more fun if you have the proper gear for it. Fans, cycling shoes, pedals, and cleats, bib shorts, base layers, etc.
The grand total? Excluding the bike, it can range from 15k to as high as 80k! What if you can race on Zwift for as little as 10k or even less? That's what we found out when we chatted with Raymond Lopez who created this pretty neat Zwift setup. The fun part? It works! Read on!
SBR.ph: Hi Raymond! We saw your post on Facebook and got intrigued! Can you tell us more about it? 
Raymond: Hello sir. I'm glad you've noticed it.
SBR.ph: What materials did you use for the build?
Raymond: Materials used for this are:
1. A pair of spare hubs
2. Spare wood (10 inches) – 2 pieces
3. Metal piece from a simple door lock – 4 pieces
Build time: 30 mins approx.
Tools needed: Screwdriver
Apparently, Zwift requires Bluetooth/Ant+ sensors to work and I'm fortunate enough to have myself a Crank based PowerMeter and a ChestStrap HeartRate Meter. For those who don't have a PowerMeter a Bluetooth/Ant+ enabled Speed sensor comes in handy which allows an estimated Power Output to be calculated within Zwift.
In addition, the hubs' bearings can be tightened to produce resistance against the wheel. This allowed proper training and not just spinning. One thing to note is the loud noise produced from the fast-spinning hubs especially when hammering 400-600 Watts. This, I managed to lessen just by filling the hubs' bearings with lots of grease.
SBR.ph:  Awesome! Can you tell us a short backgrounder about yourself? 
Raymond: I'm 22 years old and from San Fernando City, La Union. From a young age, I've been an avid cycling fanatic having followed local cycling races and the Tour de France from newspapers. But it would take me almost 10 years of being a BMX rider before I had my first proper Road Bike. Since then, I ventured to places I've never been such as the whole of the Cordillera Region. I love climbing. The mountains and all its views simply never fail to fascinate me. I'm able to do such week-long rides since I'm currently a Freelance 3D Animator/Artist. It's up to me if I want to spend my time working or riding bikes.
Obviously, I choose the latter the most. With the world's current situation, I now spend most of my time sewing cloth masks and PPEs together with my girlfriend and some friends which will then be given for FREE to our brave frontliners.
I also have an active YouTube Channel and Facebook Page (Bike NgaRoad) where I share my riding experiences.
SBR.ph: We'll post the link to your channels at the bottom of this page! How would this compare to the ordinary dumb wheel on trainers?
Raymond: In comparison to dumb trainers I think the experience is essentially the same. Since there is no resistance being controlled by Zwift during virtual climbs you have to settle on doing it manually through shifting of gears. The good thing is, I am utilizing a PowerMeter(bought for 8k pesos from Lazada) which is commonly found on costly Smart Trainers. The advantages of having a PowerMeter is astronomical compared to only doing spinning sessions on a dumb trainer/rollers. With it, I can maximize all the features Zwift has to offer such as Structured Training Workouts and Pacing during group rides to name a few.
SBR.ph: What power meter did you use? Have you compared its readout to other power meters?
Raymond: It's an XCadey 2XPower crank-based power meter. Haven't compared it yet to other power meters but based on its specs it has a -/+ 2% accuracy.
SBR.ph: The most important question of all. How much is the total estimated cost?
Raymond: I honestly didn't spend anything on it. But the door lock costs about 60 pesos each. And for the hubs you can buy cheap ones for only 300-450 pesos pair. You may use just about any 2×2 wood.
SBR.ph: Well damn! Imagine others are spending 80k or more.
Raymond: If I have that kind of money I'd be buying one too 🤣
SBR.ph: Thanks, Raymond! (please follow and subscribe to his channels. – CDG).
Youtube: https://www.youtube.com/channel/UCEIc_F11yovxHpXcNu9AMUw
Facebook: https://www.facebook.com/Bike-NgaRoad-107714724201457/
Strava: https://www.strava.com/athletes/23496109
Comments
comments