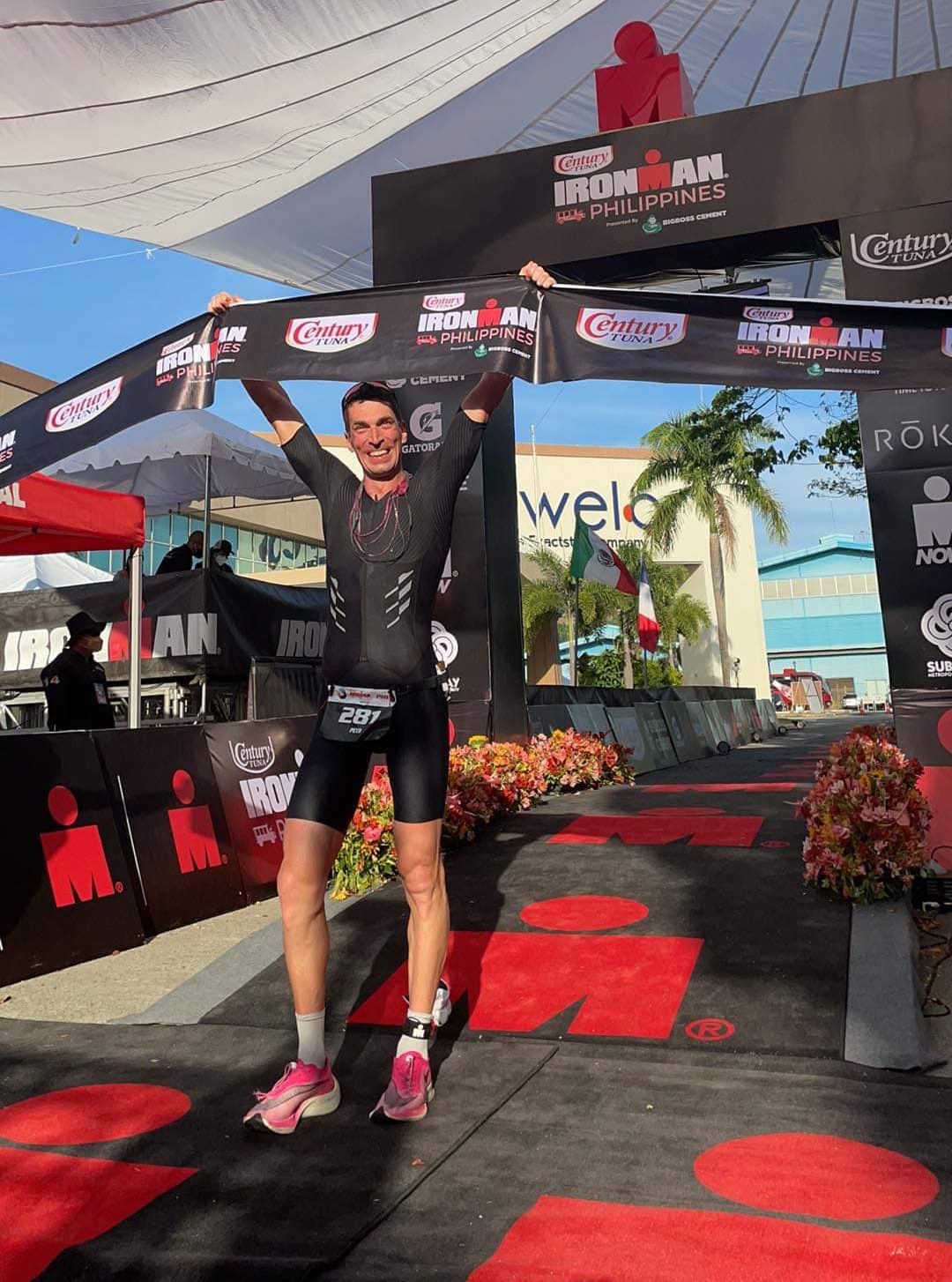 While most athletes of the Century Tuna IRONMAN Philippines 2022 were still either finishing the bike leg or starting their run, Petr was already done with the Century Tuna IRONMAN Philippines 2022. He finished in 9:52:34; the only sub 10 finish of the race. We took the opportunity to have a short chit-chat with the first triathlete to cross an IRONMAN finish line in Asia after a 2 year break. Enjoy!
(Images via: Century Tuna IRONMAN Philippines / Princess Galura)
SBR.ph: Congratulations on the awesome race, Petr! Easy work?
Petr: Uff. This was harder than any other ironman…
SBR.ph: Can you tell us more about your race. How was it? What was your race strategy (and nutrition!)? I'm sure a lot of triathletes would like to know what it takes to race at your level.
Petr: Swim – nice venue at the boardwalk – no chop, very little current. I was starting in the first wave and soon we had a nice little group of 4. We soon caught up to the back of 70.3 field that started ahead of us. Ronald Molit swam strong and was first out of the water in the first loop, I just kept my pace as I knew it will be very long day. Swam the first loop sub 30 minutes. I was a bit surprised I was able to catch up with Ronald right at the beginning of the second loop and led the big part of it. I was second – third out of the water.
T1 – I take it easy in T1. I like to put my socks on already, then replenish the carbs with two gels and some sodium tablets. I was leaving t1 in the 4th place.
Bike – I knew it will be hard because of the scorching sun and wind. My target was to keep power between 210 and 230w but also not to spike my heart rate as we discussed with my coach when we talked a race plan. Before we started to climb towards tipo I was already at the first place. Unfortunately I dropped my salt tabs around the tunnel before tipo toll gate so had to change my nutrition strategy. I planned to use only maurten 320 and gels but since maurten has little sodium I went to another bottle of GU Roctane that has higher sodium content. I was able to hold my power steady throughout the bike. In the aid stations I grabbed a bottle of water – first to flush a gel I take always before aid station and second to pour it over me – I cannot stress enough how important it is to keep core temperature in reasonable level. The 4 loops bike course provided plenty of chances to observe the gaps and I was happy to see I was building a solid lead over Jet Ramos and Mervin Santiago. Last part – climb back to Tipo and then downhill towards Subic were quite challenging – the heat was peaking and the fatigue was building.
T2 – very long run towards my bike place, quick change to running shoes, another sodium tabs and off I went.
Run – if bike was hot, run was killer. The heat radiating from the ground, little wind and no shade. I knew I have to take it steady and watch my HR not to spike – very difficult given the hard course with lots of climbing. On each aid station I would take gatorade and coke, and pour all over myself iced cold water. In second loop my sodium levels went down and I started to feel dizzy, luckily had extra salt tabs in special gear bag so replenished. I was able to see that my lead is building up and noticed that Luigi Robles was running stro g and quickly making up for the gap he had after bike on the guys running ahead of him. In the third lap I estimated my lead to be around 30 minutes. Last couple of kilometers were fantastic – all people cheering me on, lead bike, several motorbikes…I guess that is how the pros are feeling when finishing run in Kona. :-) I was so hypnotized by it that I barely remember last two kilometers. Before I knew it I was in the finish line. Absolutely happy. Exhausted, tired but happy! Soon after I was able to meet my wife and our young daughter so we could celebrate together. We will go to Kona in October:-)
SBR.ph: Kona it is! Thanks for the time and congratulations again, Petr! Anyone you wanna thank or give a shoutout to?
Petr: My biggest thanks go to my wife Kaye – who is supporting me in triathlon and taking care of our little baby Elle (not only when I train). Also I would not achieve this without my coach, Jim Lubinski, from Tower 26 (tower26.com) – his workouts, plan and ability to motivate me to give my best during all workouts are essential to my performance.
Big thanks go to team Fitness First and its partners supporting us with best equipment- my Trek Speed Concept bike (Dans Jami Ramirez) with all the upgrades (ceramicspeed pulley, bearings etc.).
Big thank you to Princess and Sunrise events for hosting such a wonderful event. Those were long and challenging two years but the guys came back even better than before. This was a top notch event! Congrats to them and I can't wait to race again (Cebu?).
Comments
comments