Meet the Fabulous Barefoot Diva: From Runner to Triathlete
Fabulous Barefoot Diva, a runner turned multisport athlete, shared her journey in an exclusive interview with SBR.ph. She started running in 2009 and gradually built up to becoming a marathoner before joining ultramarathon races. She then pursued her dream of becoming a triathlete by joining the SBR.ph Tri Series Triman Triathlon. Despite the challenges she faced in preparing for the 2023 ALVEO IRONMAN 70.3 Davao race, she managed to overcome them and finish the race. Fabulous Barefoot Diva is motivated not by winning but by inspiring others to lead a healthy lifestyle and participate in sports. Read on for her interview.

Can you tell us about your journey as a multisport athlete and how you got started in the sport?
I started being a runner in 2009, and my journey has been a step-by-step procedure since I'm not a totally good runner. I motivated myself from the start to complete 3K, 5K, 10K, 16K, 21K, and 32K and became a marathoner. Year 2016: I joined many fun runs for a good cause in the country. And I'll be known in the running community as the Fabulous Barefoot Diva. Then I'll never stop dreaming that after becoming a marathoner, I'll join ultramarathon races in many parts of the country. Being a runner, it is my goal to inspire others. When I became an ultramarathoner, I dreamed of being a triathlete by joining the Triman Triathlon of SBR.ph.
How did you prepare for the 2023 ALVEO IRONMAN 70.3 Davao race, and what were some of the challenges you faced during the event?
Joining the Ironman 70.3 journey is my dream, and in 2019, I started preparing for Ironman 70.3 Davao 2020. But it was postponed, so my training on it stopped because of the pandemic. In 2022, when sports came back, Sunrise Events announced that the Ironman 70.3 Davao would happen on March 26, 2023. For me, I'm scared because of my schedule of training in swimming in my preparation for it. For me, it was so hard because I have many commitments, including many fun runs in the country. And I'm working daily. So I manage my swimming training in just two months before the race, once a week. The challenge during the swim leg is to just focus on the goal and never fail. When you are moving forward, achieving your goals, and moving on with your career, you are bound to face failures, but that doesn't mean that you can't move forward. Failures are meant to teach you a lot of things and make you a better person for the future. Learn to deal with failure, and you will have the ability to deal with every barrier that you might come across.
The swim portion of the ALVEO IRONMAN 70.3 Davao race was known to be a super tough one. Can you share your experience and how you managed to overcome it?
No one knows that the swim leg of ALVEO IRONMAN 70.3 DAVAO will be super tough, but because I am ready to conquer the challenge and I'm confident that I can do it, my experience in the swim leg has been so hard that there was a time when I asked myself whether to quit or not. But this is my dream; I want to finish swimming on my own. I managed to continue swimming until I reached the finish line; I never stopped and just continued to swim. Since I became an athlete, I followed every rule of the race, but during the middle 850 meters of the race, I had a problem. The line washed out; I didn't know what happened, aside from that the current was so strong. I said to myself, I'll never surrender, because I'm here with one goal: to make people happy and to inspire. I never stopped swimming until I reached the finish line. It's You vs. You
What motivated you to participate in the Triman Triathlon of the SBR.ph Tri Series, and what was it like doing your first triathlon?
After achieving many running distances, from half to marathon, marathon to ultramarathon, with flying colors and achievements, I want to experience another sport that is connected to running and cycling.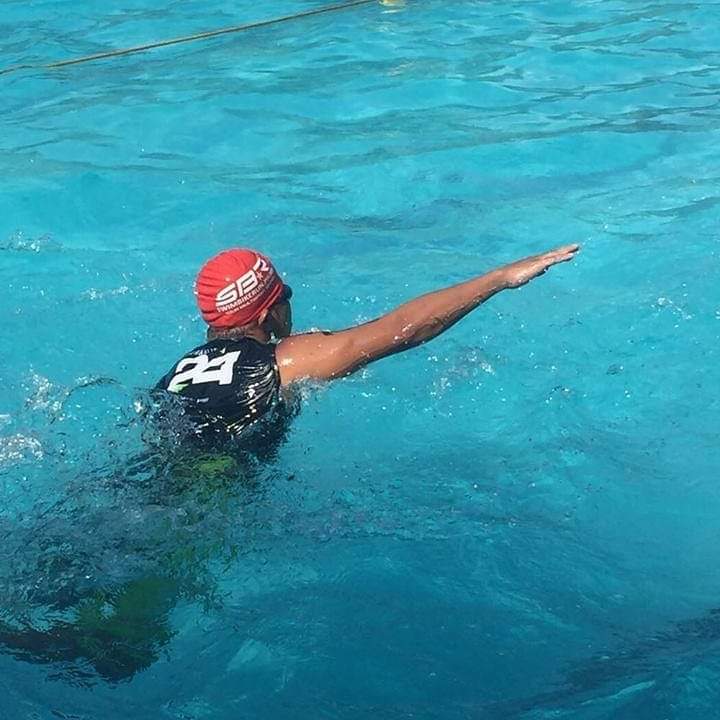 By joining my first triathlon race as a beginner, without knowing how to swim and with no training or coach, I only wanted to get the experience, become a Triman finisher, be called a triathlete, and still do barefoot running in the race and inspire others. After I finished my Triman Triathlon, I said to myself, This is my last.
You mentioned in a previous interview that you are not just in it to win but also to inspire others. Can you elaborate on this and how you approach your races with this mindset?
Joining races in the country is truly amazing, but for me, winning is always a bonus. I'm just here because I want people to be happy seeing me in my fabulous barefoot diva costume and to get inspired by me as a barefoot runner.
It's hard to do a multisport event with many athletes who are very serious and are more focused on the goal. That's why I am here: to just make people laugh and bring happiness to the event, to put a smile on their faces, to make the whole event full of color, and to greet and inspire every athlete at the finish line.
You have competed in several triathlons, duathlons, and aquathlons. Which one is your favorite and why?
It's an honor to be an SBR athlete who became a Triman, Duaman, and Aquaman. But one of my favorites is my first Triman Triathlon race because, for me, it gave me determination to achieve my goals and dreams to look forward to. I entered the multisport world without knowing how to swim, and even with that, I'm always a strong finisher in my age category.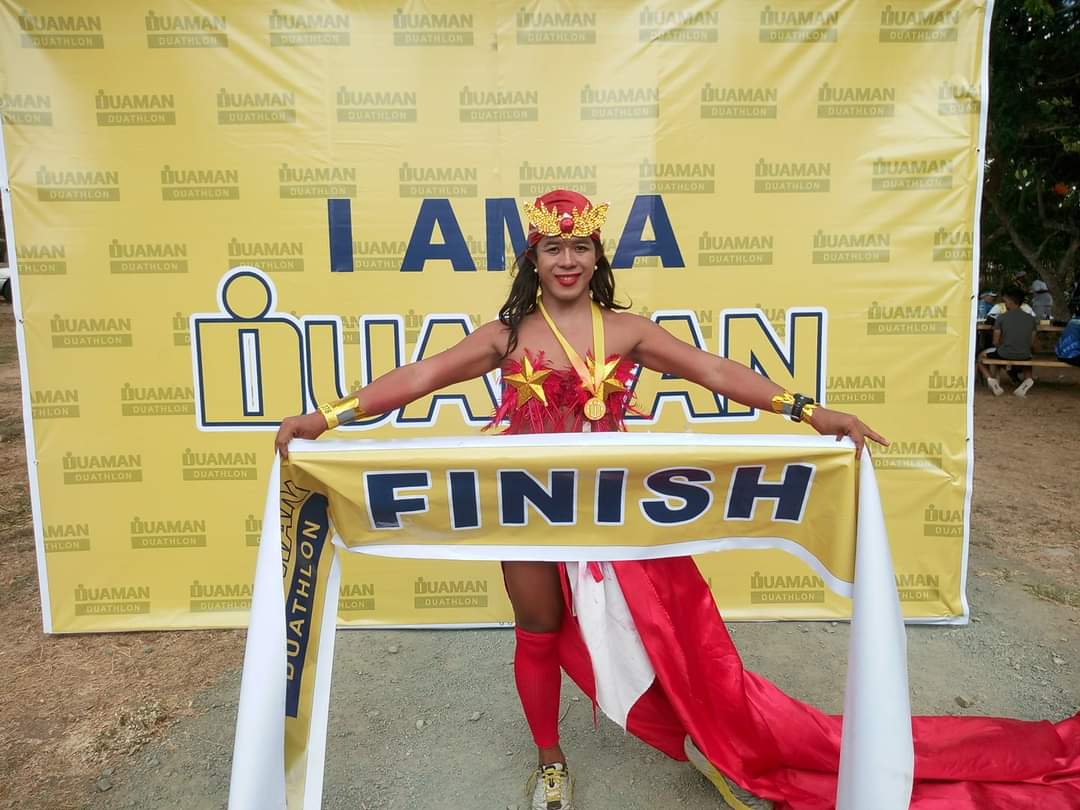 You described yourself as not being a podium contender, but you always show that you are strong in every race. What keeps you motivated to continue competing?
Winning is not my priority because I just want to inspire people when they see me in every race as a strong and competitive athlete. I want Filipinos to have a healthy lifestyle and join running events and multisports to enjoy life. I get motivated by the people who have supported me since I started up to now.
How do you balance your personal life, training, and competing as a multisport athlete?
I wake up daily at 4 a.m. to do my regular run training, then I'll bike to work at 7:00 a.m. from Taguig City C5 to Cubao, Quezon City, and after my work at night I'll train again in running. If I have a multisport event, I do my swim training during the weekends. I also take time to prepare my costume for the upcoming event. So, for me as a multisport athlete, time management is very important.
As a member of the LGBTQIA+ community, how do you navigate the world of sports?
If we consider that sport is a mirror of society, then there is a very huge challenge in terms of sports and LGBTQIA. For me to be a member, you also need proper training and practice to become strong and competitive. Promote inclusiveness and a safe space to encourage people, especially LGBTQIA people, to do sports without worries, fear, or anxiety. Support all athletes with respect and encourage them to come out on the sports field if they want to.
Have you encountered any challenges or discrimination because of your sexuality, and how did you deal with it?
Yes, I have faced numerous challenges and discrimination during various races throughout the country. But that won't stop me from pursuing and achieving my objectives. My opponent is me, not the people around me. I knew people would judge me from the start of the race, but my goal has always been to inspire and make people happy. But sometimes people discriminate at first but turn out to be amazed by me because I'm a barefoot athlete. That's why in my races I need to be strong and competitive.
What advice do you have for aspiring multisport athletes, especially those who may face challenges because of their sexuality?
My advice to aspiring multisport athletes is to never give up on achieving their dreams, to focus on the sports they love most, to enjoy them, to keep training, and to inspire others. Remember that it is you vs. you. Anything is possible.
Can you share any future goals or plans you have in the sport, and how do you plan to achieve them?
Provide and get support through interactions with your coaches, teammates, and other important people in your life. Develop a plan, take action, keep perspective, and accept mistakes as you learn from past experience. Don't put too much pressure on yourself. Even if you don't reach all of your goals, just having them written down can provide a deeper sense of fulfillment and satisfaction.
How has SBR.ph helped you in your multisport journey, and how important is it to have a supportive community in the sport?
SBR.ph helped me in my multisport journey; it helped me become a strong, competitive triathlete and have confidence in joining local and international races. SBR.PH is just amazing and has well-organized events, especially for beginners. They (the participants) are family, and they were always helping each other.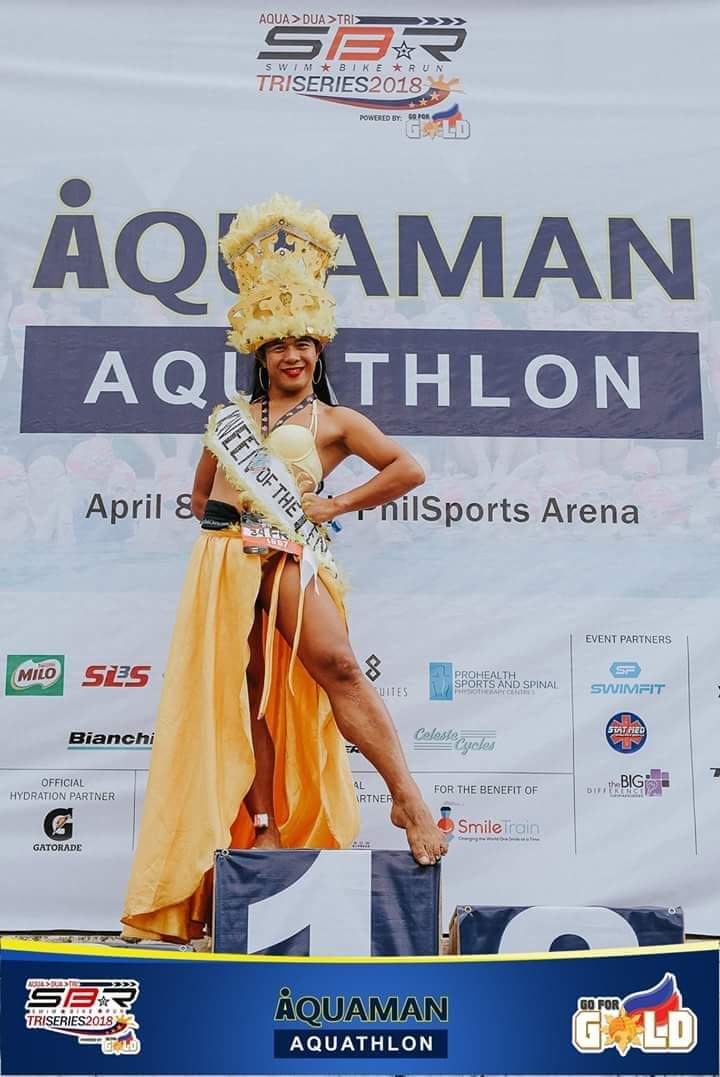 What do you do to relax and unwind outside of training and competing?
I visit relatives and friends, and sometimes I sleep the whole day.
Finally, what message do you want to send to the LGBTQ+ community, which may be interested in trying out multisport events but may feel discouraged or intimidated?
My message to the LGBTQIA community is to be proud of who you are and to just be yourself and confident. Joining multisport races is an amazing journey where you can enjoy life to the fullest. Don't mind if other people judge you or discriminate against you. Basta gawin mo kung anung nakapagsasaya sayo. Dapat ang buhay mo, katulad ng rainbow. Makulay.
Comments
comments