Kwentong Tri Series #11 | Coy Echas
Share your #KwentongTriSeries! Are you an Aquaman? a Duaman? or a Triman? Whether you finished just one or did all three, we want to hear YOUR story. Tell us your motivation for joining. Tell us your why. Email your story at [email protected]. Don't forget to attach pictures as well! #KwentongAquaman #KwentongDuaman #KwentongTriman.
From a budol sign-up to conquering the Trifecta! Meet Coy, the newest Triathlete in town. Her journey from zero to hero is a testament to determination and the power of believing in yourself. Despite the challenges and pandemic setbacks, Coy's unwavering spirit led her to cross the finish line with a smile on her face. Ready to take on the world, one race at a time. Who's next to join the #SBRphTrifectaClub?
---
Dear SBR, 
So here's my kwentong #Aquaman #Duaman #Triman.
It all started as a budol sign up for aquaman. A very good friend of mine who introduced me to running back in 2018 who also happened to push me to sign up and train for my first full marathon back then. I then fell in love with running pero every time I get to see people joining triathlon – I said to myself "gusto ko din maging triathlete before ako mag 40!"
But then pandemic hit, "BAWAL LUMABAS!". Pero it didn't stop there, my very good friend of mine na very much knowledgeable at known sa running community- we started running again. So nakakita na naman ako ng mga girlies na nagbibike tapos naka trisuit tapos tatakbo sila around BGC. Nabuhay ang pangarap kong maging triathlete.
So eto na nga… naglabas ang SBR ng Aquaman Aquathlon – sabi nila no time limit kahit kumapit ka, kahit anong klase ng langoy. So I tried to swim "tried" pero wala akong proper training, wala akong coach. Bumili lang ako ng goggles at decent swimsuit for the race. A week before the aquaman, my friend and I went to Vermosa to check kung gaano ba kalalim tong pinasok ko at gaano kahaba ako kakapit to finish the 400m swim! Hahaha!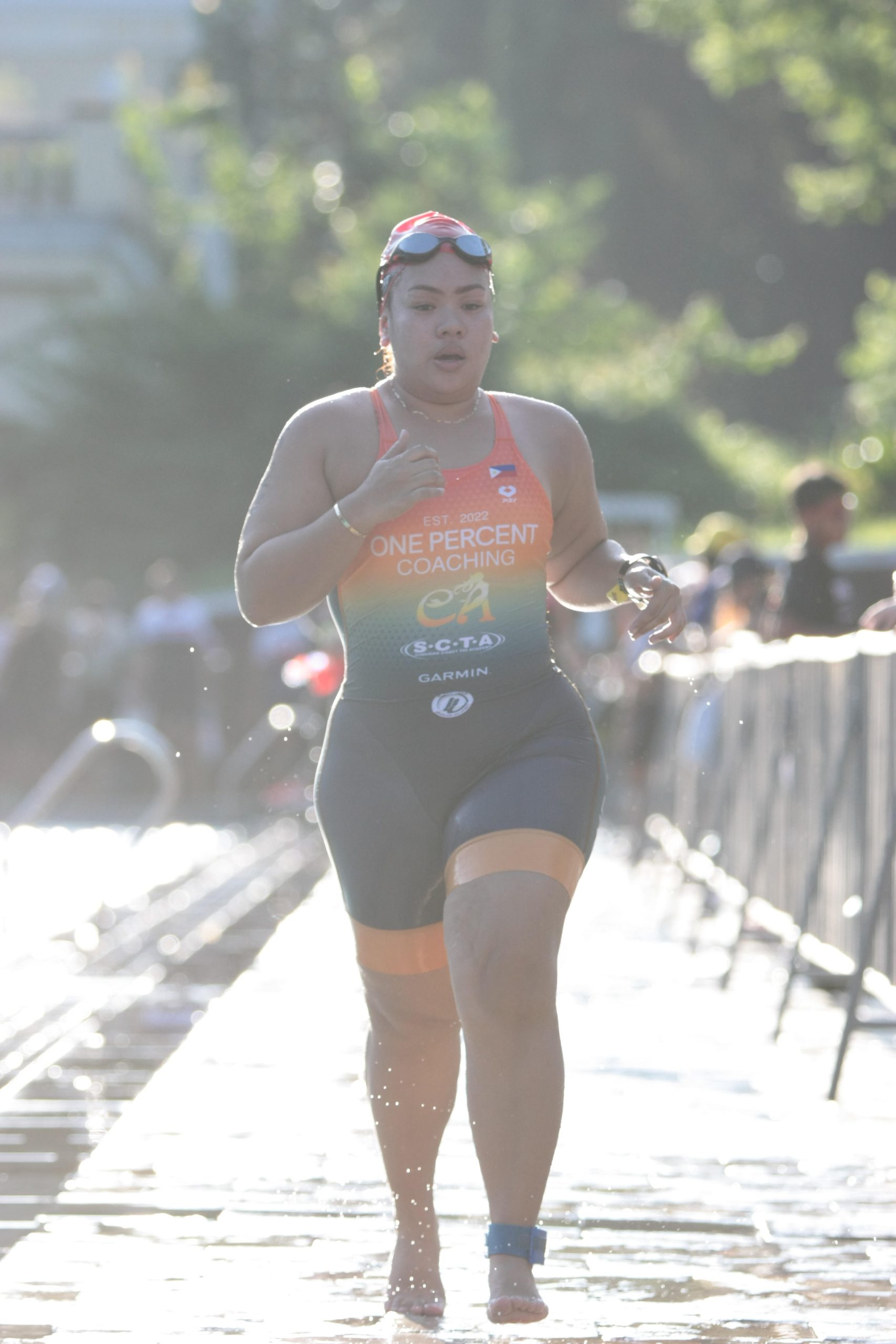 Yun na nga, I showed up on the day of race – nagpasulat ng number, nagkabit ng time chip lumangoy – mostly kumapit at tinapos ang swim part tapos takbo. Aquathlete na ako.
My friend told me, see kinaya mo friend. Go na for duaman duathlon. Hahaha! So nag sign up ako again for duaman but this time nag email ako sa SBR sabi ko pa-upgrade po to TRIFECTA! That was one BIG LEAP of faith. Tiwala na makakayanan ko itawid ang duaman at triman.
I then enrolled myself to a triathlon coach, trained and got into a team – my One Percent Coaching family under Coach Claire Adorna. 
One week before duaman, bumili ako ng bike. A day before the duaman – tnry ko sakyan bike ko again for the 3rd time. Race day came, I ran then bike then ran again tapos duathlete na ako. Yay!!!
The final leg – Triman Triathlon. Feeling ready ako kasi sabi pwede daw lakarin pool ng Fontana but a day before the race when my friend and I were doing a swim recon – nilamon ako ng takot at ng tubig ng Fontana. I don't feel like racing anymore. Pero my friend did what he had to do – he pushed me and reminded me why I even signed up and started.
Few minutes before my age category starts – wala na nilamon na ako ng kaba at takot sabi ko kay Coach Claire "kinakabahan ako sa swim, ang bilis napapagod ng legs ko coach" sabay iyak – then she said use your arms and just keep swimming and my One% family gave me one big hug. All i can hear during the swim part are their loudest cheer "Go Coy! Kaya mo yan! Konti na lang!"
After almost 2 hours of racing, I crossed the finish line so happy giving honor to the people who pushed me and helped me through it.
That same morning, someone asked me: "Para kanino ka bumabangon? Para kanino ang race na to?" I didn't reply. During the bike course, nasagot ko yung tanong nya. Bumabangon ako para sa sarili ko – I'm doing this race for me so I can be a better me to myself, to us and the people who supported all the way from the start.
From zero to hero. Maraming salamat SBR sa pagtupad ng pangarap kong maging triathlete. Salamat Banjo, I could have never done this if it weren't for you. To my triathlon coach, Coach Claire thank you for being so welcoming to a beginner like me.
Race Bib No.524 is now a Triathlete.
Always,
Coy
Comments
comments