CORIMA SPARE PARTS: BLISTER OF 4 CORIMA BRAKE PADS FOR SHIMANO/SRAM BRAKE SHOE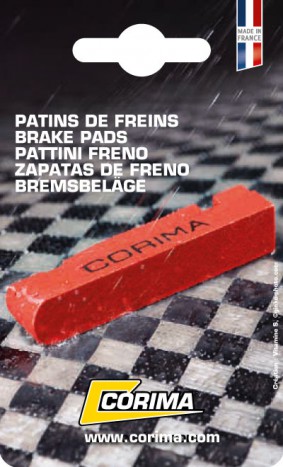 The new CORIMA brake pads have been specially developed for braking on carbon rims. They are the result of endless tests carried out, these past two years, in the laboratory and by Pro cyclists in extreme braking conditions during the most important races.
For increased safety, the new CORIMA brake pads offer you the following essential parameters:
Increased braking efficiency by dry and wet weather
Temperature resistance
Increased wear resistance thanks to its components
Silence, elimination of the noise associated with braking
Easy mounting thanks to the flexibility of the pad
The brake pads are different if you have Shimano®, SRAM® or Campagnolo ® brake pad holders.
Only logged in customers who have purchased this product may leave a review.