Think GREEN. Not because it's Christmas, but because if there's one team that has made its presence felt in our local triathlon scene last year and this season, it's definitely our next SBR.ph In[FOCUS] team feature.
Locked and reloaded for the rest of the 2012 season and beyond, it's hard not to miss TEAM SANTE BARLEY.
Reloaded? Why? For the reason that apart from adding super strong athletes, they also just added our reigning 1st Annual SBR.ph Awards Coach of the Year winner and everyone's favorite Coach, Jojo "Jomac" Macalintal!
Read on below as we talk with the team's CEO, Joey Marcelo, and their newest member, Coach Jomac.
---
SBR.ph : Welcome to SWIMBIKERUN.ph Joey and Coach Jomac! Joey, can you give us a brief history about the team and it was formed?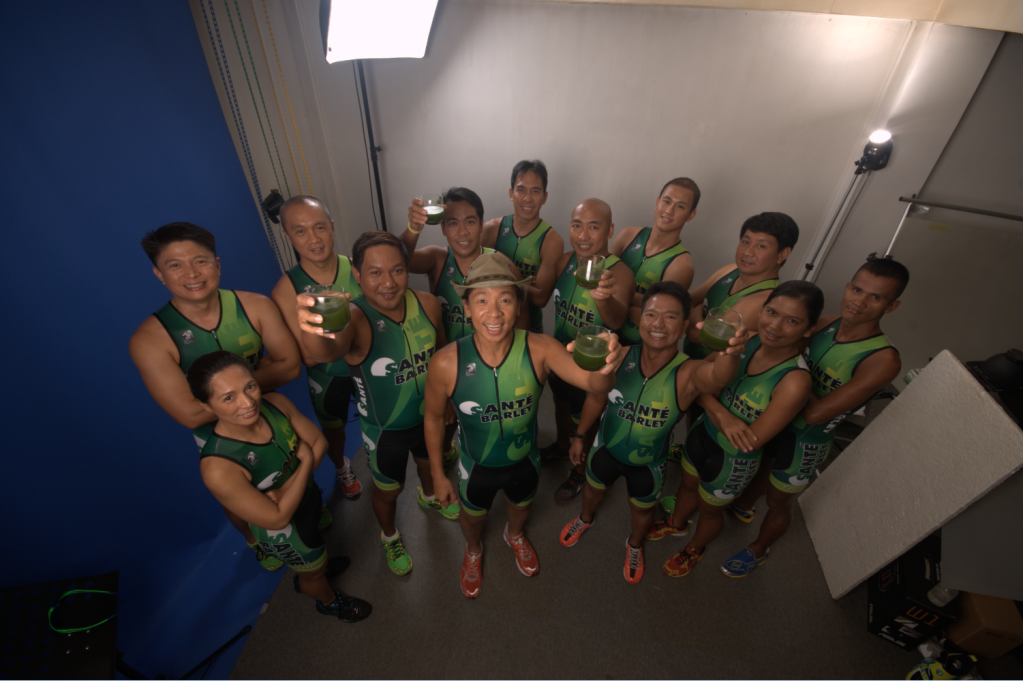 Joey : Our company Sante International launched a product 2 years ago with Barley Grass from New Zealand as the main component. From then on we have received lots of testimonies and stories about people benefiting from this product. People suffering from various illnesses such as Diabetes, High Blood Pressure, Hypertension, Psoriasis and Cancer to name a few. One of the turning points of our company was last 2011 when April Boy Regino, a famous singer, claimed that his Diabetes, Hypertension and Prostate Cancer got healed because of the Barley products of Sante. During these times, our products are becoming famous for its medicinal features. However, we do believe that our products are not only best taken by people who are sick but also of people who doesn't want to get sick. In one of our board meetings, we decided that by 2012, Sante Barley should be known as a product for Sports and Wellness. During these times, Im also in the process of fulfilling one of my personal dreams which is to do Triathlon. When I found out that 70.3 Cebu Ironman 2012 was about to open its registration in December of 2011, I immediately signed up and decided to seriously train for this sport in preparation for our company's campaign for 2012. If Sante Barley will be going Sports and Wellness, I wanted our distribution network to see me first being involved before I encouraged them with our new Campaign. Come February 2012, Team Sante Barley was formed together with some of my friends and people whom I've met during my initial training months in the sport. We have participated in almost all major triathlon events local and even some international events.  By June of 2012, Team Sante Barley decided to partner with one of the best Triathlon Coaching Team in the Philipppines, Coach Jojo Macalintal and PJ Rivera of TriMac. And as the saying goes, the rest is history.
SBR.ph : Coach Jomac, same color, different team! Give us a backgrounder on how you became a member and the head coach of Team Sante Barley.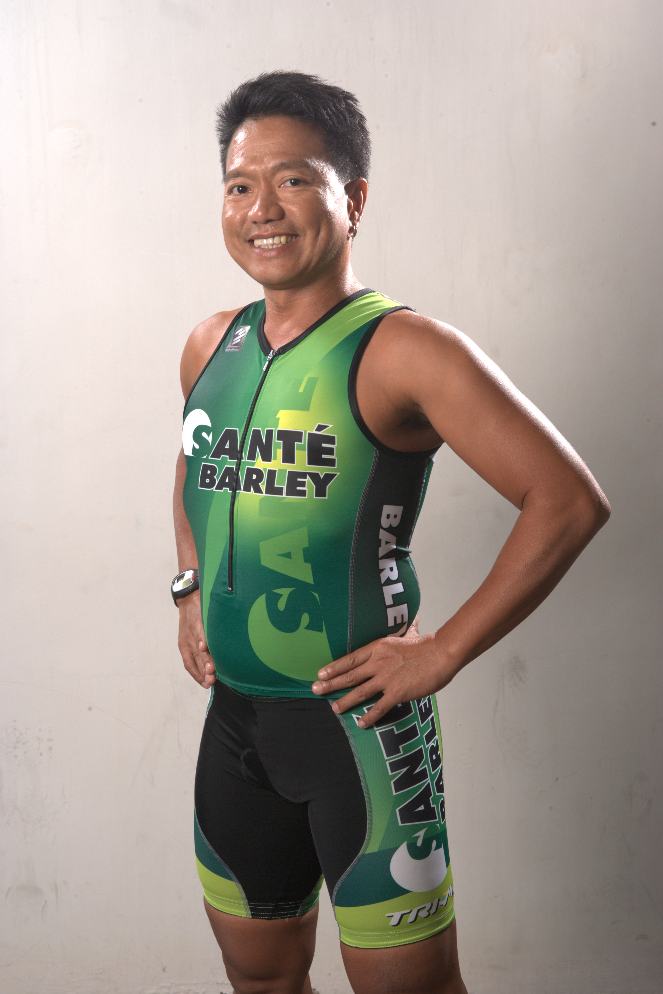 Jomac : Some people may not be aware that TriMac is more than a triathlon team.  We are a coaching company first and foremost.  We coach and train companies, other tri teams, families and individuals.
We always treated Team Sante Barley as our sister team.  We see each other often in training and in races.  Soon the two teams became friends and one day we were approached by Joey to handle the training requirements of their team. Training their team goes on for several weeks until one day, out of the blue, Joey and I suddenly came up with an idea of me being part of team Sante Barley not only as a Coach but as an athlete. It got me excited since I wont only be joining races with my students but at least I can wear a uniform with my coaching school, TriMac, printed on it which Joey and I agreed.
This coming 2013, expect me to be competing with Team Sante Barley powered by TriMac.
SBR.ph : Let's talk barley! Honestly, I have no idea what barley is and how it works. Can you use it also for sports and triathlon in particular?
Joey : YES. SANTE BARLEY is an essential part of the Sante triteam's nutrition plan.  It helps deliver strength and energy needed by a high performance athlete.  Pure organic barley grass, the main ingredient in Santé Barley, is one of nature's most complete foods. It contains all the essential amino acids that are the body's building blocks for muscle development.  Barley grass is also one of the highest sources of chlorophyll, often called green blood. Chlorophyll helps the body in the formation of red blood cells that delivers oxygen to the cells.  Oxygen is vital for optimum performance and endurance. At the core of the chlorophyll molecular structure is magnesium.  This element plays a significant role in energy production on the cellular level.  In fact, 26% of magnesium in the body is found in the muscles.  This shows how important magnesium is in keeping muscles active.  Magnesium also helps keep the heart beating regularly.   A strong heart is needed for endurance and stamina.
Aside from chlorophyll, Sante Barley contains all the essential amino acids, proteins needed for optimum metabolism.  It also has enzymes needed by the body for efficient functioning of all body processes. Is is not wonder that one of our athletes asked, 'Ano ba ito (referring to Sante Barley)?  Parang hindi kami napapagod!'
SBR.ph : Coach Jomac I take it, Sante Barley, is part of the teams nutrition game plan?
Joey : Definitely. Members of our team have tried it both in training and racing.  They noticed an improvement in their cardio.  I don't have the data to back me up yet but I've seen a couple of our guys do a breakthrough workout/race taking it for the first time.
SBR.ph : How can one be part of the Sante Barley team?
Joey : Train with us.  We are passionate about training for triathlon and we are always open to finding like-minded people.
SBR.ph : Wait, is that Kuya Kim in the picture?? Is he part of the team now??

Joey : Yes, this 2013 and the years to come, Kuya Kim will be the Icon of Sante International. We have partnered with him as an endorser of the Barley products of Sante. We believe in him not only as a man full of wisdom but also as a person of character. We are so happy because in a short span of time, Kuya Kim fell in love with our products.
SBR.ph : Who are your new members?
Joey : Before the year 2012 ends, Team Sante Barley welcomes its new members. We have 2 beautiful, yet strong young athletes: Julla Timan and Ian Banzon. We also brought in a young powerhouse, Mervin Santiago. Coach PJ Rivera is also part of Team Sante Barley both as an athlete and as our new team manager.  And ofcourse Coach Jojo Macalintal completed our team line up for 2013. Right now we have a total of 21 athletes with the participation of 4 National Athletes.
SBR.ph : Can I join the team? =P
Joey : Bro, give us your measurements and your Tri-Suit, Bike Jersey and Tech Shirt will be delivered to you within the shortest possible time. Welcome to the team. Hehehe.
SBR.ph : Haha! Kidding on that one! How often do you guys train and where? Do you usually train together?
Joey : We have regular trainings everyday where all our members can participate when their schedule permits. Every Monday is our Strength Training day at Amoranto QC, Tuesday is our run schedule either in UP Diliman or ULTRA (Pasig), Wednesday and Friday is our Swimming schedule usually at the Polo Club, Thursday is bike training either in MOA, Nuvali or Clark. Saturday and Sunday, whenever there are no races/competitions, we either do our long bike or long run. We also rest sometime, hahaha.
SBR.ph : Coach Jomac, you know the drill! Can you give us a 1 week training block sample of the team?
Jomac : Build Period
Monday: Strength and Conditioning
Tues:  Run Intervals: staple of 400m repeats for Olympic Distance race or 800m for Half to full distance Ironman ex. 25×400 RI30 sec-1min or 20×800 RI30sec-1min)
Wed: Swim
Thurs:  Brick (ex. 2 hour bike divided into 4×30 (20mins threshold, 10 mins recovery) followed by run (ex 20min run broken down into ten mins moderate, ten mins race pace)
Fri: Swim
Sat: Brick
Sun:  Bike intervals (ex. 2.5 hour divided into 30mins each of easy, moderate, medium, hard, easy) followed by steady Long run
SBR.ph : I noticed Sante Barley is big in sponsoring our local talents and events. What made you guys decide to focus on triathlon?
Joey : I personally fell in love with the sport especially when I saw the similarity of the life of a triathlete and the lives of our distributors (We are marketing our products via Multi-Level Marketing and we have around 70 thousand distributors nationwide). A triathlete starts with a Dream and Passion of finishing a grueling sport. With this decision, he needs to train hard, register in events and eventually finish a race. The quality of his race is always dependent on the quality of his training. And a triathlete, I believe, should enjoy the journey (training) more than the actual race. And upon finishing his race, he is now eyeing the next race he will compete. A Sante' distributor starts by having a passion and desire to change his life for the better and achieve their dreams.  He then register as a distributor, train hard and learn the business, builds a network and cross his finish line (dreams and visions in life). But upon crossing a finish line, he now sets a new goal of crossing and training for a new finish line. Sante International, became their vehicle to achieve their dreams and visions in life.
We are currently sponsoring national athletes and talented age groupers that we know has the potential but would need support to achieve their dreams. Sante International is also acting as their vehicle to achieve their dreams of being on top of their favorite sport Triathlon and eventually rise up not only in local but international competitions.
SBR.ph : What's the training and racing philosophy of the Team Sante Barley? Do you guys always race to win? Or race for fun/fitness?
Joey : We race to train. We try to participate in as many races as we can.  By racing often, we get to be better triathletes
SBR.ph : What's next for Team Sante Barley for the 2013 season?
Joey : We will continue to strengthen our team not for popularity sake but in order to promote Sports and Wellness in the country. We are looking into the possibility of hosting our own triathlon events for Kids and Adults and also creating campaigns to encourage more and more people to VENTURE INTO THIS SPORT. WE WILL TRY OUR VERY BEST TO ENCOURAGE AND ERASE THE NOTION of people that triathlon is a sport that's designed for people Who Have money. Expect us to support each and every major triathlon events in 2013. We will always be there Not Only to Compete, But to Complete and Finish our Next Race. We hope to be a friend and inspiration to many.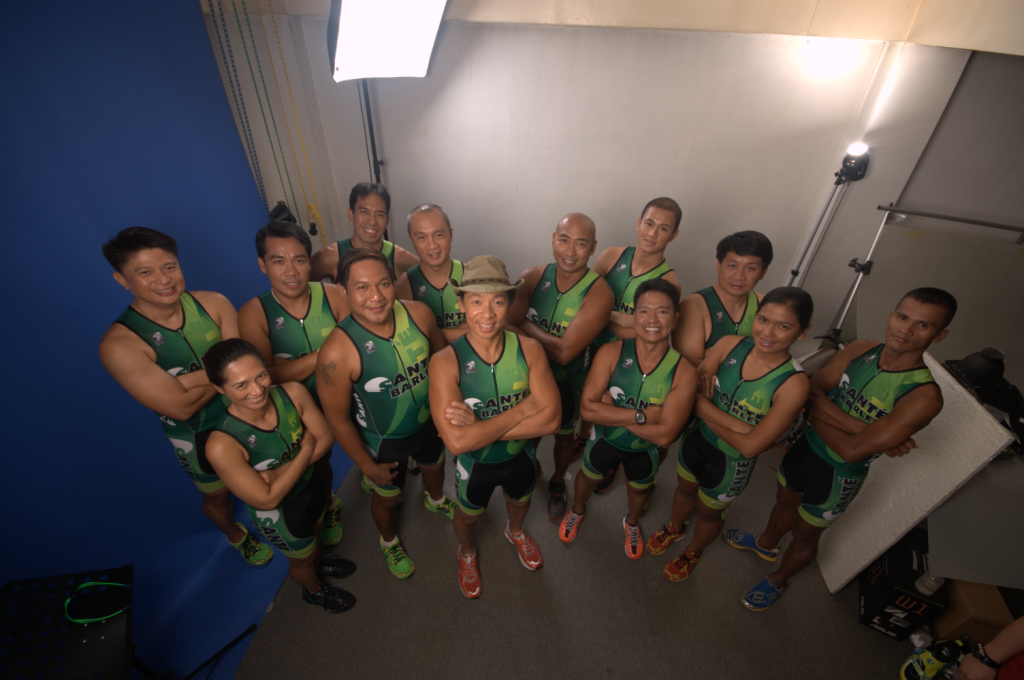 2012 is our introduction to triathlon.  2013 is our coming out party.  We want to make our presence felt next year in the field of multi sport. One of the things we are doing is conducting a free run clinic.  Starting January next year, we will be partners with TriMac and RUNNEX to conduct a free run clinic every Sunday between 6-8am in UP Diliman.  It's open to everyone.  It's a clinic for runners of all levels.
It is our hope that Team Sante Barley's energy, enthusiasm and passion for the sport will be felt not only within the Triathlon community but among the general public who may be interested in "Tri-ing". We all have our own set of goals, and achieving them may be daunting. Team Sante Barley, with its great mix of regular Joes and Janes, will continue to live by the mantra that "Anything is possible" in the hope that others may be encouraged by it.
SBR.ph :  How can people reach you if they want to inquire about the team and Sante Barley products?
Joey : They can log on to our website at www.santebarley.com or visit us in our head office at 904-906 Galleria Corporate Center (Near Robinsons Galleria) EDSA corner Ortigas Avenue Quezon City. We also do daily orientations in our office for those who are interested in distributing our products.
SBR.ph : Thanks for the time Bro Joey and Coach Jomac!
Joey : Thank you Bro Carlos for the opportunity.
Comments
comments