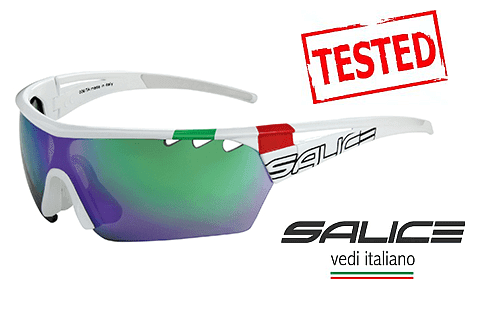 "Hi excuse me, what shades are you wearing?" If only we'll collect money every time someone asks us that question, we'd be very rich by now. How many times has that happened to you when you were using other brands?
Salice eyewear (pronounced as SA-LI-CHE) is 100% Italian made. And if you're familiar with Italian quality, you can be sure the build is top-notch and a cut above the rest.
With prices ranging from 3k up to 8k, Salice goes head to head with the other leading brands in the market today.
So how does it fare?
We were privileged to be one of the first to test Salice when it first came here in the Philippines. We used and abused the Salice 006 ITA given to us by Cascos Incorporated., distributors of Salice Eyewear in the Philippines, during our training sessions.  The result? It passed with flying colors. Italian green, white, and red at that!
Salice 006 ITA is is equipped with green vented lens

The frame is light and the lenses are big enough to offer a clear view of the road when you're hammering in aero position. The vents also helps reduce fogging. The fit is snug enough that it doesn't slide down your nose, even when you're sweating a lot. To those who like rimless lenses though, sorry to say that all their frame models has a bridge connecting the east and the west.
Nope, that's not me.
Every purchase of Salice (correct me if I'm wrong Cascos), comes with its own carrying case., loaded with spare lens (yey! spare lens!), a Salice italian sticker, and a special cloth that you can use to wipe the dirt and grime away from the lens without damaging it.
Photo from runningsupplement .uk
But while the lens is superb, the frame just feels a bit too plastic(y) for our taste. There's also bit of paint overlap/smudge too on the side where the Salice logo is printed.
Despite of that, it still looks good though ;) We don't mind :)
Ferrari + Salice = Italian Overload
Don't get us wrong, Salice looks absolutely stunning. But if you're going head to head against the big O's and the R's of the industry, every detail is crucial. Plus, it's Italian!
Rocking the Salice 006 ITA after our training ride
The Dirty
If you're on the look out for new optics with an unmistakable italian flavor, look no further, Salice is a great choice.
Salice is available at The Brick Multisport Store (McKinley Hill; Cebu), Bike King, R.O.X., Primo Cycles, Secondwind Running Store (Greenhills; Ortigas; Quezon City), Specialized Concept Store, Riovana (BGC; Katipunan), RUNNR (BHS; ATC; Toby's MOA; Toby's Shangri-la), Planet Sports (BHS; ATC; Trinoma; Rockwell; Glorietta), and The Athlete's Foot (Two Parkade).
Visit their facebook page at : http://www.facebook.com/SalicePH/
Comments
comments