Here we go SBR.ph nation! The 2nd leg of the much awaited Philippine Duathlon Series is just around the corner! Check out the official race details below!
SWIMBIKERUN.ph is a proud media partner of the Philippine Duathlon Series Leg 2.
Don't forget to visit the SBR.ph booth!
Here's an announcement from Popo Remigio, organizers of the Philippine Duathlon Series.
hi everyone!


official start list in the attachment. please check to see if we have your details correct. also, please confirm your team affiliation so we can add your points to your respective teams for the race series points.

we will collect all unclaimed race packets from the bike shops by friday, lunchtime. all race kits will be available at the venue on race day. race packet includes one bib number with the timing chip attached at the back, one small helmet sticker (affix at the front of the helmet) and 2 large bike stickers (affix to seat post like a flaglet, with the numbers clearly visible from both sides).

course, venue maps and transition area flow chart are also in the attachment. take note that there are designated parking areas and that parking along the bike and run course will not be allowed.

for directions going to eagle ridge, go to this link:


it is every racer's responsibility to study and be aware of the general rules, so please do take the time to read it.

weather forecast for saturday is expected to be good, but it wouldn't hurt to be prepared for both hot and rainy conditions.

updated series points are also in the attachment. team standings in the top five shifted as some individuals confirmed their team affiliations. Sante Barley still leading the pack with 645pts., followed by Timex-Gold's Gym with 425pts.. In third place at the moment is Xycos with 240pts., and just breathing down their neck is Potato Corner with 235pts.. Rounding out the top five is Yellowcab Tri-Clark with 220pts..

race schedule


300am  claim race packets/opening of transition area


530am  race briefing


600am  race start


1000am awarding of winners


1100am cut-off time


best of luck to everyone! see you saturday!

DOWNLOAD
Duathlon Rules : Download
Team Points : Download
Course Maps
Race Route
Venue
Transition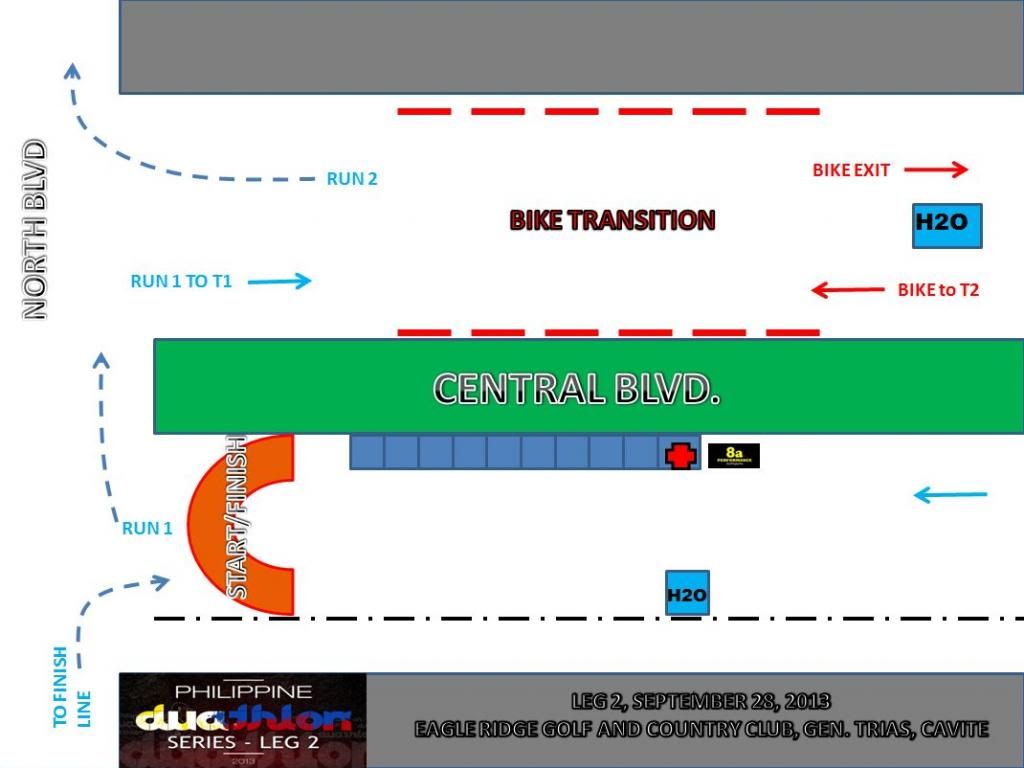 Start List
Download your own copy
| | | | | |
| --- | --- | --- | --- | --- |
| # | CHIP # | LAST NAME | FIRST NAME | TEAM/ COMPANY |
| 6 | 106 | TIMAN | JULLA | SANTE BARLEY |
| 7 | 107 | VALDEZ | ROWENA | YELLOWCAB TRI-CLARK |
| 8 | 108 | POLLOSO | JOY | FESTIVAL SUPERMALL FILINVEST |
| 23 | 123 | ABAD | MIRASOL | SANTE BARLEY |
| 16 | 116 | AGANA | ALISSA BERNICE | DE LA SALLE UNIVERSITY |
| 17 | 117 | TAGLE | CLAUDIA | ATENEO DE MANILA UNIVERSITY |
| 18 | 118 | KOA | BEVERLY GRACE | |
| 19 | 119 | NATIVIDAD | ERIKA JOY | TIMEX-GOLD'S GYM TEAM |
| 20 | 120 | SOCORRO | RAQUEL JOYCE | |
| 21 | 121 | ESGUERRA | SHEENALENE | |
| 22 | 122 | RAMOS | ANNA DANICA | PWC PHILIPPINES |
| 24 | 124 | BARNACHEA | MICHELLE | POTATO CORNER |
| 25 | 125 | PERE | ANIE MIE | NISSIN UNIVERSAL ROBINA CORP |
| 26 | 126 | RIVERA | MARIAN | RMR TRIATHLON CDO |
| 27 | 127 | GUIRIBA | GRACELA | PRO EX |
| 28 | 128 | LALATA | MARIA VERONICA | AYALA LAND, INC /ONSLAUGHT RACING DRAGONS |
| 29 | 129 | MERCADO | CHERRY ANNE | |
| 30 | 130 | OLIVAREZ | MARIA TRISTAN | |
| 31 | 131 | LAW | KRYSTLE DESIREE | |
| 32 | 132 | LOZADA | MARIA GLAIZA | TEAM HANES |
| 33 | 133 | REYES | RHONDA CAMILLE | |
| 34 | 134 | AMISTOSO | MAYAN | DMCI HOMES MULTI-SPORT |
| 35 | 135 | BALMEO | MARIEL | UNILAB BIKING CLUB |
| 36 | 136 | LAZARTE | MARIELLE | |
| 37 | 137 | REYES | ROSEMARIE | TPDC |
| 38 | 138 | SAN DIEGO | RUBY | TEAM GODSPEED |
| 39 | 139 | CORDOVA | WREACHELLE | POTATO CORNER |
| 40 | 140 | JARINIANO | ZARAH | |
| 41 | 141 | BONIT | MARY GRACE | SIGMA |
| 42 | 142 | CARPIO | JOYCEE | TEAM HANE |
| 43 | 143 | LEE | JADE CANDY | |
| 44 | 144 | RAPADAS | ELA | SUN LIFE FINANCIALS |
| 45 | 145 | VILLANUEVA | ANN MICHELLE | EXO |
| 46 | 146 | CASAREO | ARLYN | GREENHILLS TRI TEAM |
| 47 | 147 | DE GUZMAN | LAARNI | TIMEX-GOLD'S GYM TEAM |
| 48 | 148 | GO | MERCY | TIMEX-GOLD'S GYM TEAM |
| 49 | 149 | LAPID | ANAIS | XYCOS |
| 50 | 150 | VILLAMIEL | SUE | |
| 51 | 151 | FRIGILLANA | ANN MICHELLE | XYCOS |
| 52 | 152 | MACCAY | MAJUL | |
| 53 | 153 | TAGUILASO | GERALDINE | BSM |
| 55 | 155 | EVANGELISTA | GLENDA | XYCOS |
| 56 | 156 | BREEN | AILEEN | |
| 57 | 157 | FAVIS | JAAN MICHELLE | GREENHILLS TRI TEAM |
| 58 | 158 | RAMOS | CHERRY | ST MICROELECTRONICS / ST CYCLING CLUB |
| 59 | 159 | CORPUZ | DAWNIE | |
| 60 | 160 | JINGCO | LEAH | TEAM RUN RHYMES |
| 61 | 161 | JOSE | LILIA | KENYO CYCLING TEAM |
| 62 | 162 | LEDESMA | NINI PRISCILLA | GRANTRAIL 24-7 |
| 63 | 163 | UNLAYAO | JONA | PARA TRI BITCH |
| 64 | 164 | BALA | JENNIFER | UNILAB |
| 65 | 165 | DIZON | ALMA THERESA | ARQUITECTONICA INTERNATIONAL |
| 66 | 166 | GUZMAN | MARIFEL | COFFEE AIRE |
| 67 | 167 | YAO | LIANNE | GREENHILLS TRI TEAM |
| 68 | 168 | ALEJANDRO | GINA | JUNIOR EXPLORER LEARNING CENTRE |
| 69 | 169 | DILAG | MELINDA | TEAM TIERRA |
| 70 | 170 | MAPUA | ANNA DANICA | LAST MINUTE TRI TEAM |
| 71 | 171 | ANIES | ROZINY | TEAM TA-DYAK |
| 72 | 172 | ENDAYA | VANJ | CENTURY TUNA TRI-HARD |
| 73 | 173 | IBERA | AGNES | |
| 74 | 174 | BUENA | JINGLE | HIT AND RUN |
| 75 | 175 | GONDA | JOJI | DLSU-MANILA |
| 76 | 176 | TAN | BERNADETTE | |
| 77 | 177 | VILLEGAS | CHARITO | UNITED FOLDING BIKERS |
| 78 | 178 | VIRATA | ISABELLE | |
| 79 | 179 | ARCHER | CRICKET | PARA-TRI BITCH |
| 80 | 180 | JALEA | MARIA ROSEBINA | TPDC |
| 81 | 181 | LEONO | TESS | |
| 82 | 182 | ABUAN | GERALDINE | UPLB TRANTADOS |
| 83 | 183 | GAN | JENNIFER | |
| 84 | 184 | SALCEDO | ROSANA | DMCI HOMES MULTI-SPORT |
| 641 | 741 | DE PERALTA | JOSEPHINE | |
| 357 | 457 | LOZADA | ROMANA FATIMA | GRANTRAIL 24.7 |
| 431 | 531 | OLIMPO | ROWENA | FAMILY TRI |
| 465 | 565 | PORTO | SARAH | TRIBE |
| 801 | 751 | BALATBAT | JOY | TEAM BSM |
| 802 | 752 | SANOSA | AIMEE ISABELLE | TEAM BSM |
| 803 | 753 | FRANCISCO | BERNICE | SCOTT-MULTISPORT |
| 804 | 754 | DE PERALTA | MARIA JOSEPHINE | |
| 805 | 755 | GUIYAB | SHERYLLE MARIE | BUREAU OF FIRE PROTECTION |
| 806 | 756 | CUETO | ANNABELLE | GREEN PLANET |
| 868 | 896 | VINIEGRA | MARIA KRISTINA | |
| 869 | 897 | ALMORO | TATAX | TEAM TMM TIMEX |
| 870 | 898 | ABARRATIGUE | HAZEL | TEAM UNISON |
| | | | | |
| 1 | 101 | JAVIER | RUBENO | COCO NATURA |
| 2 | 102 | MENDOZA | RYAN "BAD BOY" | COCO NATURA |
| 3 | 103 | ESTEVES | ROBINSON | SANTE BARLEY |
| 4 | 104 | VALDEZ | JEFF | YELLOWCAB TRI-CLARK |
| 5 | 105 | BUHIAN | JERIC | YELLOWCAB TRI-CLARK |
| 9 | 109 | ROQUE | JUNROX | SANTE BARLEY |
| 10 | 110 | DELOS REYES | JOEY | TEAM IMC |
| 11 | 111 | GONZALO | ANGELO | XYCOS |
| 12 | 112 | RICAFORT | JOHN | POTATO CORNER |
| 14 | 114 | PAJARILLO | JOEVIC | TOSHIBA-GRC |
| 15 | 115 | KUHNE | THOMAS | TOSHIBA GRC |
| 54 | 154 | GO | ELLISON | |
| 85 | | ABALOS | OEL | |
| 86 | 186 | ABELARDO | LEANDRO MIGUEL | ST. LUKES TEAM |
| 87 | 187 | ABELLERA | RENATO | DLSU-MANILA |
| 88 | 188 | ABENIS | ARNALDO | GRANDTRAIL 24.7 MULTISPORT |
| 89 | 189 | ABIVA | LOUIE GERARD | XYCOS |
| 90 | 190 | ABRENICA | RICHARD | |
| 91 | 191 | ABRENICA | RYAN RAUL | |
| 92 | 192 | ABRIL | FREDIE | GREENHILLS TRI TEAM |
| 93 | 193 | ABUAN | PET | UPLB TRANTADOS |
| 94 | 194 | ABUNDO | JEFFREY | SMART COMMUNICATION / ONSLAUGHT RACING DRAGONS |
| 95 | 195 | ACEPCION | MICHAEL | |
| 96 | 196 | ADRADE | RONRON | HOLY ANGEL UNIVERSITY |
| 97 | 197 | ADVIENTO | GLENN | RAPIDE |
| 98 | 198 | AGANA | CHARIT | |
| 99 | 199 | AGRA | GINO | |
| 100 | 200 | ALDUEZA | CRISPIN | |
| 101 | 201 | ALFEROS | NOMAR | TEAM ACCRALAW-BIG CHILL |
| 102 | 202 | ALIBANG BANG | EMMANUEL | |
| 103 | 203 | ALIDIO | GABRIEL MARTIN | |
| 104 | 204 | ALINEA | ANTONIO | ANALOG DEVICES |
| 105 | 205 | ALLADO | JAMES | |
| 106 | 206 | ALMAJOSE | ROMULO | IBARRA ALMAJOSE & ASSOC |
| 107 | 207 | AMBAYEC | ALEAZAR | ZAMPERLA ASIA PACIPIC |
| 108 | 208 | ANIES | RONALD | TEAM TA-DYAK |
| 109 | 209 | ANTONIO | ARISTOTLE | OG5, PA |
| 110 | 210 | ANTONIO | REGGIE | GREENHILLS TRI TEAM |
| 111 | 211 | ANTONIO | RAMON | FRANZIA WINES CYCLING |
| 112 | 212 | APALISOK | AUGUSTUS CAESAR | |
| 113 | 213 | AQUINO | JASON | PARA-TRI BITCH |
| 114 | 214 | AQUINO | MARK ANTHONY | MAG AQUINO DESIGNHAUS |
| 115 | 215 | AQUINO | RYAN | GRANTRAIL 24-7 |
| 116 | 216 | AQUINO | NORBERTO III | METRO CAVITE CHRISTIAN CHURCH |
| 117 | 217 | ARCHER | RAVEN | PARA-TRI BITCH |
| 118 | 218 | ARCHER | NIGEL | XYCOS/PARA-TRI BITCH |
| 119 | 219 | ARNALDO | ALLAN | |
| 120 | 220 | ASIADO | GERALD | TEAM GODSPEED |
| 121 | 221 | ASONG | DODONG JR | MTC CEI OPTICAL LABORATORY |
| 122 | 222 | ASTERO | ANGELO | PRO EX |
| 123 | 223 | ASUNCION | MICHAEL | EXO |
| 124 | 224 | ATIENZA | JOVEN | KENYO CYCLING TEAM |
| 125 | 225 | ATIENZA | IAN ANTONIO | |
| 126 | 226 | BAELLO | HJOHN | LTO |
| 127 | 227 | BALDOMEZA | PAUL MARCO | |
| 128 | 228 | BALDOVINO | ALMOND RAY | REALVET INC |
| 129 | 229 | BALLAO | JAYLORD | KGB. PHILIPPINES |
| 130 | 230 | BALUYuT | FERNANDEZ | MAPUA |
| 131 | 231 | BANAAG | ALBERT | DMCI HOMES MULTI-SPORT |
| 132 | 232 | BAÑARES | WILFREDO | HYES & KARATS |
| 133 | 233 | BANZON | GREG | CENTURY TUNA TRI-HARD |
| 134 | 234 | BARANDA | AHMOT | POTATO CORNER |
| 135 | 235 | BARRIDO | GERALD | DMCI HOMES MULTI-SPORT |
| 136 | 236 | BARTILAD | ALBERT | |
| 137 | 237 | BAUTISTA | SID ANGELO | |
| 138 | 238 | BAUTISTA | JUSTO | |
| 139 | 239 | BELGICA | JOSEPH BENEDICT | RIDE MASTERS |
| 140 | 240 | BELTRAN | MARK JOSEPH | GRANTRAIL 24-7 |
| 141 | 241 | BELTRAN | RONILO | TPDC |
| 142 | 242 | BERNARDINO | BERNARD | |
| 143 | 243 | BERNARDO | TOBIAS MIGUEL | TIMEX-GOLD'S GYM TEAM |
| 144 | 244 | BESHEARSE | AMBROCIO | |
| 145 | 245 | BICERA | LOVE JOY | |
| 146 | 246 | BINAMIRA | DONDON | ST MICROELECTRONICS / ST CYCLING CLUB |
| 147 | 247 | BITOY | RICHARD | |
| 148 | 248 | BOBIS | ARMAN | DMCI HOMES MULTI-SPORT |
| 149 | 249 | BORDEOS | NICK | UNITED FOLDING BIKERS |
| 150 | 250 | BORNALES | EMILIO | |
| 151 | 251 | BOURCIER | LAURENT | |
| 152 | 252 | BROAS | LUIS | GENTRI BIKERS CLUB |
| 153 | 253 | BUENA | ARNOLD | HIT AND RUN |
| 154 | 254 | BUHAY | FRANCIS ALBERTO | TEAM IT'SDER |
| 155 | 255 | BUHAY | FRANCIS RICARDO III | TEAM IT'SDER |
| 156 | 256 | BUHAY | FRANCIS GERARDO | TEAM IT'SDER |
| 157 | 257 | CABAÑES | JUAN CARLOS | |
| 158 | 258 | CABRERA | KRIS | KENYO CYCLING TEAM |
| 159 | 259 | CABRERA | CRISANTO | KENYO CYCLING TEAM |
| 160 | 260 | CAGAS | DANTE | POTATO CORNER |
| 161 | 261 | CAGUIAT | EDWIN | |
| 162 | 262 | CAILLES | GARETT | |
| 163 | 263 | CALDERON | MARK CLARENCE | MANILA CITY FOOD SERVICE INC |
| 164 | 264 | CALDO | ROEL | |
| 165 | 265 | CALIXTRO | ELGENE MARK | LBT |
| 166 | 266 | CALLA | RICKY | PARA TRI BITCH |
| 167 | 267 | CALUNOD | JONEL | FAMILY TRI |
| 168 | 268 | CAPAYAS | LEVY | |
| 169 | 269 | CAPISTRANO | DON | D' TAKACHIN |
| 170 | 270 | CARAGAY | MICHAEL | XYCOS |
| 171 | 271 | CARINGAL | RON | XYCOS |
| 172 | 272 | CARIÑO | JASON PAUL | GROUP N |
| 173 | 273 | CARIÑO | OLIVER ANTHONY | |
| 174 | 274 | CARPIO | ARIEL | TEAM GODSPEED |
| 175 | 275 | CARREON | JUNY REX | TIMEX-GOLD'S GYM TEAM |
| 176 | 276 | CARREON | ANDREW | D TAKACHIN RUNNERS |
| 177 | 277 | CASTILLO | CHRISSENT KENNY | |
| 178 | 278 | CASTILLO | RODEL | SANTE BARLEY |
| 179 | 279 | CEREZO | GODFREY | SCHNEIDER ELECTRIC |
| 180 | 280 | CHAN | PAUL NORMAN | |
| 181 | 281 | CHAN | VONN | VCC AUTOTRADER |
| 182 | 282 | CHIANG | MICHAEL | IRON BIKE |
| 183 | 283 | CHICO | MARK | TEAM PONKAN |
| 184 | 284 | CHING | MELVIN | |
| 185 | 285 | CHING | EDWIN | GIANT TEAM |
| 186 | 286 | CHUA | JEOFFREY | |
| 187 | 287 | CO | DAN RYAN | |
| 188 | 288 | CO | GEORGE JR. | PRO EX |
| 189 | 289 | COLLADO | GUTHRIE | THE BRICK |
| 190 | 290 | COLMENAR | GILBERT | GENTRI BIKERS CLUB |
| 191 | 291 | COMPEDIO | JONAS | |
| 192 | 292 | CONCEPCION | ACE JELLO | |
| 193 | 293 | CORDOVA | REY | TPDC |
| 194 | 294 | CORNEJO | DONNEL | BOB |
| 195 | 295 | CORPUS | JORDAN | WETSHOP TEAM TODO TRI |
| 196 | 296 | CORPUZ | PRIMITIVO | TEAM PSG |
| 197 | 297 | CORTEZ | CESAR | KENYO CYCLING TEAM |
| 198 | 298 | COTANGCO | JAY | ENSO'S BIKE SHOP-JOHN WILKIE |
| 199 | 299 | CRUZ | TIMOTHY | COLEGIO SAN AGUSTIN BINAN |
| 200 | 300 | CRUZ | CHESTER IVAN | UNILAB |
| 201 | 301 | CRUZ | MELVIN | JAMBA JUICE |
| 202 | 302 | CRUZ | JOSEF | |
| 203 | 303 | CRUZ | RONWALDO | |
| 204 | 304 | CRUZ | ELWOOD | |
| 205 | 305 | CRUZ | CRUZALDO | CROWN SYNERGY |
| 206 | 306 | CRUZ | YU-YOO | GIANT TEAM |
| 207 | 307 | CUADRA | MICHAEL | |
| 208 | 308 | CUAN | MARTHYN | MERALCO |
| 209 | 309 | CUERPO | ANTHONY | VCC AUTOTRADER |
| 210 | 310 | CUISON | JOSEPH | POTATO CORNER |
| 211 | 311 | CUNANAN | JUN | TIMEX-GOLD'S GYM TEAM |
| 212 | 312 | CURA | FLORENCIO | |
| 213 | 313 | CUSTODIO | MARTIN | |
| 214 | 314 | CUSTODIO | BOGS | |
| 215 | 315 | DACUDAO | MARC JHOREL | SAMPAGUITA DEPT. STORE |
| 216 | 316 | DANIOLO | JUN | ARMY/NAVY |
| 217 | 317 | DARIO | MARL | TEAM ENERGIZER |
| 218 | 318 | DAUZ | MICHAEL | PRO EX |
| 219 | 319 | DAVID | JORDAN | JC DAVID AND ASSOCIATES |
| 220 | 320 | DAYA | GRACIELLE | XYCOS |
| 221 | 321 | DAYATA | RICARTE | TIMEX-GOLD'S GYM TEAM |
| 222 | 322 | DE GUZMAN | MATTHEW | ATTACK TRI LENOVO |
| 223 | 323 | DE GUZMAN | MARIUS EDUARDO | UNITED FOLDING BIKERS |
| 224 | 324 | DE GUZMAN | JOJO | ATTACK TRI LENOVO |
| 225 | 325 | DE GUZMAN- ALIDIO | GLECIE | |
| 226 | 326 | DE JESUS | JOSE JR. | |
| 227 | 327 | DE VERA | JORENCE | |
| 228 | 328 | DE LEON | JONATHAN | KENYO CYCLING TEAM |
| 229 | 329 | DE LEON | GODFREY | |
| 230 | 330 | DE PADUA | CENEN | XYCOS |
| 231 | 331 | DE TORRES | REYNALDO | D' TAKACHIN |
| 232 | 332 | DE TORRES | SONNY | GROUP N |
| 233 | 333 | DE VERA | ROEL | UFB |
| 234 | 334 | DECENA | MARCO | MEP HOME QUALITY FOOD CORP |
| 235 | 335 | DELA CRUZ | LEANDRO | TEAM TIERRA |
| 236 | 336 | GAVIOLA | JASON PAUL | |
| 237 | 337 | DELA CRUZ | ANTONIO | |
| 238 | 338 | DELGADO | XERXES | SMDC |
| 239 | 339 | DELOS REYES | ANTHONY | BOB |
| 240 | 340 | DELUTA | GERALD | ALTLAS COPCO PHIL CORP |
| 241 | 341 | DELUTA | JOEL | CONCEPCION CARRIER AIR CONDITION COMPANY |
| 242 | 342 | DERRADA | ERIC | DMCI HOMES MULTI-SPORT |
| 243 | 343 | DIAZ | LEO | GRANTRAIL 24-7 |
| 244 | 344 | DIAZ | VER | TEAM ENERGIZER |
| 245 | 345 | DILAG | RODERICK | TEAM TIERRA |
| 246 | 346 | DIMAYUGA | ROMMEL | FIT |
| 247 | 347 | TAMIS | EDUBETH | |
| 248 | 348 | DIZON | RONALD ALAN | TRIMAX |
| 249 | 349 | DIZON | JOSHUA | LATTICE SEMICONDUCTOR CORPORATION |
| 250 | 350 | DONEZA | ANTONIO | SHELL V POWER |
| 251 | 351 | NATO | MART ERVIN | |
| 252 | 352 | DUCUSIN | KRISTOFFERSON | |
| 253 | 353 | DUQUITAN | ALLAIN | GRANDTRAIL 24.7 MULTISPORT |
| 254 | 354 | DY | NOEL | |
| 255 | 355 | EMPEDRAD | ALEX | |
| 256 | 356 | ENCARNACION | ALAN CHRIS | |
| 257 | 357 | ENRIQUEZ | LEROY | THE BRICK |
| 258 | 358 | ESGANA | ALMARIO | TEAM IT'SDER |
| 259 | 359 | ESGUERRA | MARVIN | |
| 260 | 360 | ESPECIO | DONNIE | SCHNEIDER ELECTRIC |
| 261 | 361 | ESPERANZA | JUNEL | SCHNEIDER ELECTRIC |
| 262 | 362 | ESPINELI | FARIEL | XYCOS |
| 263 | 363 | ESPINO | CHRISTOPHER | NOVARTIS HEALTHCARE PHIL |
| 264 | 364 | ESPIRITU | ALLAN | SCHNEIDER ELECTRIC |
| 265 | 365 | ESGUERRA | MARK ANTHONY | ASIA MEDIC FAMILY HOSPITAL & MEDICAL |
| 266 | 366 | EVANGELISTA | TIMMY | XYCOS |
| 267 | 367 | EVARISTO | GERARDO | LSGH |
| 268 | 368 | FERNANDEZ | MICAHEL | TEAM ZENY'S |
| 269 | 369 | FERNANDEZ | JUAN CARLO | TEAM ZENY'S |
| 270 | 370 | FERNANDEZ | KING | HIT AND RUN |
| 271 | 371 | FERNANDO | ANTHONY JOSEPH | |
| 272 | 372 | FERRER | JIMSON | TOSHIBA |
| 273 | 373 | FLORENDO | ADRIAN | |
| 274 | 374 | FORTUNA | ARNOLD | PMMA |
| 275 | 375 | FRANCISCO | JEFFREY | |
| 276 | 376 | FRANCISCO | RICHARD | GRANDTRAIL 24.7 MULTISPORT |
| 277 | 377 | FRANCISCO | MICHAEL | GENTRI RUNNERS CLUB |
| 278 | 378 | FRANCISCO | REY | VCC AUTOTRADER |
| 279 | 379 | FRANCISCO | ERNESTO | |
| 280 | 380 | GABA | JOHN PAUL | TEAM ACCRALAW-BIG CHILL |
| 281 | 381 | GACUTAN | RICO | GRANDTRAIL 24.7 MULTISPORT |
| 282 | 382 | GALANZA | JASPHER | TEAM HANES |
| 283 | 383 | GAMBOA | AMADO | |
| 284 | 384 | GAN | JOSEPH | |
| 285 | 385 | GARCIA | ALVIN | TEAM IT'SDER |
| 286 | 386 | GARCIA | MANUEL JR. | TEAM IT'SDER |
| 287 | 387 | GARCIA | OLIVER | EMPHASIS SERVICES LIMITED |
| 288 | 388 | GARCIA | JOHANNES | CHINA BAKING CORP |
| 289 | 389 | GARCIA | JUN | D TAKACHIN RUNNERS |
| 290 | 390 | GAYTANO | ROLAND | GSIS |
| 291 | 391 | GERONIMO | RODRIGO | EXO |
| 292 | 392 | GIRANG | JOHN KRAIG | UST |
| 293 | 393 | GIRANG | JAY | IBC 13 |
| 294 | 394 | GIRON | RODELLO | GSIS |
| 295 | 395 | GREPO | DARWIN | UCCP BUENAVISTA GENERAL TRAIS CAVITE |
| 296 | 396 | GUARIN | JEFFREY | TRIBE |
| 297 | 397 | GUELAS | DARWIN | IRON BIKE |
| 298 | 398 | GUEVARA | RAYNALD | ENSO'S BIKE SHOP-JOHN WILKIE |
| 299 | 399 | GUILLERME | MICHAEL | CHINA BANK |
| 300 | 400 | GUITIRREZ | ROD-AN | LORDA PHARMA SALES |
| 301 | 401 | GUTIERREZ | DON ARMAND | FITNESS FIRST FORT |
| 302 | 402 | GUZMAN | RONALD | COFFEE AIRE |
| 303 | 403 | HALASAN | RICKY | TEAM GODSPEED-PHIL. BUSINESS BANK |
| 304 | 404 | HASEGAWA | KEITA | TEAM C24/7 |
| 305 | 405 | HERMOSA | RIO | TEAM IT'SDER |
| 306 | 406 | HERNANDEZ | RICKY | LIPA BIKE SHOP |
| 307 | 407 | HERNANDEZ | ROBERTO | TEAM IT'SDER |
| 308 | 408 | HERNANDEZ | WILLIAM | PRO EX |
| 309 | 409 | HERVAS | JINGO | ARMY/NAVY |
| 310 | 410 | HERVIAS | ROY WYNDELL | TIMEX TMM |
| 311 | 411 | HIDALGO | ANTHONINO | |
| 312 | 412 | HOKIA | PIERRE | PRO EX |
| 313 | 413 | HONG | WON KI PAUL | CHUNGDAHM |
| 314 | 414 | IBERA | FRANCIS | |
| 315 | 415 | IBERA | EDWARD | |
| 316 | 416 | IBLAN | CHRISTOPHER | SANTE BARLEY |
| 317 | 417 | ICASAS | VIC | HIT AND RUN |
| 318 | 418 | IGNACIO | GERARDO | TEAM HANES |
| 319 | 419 | IGNACIO | ENRICO | CELO |
| 320 | 420 | IMPERIAL | ALBERT | XYCOS |
| 321 | 421 | INFANTE | GLENN | ABS CBN BROADCASTING CORP |
| 322 | 422 | INGCO | BOB | AMI RISK CONSULTANTS |
| 323 | 423 | INOFERIO | MARLOWE | TRIBE |
| 324 | 424 | JAMILA | SERGIO III | TIMEX TMM |
| 325 | 425 | POLICARPIO | KEVIN | |
| 326 | 426 | JAOJOCO | JASON | ST. LUKES MEDICAL CENTER QUEZON CITY |
| 327 | 427 | JARME | ENRICO JR. | KIMBERLY CLARK PHILS. |
| 328 | 428 | JENKINS | LLOYD | |
| 329 | 429 | JONSON | RICARDO | |
| 330 | 430 | JUANEZA | HERBERT | SUN LIFE FINANCIALS |
| 331 | 431 | JULAG-AY | JOVY | XIKAD |
| 332 | 432 | KAGAHASTIAN | EDMUND | PRO EX |
| 333 | 433 | KAIBIGAN | KRISTAN JERICHO | |
| 334 | 434 | KALLOS | MICHAEL ANGELO | LAK-K BUILDERS |
| 335 | 435 | KALLOS | JOHN PAUL | LAK-K BUILDERS |
| 336 | 436 | KOA | GILBERT | TEAM ON |
| 337 | 437 | KWOK | DIZON | |
| 338 | 438 | LADIA | AJ | |
| 339 | 439 | LANSANG | ROMMEL | TEAM ENERGIZER |
| 340 | 440 | LAT | ALVIN | EXO |
| 341 | 441 | LAURETA | MICHAEL | |
| 342 | 442 | LEDESMA | MICHAEL | GRANTRAIL 24-7 |
| 343 | 443 | LEE | ARNOLD | |
| 344 | 444 | LEONARDO | ART ANTHONY | ADP TRI TEAM |
| 345 | 445 | LEONOR | TANYA ALEXANDRA | |
| 346 | 446 | LEONOR | JOHN JOSEPH | |
| 347 | 447 | LEYTTE | LESTER BENEDICT | |
| 348 | 448 | LEYTTE | CARLOS OLIVER | |
| 349 | 449 | LIM | JERICHO | JMC CONSTRUCTION SUPPLY |
| 350 | 450 | LIM | FRANZ-ANTON | |
| 351 | 451 | LIM | HANZLEY | LTO |
| 352 | 452 | LLOREN | LEO | SHELL VPOWER NITRO+ |
| 353 | 453 | LOCQUIAO | RYAN RIC | CHINA BANK |
| 354 | 454 | LOPEZ | NELSON | DILEONARDO INTERNATIONAL |
| 355 | 455 | LOPEZ | PAULO | ST. FERDINAND CONSTRUCTION DESIGN |
| 356 | 456 | LOPEZ | ANTONIO | LENOVO ATTACK TRI |
| 358 | 458 | LUJERO | JOSHUA GEORGE | ECEC |
| 359 | 459 | LUMABAN | ADRIAN | LATAK |
| 360 | 460 | LUNA | EDWARD | |
| 361 | 461 | LUNAR | JOMAR | |
| 362 | 462 | LUNAR | LUWIE | |
| 363 | 463 | LUY | ENRIQUE JR | |
| 364 | 464 | MABASA | ARTURO | TEAM HANES |
| 365 | 465 | MACALINTAL | DANTE | SANTE BARLEY |
| 366 | 466 | MACARAIG | RAIN | EXO |
| 367 | 467 | MACATANGAY | MICHAEL | GSIS |
| 368 | 468 | MADRIAGA | BONG | ENSO'S BIKE SHOP-JOHN WILKIE |
| 369 | 469 | MADUEÑO | GIL RYAN | LBT |
| 370 | 470 | MAGAS | OYET | TEAM IT'SDER |
| 371 | 471 | MAGBIRO | DON | COFFEE AIRE |
| 372 | 472 | HERNANDEZ | RICKY | LIPA BIKE SHOP |
| 373 | 473 | MAGLONZO | RAYMOND | |
| 374 | 474 | MAGNERA | PETER | SANTE BARLEY |
| 375 | 475 | MAGPANTAY | GOMER | NASUGBU TRI TEAM |
| 376 | 476 | MAGUNDAYAO | FLORENTINO | LIPA BIKE SHOP |
| 377 | 477 | MALABANAN | RIZALDY | SKETCH 2 PLAN |
| 378 | 478 | MALASIG | TONI | FIT |
| 379 | 479 | MALTO | MARK | IRON BIKE |
| 380 | 480 | MAMBA | HELMAR | |
| 381 | 481 | MANALASTAS | JOHN | |
| 382 | 482 | MANAOIS | RONALD | TEAM PSG |
| 383 | 483 | MANIEBO | CARLO | TEAM ACCRALAW-BIG CHILL |
| 384 | 484 | MANLANGIT | RAUL | XYCOS |
| 385 | 485 | MANUEL | ISIDRO | D' TAKACHIN |
| 386 | 486 | MAPALO | OSCAR MIGUEL | TRIMAC |
| 387 | 487 | MARASIGAN | RANDY | EDC MULTISPORT |
| 388 | 488 | MARCELO | STEFANO | ENDRUN COLLEGES |
| 389 | 489 | MARCELO | JESUS JOEY | SANTE BARLEY |
| 390 | 490 | MARIAZETA | JENUS | |
| 391 | 491 | MARIAZETA | FRANCIS XAVIER III | ST. PASCUAL INTERGRATED SCHOOL INC |
| 392 | 492 | MARTINEZ | RICHARD II | LENS-TECH DIGITAL PHOTOGRAPHY |
| 393 | 493 | MARTINEZ | MARTIN CHRISTOPHER | PEPEDALS |
| 394 | 494 | MARVIDA | ROMAR | |
| 395 | 495 | MAZO | ROMMEL | CHUNGDAHM |
| 396 | 496 | TAN | FRANCIS MIGUEL | LE FRANZE TRI TEAM |
| 397 | 497 | MEDINA | ADRIAN RYAN | DIVING GRACE MEDICAL CENTER |
| 398 | 498 | MEMPIN | MIKE | XIKAD |
| 399 | 499 | MENDOZA | RAPHAEL | TEAM GODSPEED |
| 400 | 500 | MERCADO | JEXTER | CALISTOGA CORP |
| 401 | 501 | MERCADO | ELMER | DENR |
| 402 | 502 | MERCADO | GINO | GALINGCO |
| 403 | 503 | MERCADO | BEN | |
| 404 | 504 | MICLAT | YULO | |
| 405 | 505 | MIL | ROBERT JASON | |
| 406 | 506 | MIRANDA | MARK BRIAN | PROMPT MANAGERS AND CONSTRUCTION SERVICES INC |
| 407 | 507 | MIRANDA | BAYANI | |
| 408 | 508 | MIRANDA | NOEL | UNILAB BIKING CLUB |
| 409 | 509 | MIRAS | MIKE | PARA TRI BITCH |
| 410 | 510 | MOJICA | CRISPO | LLFA |
| 411 | 511 | MONSATO | ARVIN | XYCOS |
| 412 | 512 | MONSATO | ARLO | XYCOS |
| 413 | 513 | MONSATO | KENT | XYCOS |
| 414 | 514 | MORALES | BENSON | |
| 415 | 515 | MORALES | RAYMOND | |
| 416 | 516 | MORENO | TOM | LBT |
| 417 | 517 | MUÑOZ | ALAN CHRIS | SHANG PROPERTIES INC |
| 418 | 518 | NABONG | CARLO | TEAM PRO SALES |
| 419 | 519 | NACPIL | JOSEPH MICHAEL | TIMEX TMM |
| 420 | 520 | NALUZ | TEDDY | XYCOS |
| 421 | 521 | NARCISO | DINO | GRANTRAIL 24.7 |
| 422 | 522 | NATAÑO | MELBERT | |
| 423 | 523 | NG | JOAQUIN III | LBT |
| 424 | 524 | NIDOY | EDUARDO | TEAM TIERRA |
| 425 | 525 | NIPASCUA | ARNEL | SAN JOAQUIN-KALAYAAN HIGH SCHOLL |
| 426 | 526 | OBIEN | ARIS | LIVERIGHT TRITEAM |
| 427 | 527 | OCAMPO | OLIVER | COFFEE AIRE |
| 428 | 528 | OGSIMER | CHESTER | |
| 429 | 529 | OLEDAN | MIKE | GOLD TRI |
| 430 | 530 | OLIMPO | RHONIEL | FAMILY TRI |
| 432 | 532 | OLIMPO | RENE JR | FAMILY TRI |
| 433 | 533 | OLIVEROS | JAN DOMINIQUE | LTO MANILA EAST |
| 434 | 534 | OLMOS | CARLO | PLANTERS BANK |
| 435 | 535 | OMOLON | JUNJUN | GIANT TEAM |
| 436 | 536 | ONG | RALPH | DMCI HOMES MULTI-SPORT |
| 437 | 537 | ONG | NEIL | UNITED FOLDING BIKERS |
| 438 | 538 | OPENA | JOSEPH | TEAM ENERGIZER |
| 439 | 539 | OPIASA | PHILIP | TEAM FRANZIA |
| 440 | 540 | ORLANDO | JAMES | SPEED MAGAZINE |
| 441 | 541 | ORQUIZA | RETZEL | XYCOS |
| 442 | 542 | VIVAR | CECILIO | |
| 443 | 543 | ORTEGA | ALEX JR | BIKE 101 |
| 444 | 544 | PACAPAC | JOSE ANTONIO | WETSHOP TEAM TODO TRI |
| 445 | 545 | PACLA | PATRICK | GREENTENNIAL ARCHERS |
| 446 | 546 | PADILLA | FREDERICH | INT'L SOS |
| 447 | 547 | PAGCALIWAGAN | JOHN | |
| 448 | 548 | PAGTALUNAN | RAFAEL | KENYO CYCLING TEAM |
| 449 | 549 | PANGILINAN | ANTHONY JOSE | AM PANGILINAN CONSTRUCTION |
| 450 | 550 | PANGILINAN | JOHN | JRP DESIGN INC |
| 451 | 551 | PANOPIO | ANGELO | PEPEDALS |
| 452 | 552 | PANTUA | SUNNY | KENYO CYCLING TEAM |
| 453 | 553 | PASCUA | NESTOR ANGELUS | LBT |
| 454 | 554 | PASCUAL | EDWARD | COFFEE AIRE |
| 455 | 555 | PATISO | RYAN PETER | |
| 456 | 556 | PAUCO | ALLAN JR. | TREND MICRO |
| 457 | 557 | PEPINO | RICHARD | |
| 458 | 558 | PERALTA | KEITH | SANTE BARLEY |
| 459 | 559 | BUCAL | JEROME | |
| 460 | 560 | PICHAY | PHILIP GERALD JR | THE BRICK |
| 461 | 561 | PIERRE | HOKIA | PRO EX |
| 462 | 562 | PINEDA | ENRIQUE JR | GSIS |
| 463 | 563 | POBRE | ALEXANDER | PATRI / BDO RUNNING CLUB/ RBU |
| 464 | 564 | PORTO | JEROME | TRIBE |
| 466 | 566 | PRIJOLES | ERWIN | GENTRI BIKERS CLUB |
| 467 | 567 | PUATU | DENNIS | TEAM GODSPEED |
| 468 | 568 | PULIDO | MARK | ENSO'S BIKE SHOP-JOHN WILKIE |
| 469 | 569 | QUIMZOM | ALVIN JOHN | TEAM ACCRALAW-BIG CHILL |
| 470 | 570 | QUINES | ANTONIO | DEPED PINAGBUHATAN |
| 471 | 571 | QUINTANA | NILO | LJ BICYCLE STORE |
| 472 | 572 | QUINTANA | GILBERT | |
| 473 | 573 | QUIOGUE | CHRISTOPER | TYTANA CONEGE |
| 474 | 574 | QUIOGUE | BAY | PHILIPPINE NATIONAL BANK |
| 475 | 575 | QUIRMIT | ABRAHAM | |
| 476 | 576 | RABINO | REYNEL | |
| 477 | 577 | RABINO | RANDY | |
| 478 | 578 | RACHO | DEXTER JACOB | UP DILIMAN |
| 479 | 579 | RAMIREZ | DIOSDADO | TOSHIBA-GRC |
| 480 | 580 | RAMOS | DEXTER | ST. FERDINAND CONSTRUCTION DESIGN |
| 481 | 581 | RAMOS | RUSTY | CRISSANT REALTY |
| 482 | 582 | RAMOS | EDWIN | LTO |
| 483 | 583 | RAMOS | ROMEO JR | PREATORIAN |
| 484 | 584 | RANJO | WILLIARD | |
| 485 | 585 | RAPADAS | CLAUDIO | SUN LIFE FINANCIALS |
| 486 | 586 | RAVAGO | ROBERT JONAS | |
| 487 | 587 | REFORMINA | KARL | TPDC |
| 488 | 588 | REMOTIGUE | CONRAD | SCHNEIDER ELECTRIC |
| 489 | 589 | RESURRECCION | NORMAN | |
| 490 | 590 | REYES | MARNIE | XIKAD |
| 491 | 591 | REYES | CALVIN HENRY | THE BRICK |
| 492 | 592 | REYES | TOMMY | UNITED FOLDING BIKERS |
| 493 | 593 | REYES | JOVEN | KENYO CYCLING TEAM |
| 494 | 594 | RICAFRENTE | RONALD | |
| 495 | 595 | RICASATA | MARLON RYAN | IRONBIKE |
| 496 | 596 | RICHMOND | DAVID | |
| 497 | 597 | RIMAS | RODEL | SAN JOAQUIN-KALAYAAN HIGH SCHOLL |
| 498 | 598 | RIVERA | GEENO | CAPITOL MEDICAL CENTER |
| 499 | 599 | RIVERA | REX BRYAN | UNITED FOLDING BIKERS |
| 500 | 600 | RIVERA | ROBERT JONAH | SANTE BARLEY |
| 501 | 601 | RODILLAS | EDISON | ST MICROELECTRONICS / ST CYCLING CLUB |
| 502 | 602 | ROLDA | RODEL | LTO |
| 503 | 603 | ROMERO | MARVIN | TUKLAS RACING AND ADVENTURE TEAM |
| 504 | 604 | RONQUILLO | LARRY | POLKIT |
| 505 | 605 | ROQUERO | EDUARDO JR. | TEAM ACCRALAW-BIG CHILL |
| 506 | 606 | SAAVEDRA | JEFF | DMCI HOMES MULTI-SPORT |
| 507 | 607 | SABADO | ELIGIO JR. | D TAKACHIN RUNNERS |
| 508 | 608 | SALCEDO | RYAN | TEAM ACCRALAW-BIG CHILL |
| 509 | 609 | SALCEDO | MIGUEL ANDRES | DMCI HOMES MULTI-SPORT |
| 510 | 610 | SALOMON | MICHAEL REY | |
| 511 | 611 | SALOMON | ORLAND | TIMEX TMM |
| 512 | 612 | SALVADOR | RALPH JEROME | |
| 513 | 613 | SALVADOR | AUGUST | ST. FERDINAND CONSTRUCTION DESIGN |
| 514 | 614 | SALVADOR | SOLOMAN | PEPEDALS |
| 515 | 615 | SAMSON | TUESDAY | |
| 516 | 616 | SAN AGUSTIN | QUITO | XYCOS |
| 517 | 617 | SAN DIEGO | RODNEY | TEAM GODSPEED |
| 518 | 618 | SANCHEZ | JOEL | LBT |
| 519 | 619 | SANCHEZ | MARK | KENYO CYCLING TEAM |
| 520 | 620 | SANTIAGO | PAUL RICHARD | MARIKINA CYCLING CLUB |
| 521 | 621 | SANTIAGUEL | CHRITOPHER | DASMA WATER DISTRICT |
| 522 | 622 | SANTIANO | RICARDO | |
| 523 | 623 | SANTOS | TIMMY | POTATO CORNER |
| 524 | 624 | SANTOS | RONALD | GIANT TEAM |
| 525 | 625 | SANTOS | ROLAND | AGP FURNITURE & INTERIORS |
| 526 | 626 | SANTOS | ABELARDO JR. | SCHNEIDER ELECTRIC |
| 527 | 627 | SANTOS | NELSON | GSIS |
| 528 | 628 | SANTOS | EMMANUEL | PRO EX |
| 529 | 629 | SANTOS | EMANNUEL | HEALTHWAY MEDICAL CLINICS INC |
| 530 | 630 | SAPNU | GENER | LAST MINUTE TRI TEAM |
| 531 | 631 | SARANGAYA | VINCENT ANTHONY | FEU-EAC |
| 532 | 632 | SARANGAYA | DERECK | TRI-CHEERS |
| 533 | 633 | SARMIENTO | JASON | |
| 534 | 634 | SARMIENTO | JONAS | SHELL VPOWER NITRO+ |
| 535 | 635 | SAULOG | KEO PAOLO | DE LA SALLE – HEALTH SCIENCE INSTITUTE |
| 536 | 636 | SAWAL | JEFF | |
| 537 | 637 | SERADILLA | JESSIE OMAR | LIVERIGHT/ SAFEGURAD |
| 538 | 638 | SERRANO | FRANCIS | TEAM ACCRALAW-BIG CHILL |
| 539 | 639 | SERVINIO | ANTHONY | TEAM MOA |
| 540 | 640 | SEVILLA | MARK JOSEPH | TEAM TIERRA |
| 541 | 641 | SIAPUATCO | DANNY | SHELL VPOWER NITRO+ |
| 542 | 642 | SILVA | GEORGE DARREL | |
| 543 | 643 | SISON | JASON | TRI ME |
| 544 | 644 | SISON | ROWEL | ALCATEL LUCENT |
| 545 | 645 | SALVADOR | ENRICO | |
| 546 | 646 | SO | RALPH | DEL ROSARIO & DEL ROSARIO |
| 547 | 647 | SOBERANO | JOSE GABRIEL | PAREF SPRINGDALE SCHOOL |
| 548 | 648 | SOLIS | CARLO | HCPT 1 |
| 549 | 649 | SOLIS | MARC | TEAM ZENY'S |
| 550 | 650 | SOLIVEN | PJ | |
| 551 | 651 | SOMEROS | ROMMEL | |
| 552 | 652 | SORIANO | JOSEF RYAN | EAGLE MATING SECURITY AGENCY |
| 553 | 653 | SUAREZ | LINO ROY | ACCENTURE INC |
| 554 | 654 | SUBIDO | DENNIS | |
| 555 | 655 | SUGAPONG | RONALD | XIKAD |
| 556 | 656 | SUIZA | GERALD | EXO |
| 557 | 657 | SUMULONG | GALILEO | KENYO CYCLING TEAM |
| 558 | 658 | SWALEH | MK | |
| 559 | 659 | SZE | ALLAN | PRO EX |
| 560 | 660 | TABAQUIN | JOJO | FAMILY TRI |
| 561 | 661 | TAGUILASO | KENNETH | BSM |
| 562 | 662 | TAGUNICAR | ETHERNUEL | STARFISH TRI |
| 563 | 663 | TALOSIG | LEON JR | D' TAKACHIN |
| 564 | 664 | TAMAYO | EDWIN | SCHNEIDER ELECTRIC |
| 565 | 665 | TAN | JOFER | IBM |
| 566 | 666 | TAN | GEORGE | |
| 567 | 667 | TAN | TREVOR | |
| 568 | 668 | TAN | MARVERICK | FRONTE MOTOR PARTS |
| 569 | 669 | TAN | FRANCISCO JR. | VCC AUTOTRADER |
| 570 | 670 | TAN | SHERWIN | |
| 571 | 671 | TAN-BIANA | RAMON III | YEELOOFA DEV'T CORP |
| 572 | 672 | TANGUNAN | ELI | |
| 573 | 673 | TANHUECO | JOHN JOSEPH | |
| 574 | 674 | TAYAWA | MODESTO | D TAKACHIN RUNNERS |
| 575 | 675 | TEJADA | EDWIN | |
| 576 | 676 | TEMPLO | OLIVER | TIMEX TMM |
| 577 | 677 | TENCHAVEZ | CHRISTIAN | |
| 578 | 678 | TERRADO | MARK ANTHONY | |
| 579 | 679 | TING | CHARLIE | COFFEE AIRE |
| 580 | 680 | TOPPING | MATTHEW | |
| 581 | 681 | TORRES | RUBEN | METROPOLIS CYCLING CLUB |
| 582 | 682 | TRIESTE | GLENNARD | |
| 583 | 683 | TUAZON | JASPER | ALFONSO SPECIALISTA HOSPITAL |
| 584 | 684 | TUPPIL | RICHARD | GRANDTRAIL 24.7 MULTISPORT |
| 585 | 685 | TY | ALVIN | |
| 586 | 686 | UNLAYAO | RICKY | PARA TRI BITCH |
| 587 | 687 | URBIZTONDO | EDGAR | |
| 588 | 688 | VALDEZ | AMBROSIO | ANST |
| 589 | 689 | VALENCIA | JOHN ANDREW | |
| 590 | 690 | VALENCIA | PHILIP | |
| 591 | 691 | VALERO | NERI | PRO EX |
| 592 | 692 | VALLIDO | JEG | GRANTRAIL 24.7 |
| 593 | 693 | VELASCO | OSCAR JR. | NASUGBU TRI TEAM |
| 594 | 694 | VELASQUEZ | BERNARDO JR. | |
| 595 | 695 | VELEÑA | HARVENIO | STS, OFW |
| 596 | 696 | VELMONTE | TOTO | XYCOS |
| 597 | 697 | VELUZ | WILFREDO | SCHNEIDER ELECTRIC |
| 598 | 698 | VENTAJAR | MANUEL JOSE | SIGMA 6 |
| 599 | 699 | VERGARA | LAZARO | METROPOLIS CYCLING CLUB |
| 600 | 700 | VERGARA | MARVIN DENNIS | |
| 601 | 701 | VERGARA | DANILO | |
| 602 | 702 | VEROY | LESTER | |
| 603 | 703 | VIADO | AL | TEAM ACCRALAW-BIG CHILL |
| 604 | 704 | VIBAR | FRANK | |
| 605 | 705 | VICTORINO | EDILBERTO | |
| 606 | 706 | VILLADOLID | JOSELITO | |
| 607 | 707 | VILLAFLOR | JOHN JUSTIN | SIGMA |
| 608 | 708 | VILLALBA | ERELL | |
| 609 | 709 | VILLALUZ | NICK ANGELO | ADB |
| 610 | 710 | VILLAMAYOR | NELSON | GLOBAL PORT |
| 611 | 711 | VILLAMIEL | JOHN | ARTWORK INC |
| 612 | 712 | VILLANUEVA | CHRISTIAN DANIEL | |
| 613 | 713 | VILLANUEVA | DENNIS | PNP |
| 614 | 714 | VILLAR | JULIAN | TIMEX-GOLD'S GYM TEAM |
| 615 | 715 | VILLARICO | LEO | BANGKO SENTRAL NG PILIPINAS |
| 616 | 716 | VILLARIN | BRIAN | |
| 617 | 717 | VILLEGAS | BYRON | UNITED FOLDING BIKERS |
| 618 | 718 | VIOLAGO | GERALD ANTHONY | TEAM IT'SDER |
| 619 | 719 | WHITE | BONG | D TAKACHIN RUNNERS |
| 620 | 720 | YAMAMOTO | PAUL ANTHONY | TEAM PSG |
| 621 | 721 | YAMIO | DANIEL | TEAM SPEED UNLIMITED |
| 622 | 722 | YAO | SHERWIN | GREENHILLS TRI TEAM |
| 623 | 723 | YBAÑEZ | ERNIE JR | GRANDTRAIL 24.7 MULTISPORT |
| 624 | 724 | YONSON | EDGARDO | DLSU-MANILA |
| 625 | 725 | ZABELLA | RONALD | |
| 626 | 726 | ZAMORA | MARVIN | |
| 627 | 727 | ZARAGOZA | MARJAY | NASUGBU TRI TEAM |
| 628 | 728 | ZULETA | RAYSON | |
| 629 | 729 | ZUÑIGA | FRANCIS XAVIER III | |
| 630 | 730 | TEVES | JOSE PAOLO III | |
| 631 | 731 | ERESE | RAFAEL | |
| 632 | 732 | SOLIVEN | PJ | |
| 633 | 733 | VERGARA | MARVIN DENNIS | |
| 634 | 734 | VERGARA | DANILO | |
| 635 | 735 | CABAY III | ELFREDY | TEAM ITSDER MULTISPORT |
| 636 | 736 | SAJORDA | ERIC | TEAM ITSDER MULTISPORT |
| 637 | 737 | GASPAR | VINCENT | |
| 638 | 738 | ADALIN | MARLO | |
| 639 | 739 | NAVAL | BOBBY | LIPA BIKE SHOP |
| 640 | 740 | SIN | JULIUS | SANTE BARLEY |
| 642 | 742 | LOPEZ | TERRENCE | TEAM BSM |
| 643 | 743 | DAYO | VICENTE | TEAM BSM |
| 644 | 744 | MALACA | MARCO NELO | TEAM BSM |
| 645 | 745 | AVANZADO | JOSE LAURENCE | TEAM BSM |
| 646 | 746 | MADRIDEO | KEVIN ANTHONY | TEAM BSM |
| 647 | 747 | DOCTOLERO | ROMULO | TIMEX TMM |
| 648 | 748 | MIRANDA | REUBEN | TUKOD.PH |
| 649 | 749 | MIRANDA | RENE | TUKOD.PH |
| 807 | 757 | DELA CRUZ | ROGIE | |
| 808 | 758 | JAMORA | VANZ | |
| 809 | 759 | PERALTA | PHILIP | |
| 810 | 760 | RAMOS | MARK LOUIS | |
| 811 | 761 | CELIS | NELSON DOMINIC | ITS DER MULTISPORT |
| 812 | 762 | BUNDOC | RONN BRYAN | |
| 813 | 763 | BALTAZAR | MIGUEL ANTONIO | TRI MONKEYS TEAM |
| 814 | 764 | MANALESE | ARIES | TRI MONKEYS TEAM |
| 815 | 765 | LLAMES | JOSEPH | BUREAU OF FIRE PROTECTION |
| 816 | 766 | LOPEZ | LEONARD | TUKOD.PH |
| 817 | 767 | LAMAN | JAN CHRISTOPHER | STARTING LINE TRIATHLON |
| 818 | 768 | VALDEZ | RAMON EDGARDO | |
| 819 | 769 | VILLA | JB MARTIN | |
| 820 | 770 | FRANCISCO | ALLAN GERARD | SCOTT-MULTISPORT |
| 821 | 771 | AGCAMARAN | MERLIN MANUEL | |
| 822 | 772 | MABILANGAN | JENSEN RUSSELL | |
| 823 | 773 | NILLO | ERIC | SCOTT-MULTISPORT |
| 824 | 774 | ABANTE | KIKO | SCOTT-MULTISPORT |
| 825 | 775 | SARACHO | MARLON | TUKOD.PH |
| 826 | 776 | TADIFA | EUGENE | |
| 827 | 777 | MARTINEZ | AUGUST | TEAM BUFFET |
| 828 | 778 | ABOY | ALEXANDER | |
| 829 | 779 | ADAYA | ROGER | |
| 830 | 780 | REYES | ROY DANILO | ITS DER MULTISPORT |
| 831 | 781 | ZAIDE | JEAN-LOUISE | SCOTT-MULTISPORT |
| 832 | 782 | BLANCO | DENNIS | NI-GATSU |
| 833 | 783 | PAUCO | MARK | TEAM BUFFET |
| 834 | 784 | CALARA | JESSIE JAY | TRI MONKEYS TEAM |
| 835 | 785 | DIMAYA | ROMULO JR. | ALFONSO BIKERS CLUB |
| 836 | 786 | GUIYAB | DOUGLAS | BUREAU OF FIRE PROTECTION |
| 837 | 787 | LAO | PAULO | BEAT THE PAIN |
| 838 | 788 | SIMEON | JULES GERALD | |
| 839 | 789 | ESTRELLA | MERVIN | FLUOR |
| 840 | 790 | TEODORO | WILFREDO | ENZO BIKESHOP |
| 841 | 791 | ALVAR | ALVIN | ENZO BIKESHOP |
| 842 | 870 | ABERIA | COLUMBO ALLAN | |
| 843 | 871 | MALABED | PERGENTINO | PNP |
| 844 | 872 | KATO | SUICHI | |
| 845 | 873 | AGUTO | RODERICK | BUREAU OF FIRE PROTECTION |
| 846 | 874 | BARAYUGA | MIKE | BUREAU OF FIRE PROTECTION |
| 847 | 875 | DULOT | GILBERT | BUREAU OF FIRE PROTECTION |
| 848 | 876 | ZOBEL | JOEL | BUREAU OF FIRE PROTECTION |
| 849 | 877 | GOMEZ | MARTY ANTONIO | MARIKINA CYCLING CLUB |
| 850 | 878 | SERRANO | ALVIN | TEAM BUFFET |
| 851 | 879 | ADALIN | MARLON | TRIBE |
| 852 | 880 | CRUZ | ALEXANDER | BEAT THE PAIN |
| 853 | 881 | CUETO | EDWIN | GREEN PLANET |
| 854 | 882 | PUA | DOMINGO | TEAM BUFFET |
| 855 | 883 | LO | JOEGEN | TEAM BUFFET |
| 856 | 884 | CINCO | TIRSO JR. | SCOTT-MULTISPORT |
| 857 | 885 | EUGENIO | ARMANDO | |
| 858 | 886 | VIRATA | JAIME | |
| 859 | 887 | TANJANCO | MICHAEL | |
| 860 | 888 | HALL | JAMES | BUREAU OF FIRE PROTECTION |
| 861 | 889 | PEREZ | MARIO ALBERT | SANTE BARLEY-TRIMAC |
| 862 | 890 | FRESCO | JESUS JR. | |
| 863 | 891 | MERCADO | ROLANDO | BEAT THE PAIN |
| 864 | 892 | SANTIAGO | RAMON | SCOTT-MULTISPORT |
| 865 | 893 | BUNDOC | RODOLFO | |
| 866 | 894 | CRISOLOGO | JESUS JR. | |
| 867 | 895 | SAN JUAN | AKEEM | |
| 871 | 899 | TUASON | ANDREW LEE | TEAM UNISON |
| 872 | 900 | FRANCISCO | ALLAN GERARD | TEAM UNISON |
Comments
comments