Let's support this event SBR.ph nation! A 20km Team Time Trial! All for the benefit of the typhoon Yolanda victims!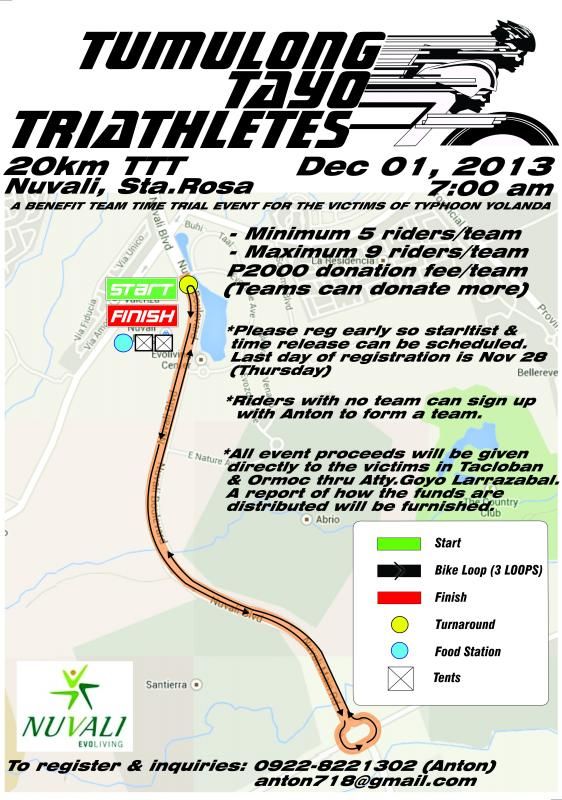 Check out the message below from Ricky Ledesma and Anton Tangan, organizers of the Tumulong Tayo Triathletes 20km Team Time Trial
As a multisport community, we haven't gotten together to help our unfortunate countrymen.

Anton Tangan thought of turning every triathlete/duathletes weekend ride into a fundraising effort.

It will be a simple TTT (Team Time Trial /Tumulong Tayo Triathletes) so we participate as a team.

Though it is ironic that our Triathlon/duathlon races are NON drafting..we will do a fundraiser with Drafting as a key to the teams performance.

5-9 members per team, the time of the fifth rider will be taken.

Composition of the team (male/female, mixed) does not matter, its all in the spirit of raising funds and enjoying our training ride.

Teams can field as many teams as they can.

A minimal team registration fee of P2000/team.

We will welcome additional personal or team contributions outside of the registration fee.

There will be food tents (Mona Lisa), of which proceeds of food sales will also be added to the donation.

Some sponsors will be giving free products to the participants.

If you wish to donate anything to add to the event (photograph, food booth, old clothes etc.), we welcome you.

It will be manually timed, winners will be posted, but we will have no prizes.

The real winners here are our countrymen in Leyte.

Proceeds of the TTT will be given to Atty.Goyo Larrazabal who is directly working with the local governments of Tacloban & Ormoc

The usage of the proceeds will be closely accounted & a report will be given to us soon after.

We hope to see all the multisport teams represented.

The more we are, the more we can give to help.

God bless our country!

Yours truly,

Anton & Ricky

PS: No politics in the event please. Thanks.
See you there guys!
Comments
comments