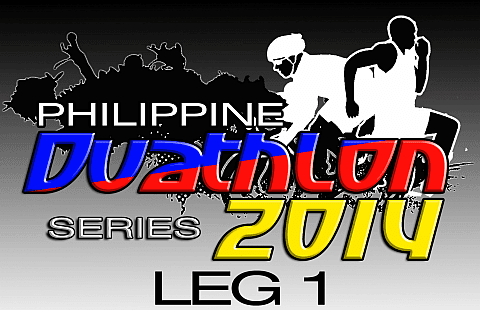 Here we go SBR.ph nation! The 1st leg of the Philippine Duathlon Series is just around the corner! Check out the official start list and race rules below!
SWIMBIKERUN.ph is a proud media partner of the Philippine Duathlon Series.
Here's a message from Popo Remigio of Adrenaline Multisport, organizers of the Philippine Duathlon Series.
hi everyone!

6 days until our race on sunday! it's going to be fine weather, with temperatures reaching up to 91 deg Celsius, humidity at 58% and wind speed at 7mph. 

start list in the attachment, please check if we have your details right. racing kits from 1-650 are available at the respective bike shops until thursday, march 27. race kits from 651 up are available at the race site. all unclaimed kits will be available at the race site. 

race kits contents

include 1 race bib number with timing tag attachment at the back, 1 small helmet sticker (affix to the front of helmet), 2 big bike stickers (adhere to bike seatpost like a flaglet with the number visible at both sides) and 4 safety pins.

if you are not racing, please do not give your race number to another athlete without permission from race organizers.

general race rules

in the attachment for everyone's perusal. (please take note of rules re: earphones).

directions to Eagle Ridge

: 




race course maps are posted on the facebook page "Philippine Duathlon Series 2014." 1 lap for the first leg of the run, 5 loops for the bike leg and 1 lap for the second leg of the run. 

300am     claim race kits/body marking/transition area opens

*awarding of winners will start as soon as all winners in the age categories are complete.
DUATHLON RULES
DOWNLOAD your own copy.
STARLIST
DOWNLOAD your own copy
| | | | | | |
| --- | --- | --- | --- | --- | --- |
| # | SURNAME | FIRST NAME | S | AGE | TEAM/ COMPANY |
| 1 | JAVIER | RUBENO | M | ELITE | TIMEX-GOLD'S GYM TMM |
| 2 | VALDEZ | JEFFREY | M | ELITE | YELLOWCAB-TRICLARK |
| 4 | DELDIO | VICKY | F | 90 | |
| 5 | BUHIAN | JERIC | M | ELITE | YELLOWCAB-TRICLARK |
| 6 | VALENCIA | BALTAZAR | M | ELITE | |
| 7 | PEDREGOSA | CARLO | M | ELITE | UNILAB |
| 8 | BANATAO | JARWI | M | ELITE | |
| 9 | VALDEZ | ROWENA | F | 90 | YELLOWCAB-TRICLARK |
| 10 | ABAD | MIRASOL | F | 90 | SANTE BARLEY |
| 11 | GILBUENA | MISCELLE | F | 90 | |
| 12 | PAPAYA | NANCY | F | 90 | |
| 13 | DELOS REYES | JOEY | M | 26 | 8A |
| 14 | LI | KIMBERLY MYKA | F | 21 | TEAM ON |
| 15 | ANONUEVO | ROSE ANN | F | 28 | |
| 16 | JOCSON | CINDY | F | 29 | |
| 17 | SILVESTRE | ANAIS MARIE | F | 29 | |
| 18 | ZAMORA | MAUREEN ICON | F | 22 | SAN BEDA |
| 19 | SANTOS | PATRICK | M | 31 | AKTIBO TRI TEAM |
| 20 | REYES | ROSEMARIE | F | 31 | TEAM JDRT |
| 21 | RANCE | ANNA THERESA | F | 33 | AKTIBO TRI TEAM |
| 22 | RAMOS | JOVITH | F | 33 | |
| 23 | MANONGDO | RAIN CELYN | F | 33 | TRIMAC |
| 24 | DIONISIO | MICHELLE | F | 33 | |
| 25 | VILLAMIEL | SUE CATHERINE | F | 35 | ARTWORK |
| 26 | TAN | KRISTINE MAE | F | 36 | |
| 27 | CHING | GINA | F | 37 | POLKIT |
| 28 | LOZANO | JO-ANNE | F | 37 | |
| 29 | UNLAYAO | JONA | F | 38 | PARA TRI BITCH |
| 30 | RAMOS | CHERRY | F | 38 | ST Microelectronics |
| 31 | GUIYAB | SHERYLLE MARIE | F | 39 | BUREAU OF FIRE PROTECTION |
| 32 | COLLAO | ANGELITA | F | 39 | |
| 33 | JINGCO | LEAH | F | 39 | TEAM RUN RHYMES |
| 34 | CORPUZ | DAWNIE | F | 39 | |
| 35 | KOA | BEVERLY | F | 23 | TEAM ON |
| 36 | GUZMAN | MARIFEL | F | 40 | COFFEL AIRE IND. INC. |
| 37 | SAMSON | TUESDAY | M | 41 | IT'SDER MULTISPORT |
| 38 | ALEJANDRO | GINA | F | 41 | Junior Explorer Learning Center |
| 39 | TUDDAO | SHEILA MARIE | F | 41 | |
| 40 | ANIES | ROZINY | F | 42 | TEAM NASOCLEAR |
| 41 | BUENA | JERALDINE | F | 43 | HIT N' RUN |
| 42 | RAMOS | MYLENE | F | 43 | |
| 43 | GUSILATAR | LEONIZA | F | 44 | PADYAKIDS |
| 44 | CHING | JANET | F | 44 | TEAM SCOTT-ON |
| 45 | ARCHER | CRICKET | F | 45 | PARA TRI BITCH |
| 46 | ESPIRITU | JESSICA | F | 26 | |
| 47 | MARAFKO | ISABELLE | F | 45 | |
| 48 | LEONO | TESS | F | 46 | ASIAN DEVELOPMENT BANK |
| 49 | ABUAN | GERALDINE | F | 47 | UPLB TRANTADOS |
| 50 | CRUZ | LANCE PAOLO | M | 15 | LAGUNA BEL-AIR SCHOOL |
| 51 | OCAMPO | CARLITO GABRIEL | M | 16 | LA SALLE GREENHILLS |
| 52 | ALVAREZ | JAMES BRYAN | M | 16 | DIVINE LIGHT ACADEMY |
| 53 | PANTUA | SYRELLE AUBREY | M | 16 | KENYO CYCLING TEAM |
| 54 | MANALO | JOSH WAYNE | M | 18 | NEW ERA UNIVERSITY |
| 55 | ARCHER | RAVEN | M | 19 | PARA TRI BITCH |
| 56 | CABRERA | KRIS | M | 19 | KENYO CYCLING TEAM |
| 57 | CHAN | JOHN NORMAN | M | 21 | |
| 58 | CUSTODIO | MARTIN | M | 21 | |
| 59 | GO | REMEL BENJAMIN | M | 22 | UST |
| 60 | ONG | GERWIN BRYAN | M | 22 | TEAM SCOTT-ON |
| 61 | VITUG | DERRICK SAMUEL | M | 22 | CEU-MAKATI |
| 62 | SAEED | HUMMA | M | 23 | PARA TRI BITCH |
| 63 | GO | REUBEN THOMAS | M | 23 | |
| 64 | TANHUECO | JOHN JOSEPH | M | 24 | |
| 65 | CHAN | PAUL NORMAN | M | 24 | |
| 66 | BUNDOC | BEEJAY | M | 24 | |
| 67 | MAGAS | NIKKO | M | 24 | IT'SDER MULTISPORT |
| 68 | BELGA | DARIL | M | 24 | AIMPERATORS CLUB INT'L. |
| 69 | CATIPON | JEROME | M | 25 | ROADEATERS CLUB |
| 70 | CORPORAL | VICTOR FRANCIS | M | 25 | ROADEATERS CLUB |
| 71 | MAPALO | OSCAR MIGUEL | M | 25 | TEAM ACCRALW-BIG CHILL |
| 72 | MANIEBO | CARLO | M | 25 | TEAM ACCRALW-BIG CHILL |
| 73 | LAZARO | CHARLES | M | 25 | |
| 74 | PATRICIO | ROBERT | M | 25 | |
| 75 | SO | TIMOTHY | M | 25 | EXCELLENCE |
| 76 | CRUZ | CHESTER IVAN | M | 25 | UNILAB-PEDIATRICA, INC. |
| 77 | SALVADOR | MICHAEL ANGELO | M | 25 | WETSHOPTODO TRI TEAM |
| 78 | MAGLONZO | RAYMOND | M | 26 | |
| 79 | MENDOZA | JEREMIAH | M | 26 | ROADEATERS CLUB |
| 80 | CELIS | NELSON DOMINIC | M | 26 | IT'SDER MULTISPORT |
| 81 | RESURRECCION | NORMAN | M | 26 | AKTIBO TRI TEAM |
| 82 | BUCAL | JEROME | M | 26 | |
| 83 | ILAGAN | KEVIN | M | 26 | TEAM REALVET |
| 84 | ALMARVEZ | TADDEIUS | M | 47 | |
| 85 | MIRAS | MIKE | M | 27 | PARA TRI BITCH |
| 86 | BUNDOC | RONN BRYAN | M | 27 | |
| 87 | BOLJORAN | REGIE | M | 27 | TEAM SCOTT-ON |
| 88 | TAN | NEIL IVAN | M | 27 | CARBOLOADERS |
| 89 | TADENA | JOSHUA FELIX | M | 27 | TREND MICRO |
| 90 | PAUCO | ALLAN JR. | M | 27 | TREND MICRO |
| 91 | BANZON | LOUIS EMMANUEL | M | 27 | |
| 92 | CRUZ | MELVIN | M | 27 | |
| 93 | RAMOS | MARTIN | M | 27 | ATTACK TRI TEAM |
| 94 | RESUELLO | KELMER | M | 28 | PANGASINAN TRIATHLON TEAM |
| 95 | ALVARADO | JOSE ADRIAN | M | 28 | LAKAN-TRI |
| 96 | DABAO | RALPH EMERSON | M | 28 | CARBOLOADERS |
| 97 | ROXAS | NIC | M | 28 | ATTACK TRI TEAM |
| 98 | OLIVEROS | JAN DOMINIQUE | M | 28 | |
| 99 | BENIGLA | GLENN | M | 29 | GLOBE TELECOMS |
| ## | INES | RUPERT ANTHONY | M | 29 | GLOBE TELECOMS |
| ## | ARBIOL | JEROME | M | 29 | PNP-MPD-SWAT |
| ## | CHUA | ANTHONY REY | M | 29 | TEAM HANES |
| ## | CAMINGAWAN | ALPRINCE | M | 29 | HILTI PHILS. |
| ## | CARATAO | JAN MARK | M | 29 | MAHARLIKA DRAKON DRAGONBOAT RACERS |
| ## | CHING | ELVIN | M | 30 | |
| ## | ONG | MARK LESTER | M | 30 | PNP-MPD-SWAT |
| ## | SALOMON | MYKE | M | 30 | |
| ## | ESGUARAS | BLADY MERE | M | 30 | AIMPERATORS CLUB INT'L. |
| ## | SALCEDO | DANI RAY | M | 31 | GLOBE TELECOMS |
| ## | SALCEDO | RYAN VICTORIO | M | 31 | TEAM ACCRALW-BIG CHILL |
| ## | SACLAUSO | JERIC | M | 31 | LAKAN-TRI |
| ## | FRENILA | JUNIFER | M | 31 | |
| ## | SANTIAGO | JR | M | 31 | |
| ## | VILLANUEVA | RYAN IRWIN | M | 31 | |
| ## | MAGALLANES | ADRIAN BRYAN | M | 31 | |
| ## | CONCEPCION | DANILO JR. | M | 31 | |
| ## | SERRANO | FRANCIS | M | 32 | TEAM ACCRALW-BIG CHILL |
| ## | MADARANG | JOLOU | M | 32 | |
| ## | OSORIO | JON | M | 32 | |
| ## | RED | BRIAN | M | 32 | FTX |
| ## | SILVA | ALLAN RICH | M | 32 | PNP-MPD-SWAT |
| ## | JOVELLANOS | MARVIN | M | 32 | TEAM HANES |
| ## | GATCHALIAN | MARK LESTER | M | 32 | |
| ## | SANTIAGO | VINCENT | M | 32 | |
| ## | NEPOMUCENO | JERIC JOE | M | 32 | |
| ## | TOBIANO | NINO LORENZO | M | 32 | |
| ## | BALDOMEZA | PAUL MARCO | M | 33 | |
| ## | ROSALES | LOUBERT | M | 33 | Price Waterhouse Copper |
| ## | BERNARDO | BHENJO | M | 33 | AKTIBO TRI TEAM |
| ## | SOMEROS | ROMMEL | M | 33 | |
| ## | FERNANDEZ | MARK CRISYLOU | M | 33 | |
| ## | PAEZ | KRISTOFER JAN | M | 33 | |
| ## | SANTOS | RONALD | M | 33 | GIANT-LIFECYCLE |
| ## | AQUINO | JASON | M | 34 | PARA TRI BITCH |
| ## | BRACAMONTE | VICTOR | M | 34 | GLOBE TELECOMS |
| ## | DAUZ | MICHAEL | M | 34 | TUKOD.PH |
| ## | VILLALON | JOEL | M | 34 | |
| ## | FERNANDEZ | EMERIC | M | 34 | RED AISLE FILAN |
| ## | DE JESUS | EDWARD | M | 34 | |
| ## | CARPIO | JOYCEE | M | 34 | TEAM HANES |
| ## | DECENA | MARCO | M | 34 | |
| ## | LUMBERA | ALEX JR. | M | 34 | TEAM REALVET |
| ## | REFORMINA | KARL | M | 34 | TEAM JDRT |
| ## | TUPPIL | RICHARD | M | 34 | |
| ## | OGOT | RENATO JR. | M | 34 | ARTESYN |
| ## | GERONIMO | RODRIGO | M | 34 | |
| ## | AMISTOSO | MICHAEL RAYMOND | M | 31 | FITNESS FIRST |
| ## | HERMOSA | RIO | M | 35 | |
| ## | CAPARROS | JOSEPH | M | 35 | |
| ## | GAJITOS | RODRIGO JR. | M | 35 | Five Point Philippines, Inc |
| ## | DARACAN | REDY LYNDON | M | 35 | Five Point Philippines |
| ## | TAN | JOFER | M | 35 | |
| ## | SANTOS | KRISTIAN | M | 35 | ST Microelectronics |
| ## | RIVERA | REX BRYAN | M | 35 | UNITED FOLDING BIKERS |
| ## | DE CASTRO | DAVE REY | M | 35 | ATTACK TRI TEAM |
| ## | ARMAMENTO | MICHAEL | M | 35 | PMMA |
| ## | VILL | JOHN | M | 35 | ARTWORK |
| ## | LABRADOR | ROGELIO JR. | M | 36 | |
| ## | SAN AGUSTIN | QUITO | M | 36 | XYCOS |
| ## | GABA | JOHN PAUL | M | 36 | TEAM ACCRALW-BIG CHILL |
| ## | SISTER | AVER | M | 36 | SOLEUS |
| ## | SOLIVEN | PJ | M | 36 | |
| ## | RONQUILLO | LARRY | M | 53 | |
| ## | BALO | ABNER II | M | 36 | |
| ## | VICTORINO | EDILBERTO | M | 36 | EXCELLENCE |
| ## | VIACRUSIS | RANDY | M | 36 | TEAM VOLVO |
| ## | MIRANDA | BAYANI ANTONIO | M | 36 | TEAM HANES |
| ## | ALMONTE | RUEL JAIME | M | 36 | |
| ## | CAPULONG | JONATHAN | M | 36 | TREND MICRO |
| ## | DE VERA | ROEL | M | 36 | UFB |
| ## | LANDRITO | MICHAEL | M | 36 | |
| ## | CAILLES | GARETT | M | 36 | TRI AKTIBO |
| ## | ZUNIGA | FRANCIS | M | 36 | |
| ## | CENTENO | ADRIAN | M | 37 | |
| ## | TANOJA | BENSON | M | 37 | |
| ## | ROQUERO, JR. | EDUARDO | M | 37 | TEAM ACCRALW-BIG CHILL |
| ## | BUHAY | FRANCIS ALBERTO | M | 37 | IT'SDER MULTISPORT |
| ## | ROMERO | MARVIN | M | 37 | |
| ## | VIOLAGO | GERALD ANTHONY | M | 37 | IT'SDER MULTISPORT |
| ## | LANSANG | ROMUALDO | M | 37 | ENERGIZER PHIL. INC. |
| ## | GALANZA | JASPHER | M | 37 | TEAM HANES |
| ## | MARTINEZ | RICHARD II | M | 37 | TRI TAFT |
| ## | CALICA | FREDERICK | M | 37 | |
| ## | CALDO | ROEL | M | 37 | TEAM JDRT |
| ## | CRUZ | ELWOOD | M | 37 | |
| ## | BALDOVINO | ALMOND RAY JR. | M | 37 | TEAM REALVET |
| ## | BELTRAN | RONILO | M | 37 | TEAM JDRT |
| ## | LOPEZ | CHRISTOPHER | M | 37 | ARTESYN |
| ## | STA. ANA | JUNE VAL | M | 37 | GRC-MIDEA TRI TEAM |
| ## | CALLA | RICKY | M | 38 | PARA TRI BITCH |
| ## | ERESE | RAFAEL | M | 38 | |
| ## | PADILLA | FREDERICH | M | 38 | |
| ## | GALANG | ERIC JOY | M | 38 | PADYAKIDS |
| ## | CANTOR | NOEL | M | 38 | FTX |
| ## | UYENGCO | GLENN MATTHEW | M | 38 | MANILA NORTH HARBOUR PORT, INC. |
| ## | OGSIMER | CHESTER | M | 38 | |
| ## | FERRER | GIDEON | M | 38 | TEAM VOLVO |
| ## | FERRER | KARLO | M | 38 | |
| ## | MERCADO | GINO | M | 38 | GALINCO |
| ## | CARLOS | JOJIT | M | 38 | |
| ## | DE GUZMAN | LIBERATO JR. | M | 38 | VERIZON |
| ## | LOGRONIO | NELSON | M | 38 | |
| ## | SORIANO | JOSEF RYAN | M | 38 | |
| ## | SZE | ALLAN | M | 38 | PRO EX |
| ## | GUIYAB | DOUGLAS | M | 39 | BUREAU OF FIRE PROTECTION |
| ## | MOLATO | DAVID | M | 16 | TEAM PRAETORIAN |
| ## | VALENZUELA | ARISTON II | M | 20 | |
| ## | BUHAY | FRANCIS RICARDO III | M | 39 | IT'SDER MULTISPORT |
| ## | GABRIEL | CRISANTO JR. | M | 39 | PADYAKIDS |
| ## | SANTOS | LYNDON RAYMUND | M | 39 | PADYAKIDS |
| ## | LEONOR | JOHN JOSEPH | M | 39 | PADYAKIDS |
| ## | LLENOS | FRANCISCO JR. | M | 39 | PADYAKIDS |
| ## | MONTEVIRGEN | SHERWIN | M | 39 | TEAM SCOTT-ON |
| ## | FERNANDEZ | ROMMEL | M | 39 | UNISON |
| ## | REYES | RAFAEL | M | 39 | EURO MED LAB PHIL.INC. |
| ## | MUNOZ | DENNIS | M | 39 | LAKAN-TRI |
| ## | IGNACIO | GERARDO | M | 39 | TEAM HANES |
| ## | CRUZ | WILFREDO | M | 39 | |
| ## | CAYCO | EDISON | M | 39 | |
| ## | NALLATAN | ALEX | M | 39 | IBM |
| ## | OLEDAN | MIKE | M | 40 | GOLD TRI |
| ## | BUENA | ARNOLD | M | 40 | HIT N' RUN |
| ## | VIBAR | FRANK | M | 40 | |
| ## | STA. MARIA | NELSON | M | 40 | |
| ## | ESTIOKO | ROBERT CHARLES | M | 22 | |
| ## | DE LEON | EDISON | M | 24 | |
| ## | REMANDABAN | ALEJO | M | 40 | |
| ## | MENDOZA | CHRISTOPHER | M | 40 | |
| ## | VALLO | JOSE WILLIAM | M | 40 | TEAM VOLVO |
| ## | PEPINO | RICHARD | M | 40 | |
| ## | LOZANO | DENNIS | M | 40 | |
| ## | DE GUZMAN | PAOLO | M | 40 | |
| ## | SUMULONG | GALILEO | M | 40 | KENYO CYCLING TEAM |
| ## | DE LEON | JONATHAN | M | 40 | KENYO CYCLING TEAM |
| ## | AMISTOSO | EMMANUEL | M | 41 | |
| ## | UNLAYAO | RICHARD | M | 41 | PARA TRI BITCH |
| ## | CHAN | WILLIAM | M | 41 | |
| ## | SEVA | HERBERT | M | 25 | PAKIL TURUMBA BIKERS CLUB |
| ## | BUHAY | FRANCIS GERARDO | M | 41 | IT'SDER MULTISPORT |
| ## | GACUTAN | RICO | M | 41 | GRANTRAIL |
| ## | GOZUN | OMAR | M | 41 | METROSMILES DENTAL SPECIALISTS |
| ## | YAO | RONALD | M | 41 | TEAM VOLVO |
| ## | SEMONDAC | ALEX | M | 41 | |
| ## | CUSTODIO | WILLIE | M | 41 | |
| ## | KAGAHASTIAN | EDMUND | M | 41 | PRO EX |
| ## | MONTENEGRO | SHERWIN | M | 41 | |
| ## | RAMISCAL | ERIC | M | 41 | |
| ## | SASPA | RAMON | M | 41 | KENYO CYCLING TEAM |
| ## | CORONEL | WALTER | M | 42 | |
| ## | ADVIENTO | GLENN | M | 42 | MOTECH |
| ## | ROMUALDO | GLENN | M | 42 | TEAM HANES |
| ## | CORONADO | CLARK | M | 42 | TEAM REALVET |
| ## | GOMEZ | MARTHY ANTONIO | M | 42 | MARIKINA CYCLING CLUB |
| ## | PALAROAN | RODERIC | M | 42 | ARTESYN |
| ## | CAPAYAS | LEVY | M | 42 | |
| ## | DE VERA | MICHAEL | M | 43 | Total Phils. |
| ## | BAYOT | LEANDRO | M | 43 | MEGAWORLD CORPORATION |
| ## | GUZMAN | RONALD | M | 43 | COFFEL AIRE IND. INC. |
| ## | OLMOS | CARLO MAGNO | M | 43 | PLANTERS BANK |
| ## | COLOBONG | LEMUEL RITCHE | M | 43 | |
| ## | RODILLAS | EDISON | M | 43 | ST Microelectronics |
| ## | ANIES | RONALD | M | 43 | TEAM NASOCLEAR |
| ## | RAVALO | EDWARD | M | 43 | |
| ## | SERVINIO | ANTHONY | M | 44 | TEAM MOA |
| ## | TAN | MANOLITO | M | 44 | TRI-CLARK/TEAM STRIDERS |
| ## | COLLAO | MARC | M | 44 | |
| ## | NANIONG | FREDERICO JR. | M | 44 | MERALCO LIGHTSPEED |
| ## | ADIVISO | AJ | M | 44 | |
| ## | MEMPIN | MIKE | M | 44 | XIKAD MULTISPORT |
| ## | MENDOZA | CHARLES GABRIEL | M | 44 | ST Microelectronics |
| ## | PAN | NATHANIEL THOMAS | M | 44 | RESCUE |
| ## | DE GUZMAN | REYNALDO | M | 44 | XIKAD MULTISPORT |
| ## | RAPADAS | CLAUDIO ROMAN | M | 44 | ARTESYN |
| ## | EMPEDRAD | ALEX | M | 44 | TEAM PISAY 87 |
| ## | DE DIOS | EDSEL | M | 44 | |
| ## | CARNATE | JOSE JR. | M | 44 | |
| ## | LIGOT | JOSEPH | M | 44 | |
| ## | MARASIGAN | DENNIS | M | 44 | |
| ## | OCAMPO | OLIVER | M | 45 | COFFEL AIRE IND. INC. |
| ## | ANURAN | ERIC | M | 45 | ST Microelectronics |
| ## | MARASIGAN | RONAN | M | 45 | POWER DIMENSION INC. |
| ## | RAMOS | SEVERINO | M | 45 | |
| ## | CHANDIRAMANI | SANDEEP | M | 45 | |
| ## | ABUAN | PET | M | 45 | UPLB TRANTADOS |
| ## | DE JESUS | TEDDY | M | 45 | XIKAD MULTISPORT |
| ## | SISON | ROWELL | M | 45 | |
| ## | PANTUA | SUNNY | M | 45 | KENYO CYCLING TEAM |
| ## | AREJOLA | PAOLO ANTONIO | M | 45 | |
| ## | ARCHER | NIGEL | M | 46 | PARA TRI BITCH |
| ## | MALACA | MARCO NELO | M | 25 | BSM |
| ## | PACLA | PATRICK | M | 46 | GREENTENNIAL TRI TEAM |
| ## | LAURENTE | EMMANUEL | M | 46 | TEAM REALVET |
| ## | PANGILINAN | JOHN RAYMUND | M | 46 | JRP DESIGN INC. |
| ## | CORITANA | RENANTE | M | 46 | |
| ## | HERNANDEZ | WILLIAM | M | 46 | PRO EX |
| ## | ATIENZA | JOVEN | M | 46 | KENYO CYCLING TEAM |
| ## | TANTOCO | JOSHUA | M | 46 | KENYO CYCLING TEAM |
| ## | MIRANDA | NOEL | M | 46 | UNILAB |
| ## | SUICHI | KATO | M | 46 | |
| ## | DARIO | MARL | M | 47 | ENERGIZER PHIL. INC. |
| ## | CRUZ | ISRAEL | M | 47 | BYA XTRM TRI TEAM |
| ## | ANYAYAHAN | JOEL | M | 46 | PMMA MULTISPORTS |
| ## | CABAL | DOUGLAS | M | 48 | |
| ## | VILLAMAYOR | NELSON | M | 48 | |
| ## | BOURCIER | LAURENT | M | 48 | ARMY NAVY SOUTH TRI |
| ## | RIVERA | EDUARD | M | 48 | XIKAD MULTISPORT |
| ## | CAMUA | MANNY | M | 48 | KENYO CYCLING TEAM |
| ## | CRUZ | SEAN | M | 48 | ROTARY CLUB OF VIGAN |
| ## | GO | RANDOLPH | M | 49 | |
| ## | MAGAS | OYET | M | 50 | IT'SDER MULTISPORT |
| ## | REYES | JOVEN | M | 50 | KENYO CYCLING TEAM |
| ## | PAJARILLO | JOEVIC | M | 50 | GRC-MIDEA TRI TEAM |
| ## | CARAGAY | MICHAEL | M | 51 | XYCOS |
| ## | ARBOLEDA | JUN | M | 51 | |
| ## | MABASA | ARTHUR | M | 52 | TEAM HANES |
| ## | BRILLANTES | MARTIN | M | 52 | |
| ## | ROSAS | RODERICK | M | 46 | |
| ## | ORLANDA | JAMES | M | 53 | SPEED MAGAZINE |
| ## | CO | GEORGE JR. | M | 54 | PRO EX |
| ## | CABRERA | CRISANTO | M | 54 | KENYO CYCLING TEAM |
| ## | BUNDOC | RODOLFO | M | 55 | |
| ## | ASONG | DODONG | M | 55 | |
| ## | YAMIO | DANIEL | M | 56 | TEAM CHICHEM M.L.Q.H.S '74 |
| ## | QUIOGUE | BAY | M | 58 | PNB |
| ## | TANCHULING | MARGA | F | 23 | |
| ## | VINIEGRA | MA.KRISTINA | F | 25 | |
| ## | DELA CRUZ | MA. ISABELLE | F | 26 | |
| ## | CELESTINO | CAROLINE | F | 26 | ACCENTURE |
| ## | OLIVAREZ | MARIA TRISTAN | F | 27 | |
| ## | MORALES | CHELO | F | 30 | STAGE 21-INTELLIKIDS |
| ## | RAMIREZ | REZIEL | F | 35 | GRC-MIDEA TRI TEAM |
| ## | DIZON | DONNABEL | F | 35 | TOSHIBA GRC TRI TEAM |
| ## | RAMOS | HAZEL | F | 36 | |
| ## | DIZON | CARLISLE | F | 36 | BIKRAM YOGA ALABANG XTRM TRI TEAM |
| ## | EVANGELISTA | GLENDA | F | 37 | ORANGE IT EXCHANGE,INC |
| ## | DIZON | ALMA THERESA | F | 40 | ARQUITECTONICA INTERNATIONAL |
| ## | ISLES | ANGEL | F | 40 | |
| ## | TABALON | RIZZA | F | 42 | |
| ## | SALAZAR | CEZ | F | 45 | SCOTT TRIATHLON TEAM |
| ## | OLIMPO | ROWENA | F | 45 | TEAM FAMILY TRI |
| ## | GELLE | PATTY | F | 46 | MERALCO |
| ## | GARGARITA | RESTY ANGELO | M | 15 | DIVINE LIGHT ACADEMY-MOLINO |
| ## | GILE | JOSHUA | M | 17 | TEAM ACCRALAW-BIG CHILL |
| ## | PILAPIL | JOSE MIGUEL | M | 17 | MAPUA |
| ## | PAZ | OSCAR MIGUEL ROSS | M | 18 | DLSU-DASMARINAS |
| ## | DE DIOS | GIO | M | 20 | University of the Philippines |
| ## | NAVARRO | NOEL ELIEZER | M | 22 | CECON TRI TEAM |
| ## | BALUYUT | FERNANDEZ | M | 22 | MAPUA |
| ## | LUNAR | LUWIE | M | 23 | |
| ## | OXEMER | ORVILLE | M | 23 | ASIAN HOSPITAL & MEDICAL CENTER |
| ## | DELOS REYES | JULIUS | M | 25 | 8A |
| ## | ISCALA | KENNETH | M | 25 | |
| ## | DRIZ | ROGELIO | M | 25 | |
| ## | SAN JUAN | AKEEM | M | 26 | |
| ## | NATO | MART ERVIN | M | 26 | LA SALETTE |
| ## | CAGUICLA | MARK ANGELO | M | 26 | |
| ## | ESCOLTA | GERRY | M | 27 | |
| ## | YOUNG | ALVAN | M | 27 | SAFETEES |
| ## | FERRER | JIMSON | M | 28 | |
| ## | ABUNDA | MICHAEL | M | 28 | |
| ## | AREVALO | JOHN PAUL | M | 29 | TEAM CODE BLUE |
| ## | RAMOS | MARK LOUIS | M | 30 | |
| ## | STA. ANA | ROBERT | M | 30 | |
| ## | LEONARDO III | ART ANTHONY | M | 30 | TEAM ADP |
| ## | ALFEROS | NOMAR | M | 30 | SANTE BARLEY |
| ## | DUMAEL | PAULO | M | 30 | |
| ## | DE JESUS | GERARDO | M | 31 | TEAM SABAK |
| ## | MARTOS | ALLAN ROY | M | 31 | TEAM CB |
| ## | DIMAANDAL | ROMAN | M | 32 | IBM, PH |
| ## | LEYTTE | LESTER BENEDICT | M | 32 | WETSHOPTODO TRI TEAM |
| ## | DUNGCA | TERENCE | M | 32 | TEAM ADP |
| ## | MALATE | ANGELO CARLO | M | 32 | CITIBANK |
| ## | ZARA | MARK LOUIS | M | 32 | CECON TRI TEAM |
| ## | SAULON | CHRISTIAN DANIEL | M | 32 | |
| ## | AMBAGAN | JOHN ROQUE | M | 33 | TEAM XIKAD |
| ## | TECSON | ARWIN | M | 33 | TEAM XIKAD |
| ## | GUIAO | JOVY | M | 34 | Phil. National Police |
| ## | GALANG | CURLEE | M | 34 | TEAM XIKAD |
| ## | CAGUNOT | PHILIP ALVIC | M | 34 | FRITZ & MACZIOL ASIA INC. |
| ## | PAGLINAWAN | SEIGFRED MARC | M | 34 | |
| ## | MORALES | RAYMOND | M | 34 | STAGE 21-INTELLIKIDS |
| ## | SLIPOLDEY | JOMS | M | 34 | CECON TRI TEAM |
| ## | ESGUERRA | MARK ANTHONY | M | 34 | |
| ## | FRANCISCO | JEFFREY | M | 34 | |
| ## | SILLA | PHILMARK | M | 34 | |
| ## | CALUYO | ALMAR | M | 34 | |
| ## | DE LA CRUZ | ALDRIN | M | 35 | MAHARLIKA DRAGON BOAT RACERS |
| ## | JUAITING | BILLY JAY | M | 35 | TEAM CB |
| ## | MALASIG | TON | M | 35 | |
| ## | DIMAYUGA | ROMMEL | M | 35 | |
| ## | DE LEON | JAY | M | 35 | |
| ## | SANTOS | PAOLO | M | 35 | |
| ## | ARCELLANA | LUKE | M | 36 | CECON TRI TEAM |
| ## | PAISO | RYAN PETER | M | 37 | TUKLAS |
| ## | SANTOS | ROLAND | M | 37 | |
| ## | RAMOS | MICHAEL | M | 37 | |
| ## | FABELLA | ARIEL | M | 37 | PMMA MULTISPORTS |
| ## | TOBIAS | MARLON | M | 37 | PMMA MULTISPORTS |
| ## | SERRANO | CARLO MIGUEL | M | 38 | PMMA MULTISPORTS |
| ## | LANTIN | MICHAEL | M | 38 | |
| ## | LEYTTE | CARLOS OLIVER | M | 38 | WETSHOPTODO TRI TEAM |
| ## | HONG | PAUL WON KI | M | 38 | CHUNGDAHM |
| ## | ABAIS | RANDY | M | 38 | SCHNEIDER ELECTRIC |
| ## | REYES | SHERWIN | M | 38 | TADYAK ADVENTURE TEAM |
| ## | RAZAL | JONATHAN | M | 38 | TEAM FREEDOM |
| ## | BLANCO | DENNIS | M | 38 | TEAM FREEDOM |
| ## | TAGUNICAR | ETHERNUEL | M | 38 | STARFISH TRI |
| ## | RAMIREZ | DIOSDADO | M | 39 | GRC MEDIA |
| ## | ASPILI | LOUIE | M | 39 | TEAM RUNNING BUDDIES |
| ## | CHUA | JOBEL | M | 39 | |
| ## | TY | ALVIN | M | 39 | |
| ## | VELUZ | WILFREDO | M | 39 | TOSHIBA GRC TRI TEAM |
| ## | CONSUEGRA | GERMANICO JR. | M | 39 | |
| ## | SAMSON | MARK | M | 39 | ACCENTURE |
| ## | BERBON | BRYAN | M | 39 | |
| ## | MAZO | ROMMEL | M | 40 | CHUNGDAHM PHILS. |
| ## | CARBO | ABET | M | 40 | TEAM FREEDOM |
| ## | PAPIO | ROMMEL | M | 41 | ARLENE'S BIKE SHOP |
| ## | ROQUE | JUNROX | M | 41 | TEAM SANTE BARLEY |
| ## | DANIOLCO | ROBERT | M | 41 | ARMY NAVY SOUTH TRI |
| ## | SUBIDA | DENNIS | M | 41 | |
| ## | BERNARDINO | EDWIN | M | 41 | |
| ## | EVANGELISTA | TIMMY | M | 42 | |
| ## | VENTURINA | TRISTAN BOY | M | 42 | AGC Automotive Phils. |
| ## | DONASCO | RONALD | M | 42 | CECON TRI TEAM |
| ## | ARCELLANA | ANDREW | M | 42 | CECON TRI TEAM |
| ## | ZOTOMAYOR | RITZ | M | 43 | PAGCOR |
| ## | PUNZALAN | ALFRED | M | 43 | BDSC INT-SUPPORT INC. |
| ## | SIY YAP | CHIP | M | 43 | |
| ## | LUNA | EDWARD | M | 43 | STAGE 21-INTELLIKIDS |
| ## | APOLINARIO | DAX | M | 43 | CECON TRI TEAM |
| ## | MAGLANOC | JULITO | M | 43 | TEAM FREEDOM |
| ## | LIPAT | EDWIN | M | 44 | ARLENE'S BIKE SHOP |
| ## | TABAQUIN | JOSEPH | M | 44 | TEAM FAMILY TRI |
| ## | DELOS SANTOS | CARLOS JR. | M | 44 | CECON TRI TEAM |
| ## | SUAREZ | ROY | M | 44 | ACCENTURE |
| ## | DE TORRES | SONNY | M | 45 | ARLENE'S BIKE SHOP |
| ## | OLIMPO | RHONEIL | M | 45 | TEAM FAMILY TRI |
| ## | FORNIS | RUAL | M | 46 | PHIL. NAVY |
| ## | LINATOC | JUAN JOSE | M | 46 | ARLENE'S BIKE SHOP |
| ## | GALANG | EMILIO | M | 47 | TEAM XIKAD |
| ## | TAN | MARVERICK | M | 48 | ARLENE'S BIKE SHOP |
| ## | CRUCILLO | JOSE ANTONIO | M | 49 | GRUPO SIKLISTA DE CASINO |
| ## | OLIMPO | RENE | M | 49 | TEAM FAMILY TRI |
| ## | ROQUE | JOSELITO | M | 53 | |
| ## | LORENZO | JOMEL | M | 54 | TEAM FAMILY TRI |
| ## | PATNUBAY | JAMES | M | 55 | MANSHIP |
| ## | FRANCISCO | ERNESTO | M | 58 | |
| ## | FRANCISCO | BERNICE | F | 29 | SCOTT TRIATHLON TEAM |
| ## | SAN DIEGO | RUBY | F | 32 | TEAM GODSPEED |
| ## | NGO | MARY JEAN | F | 33 | |
| ## | RAPADAS | ELA | F | 34 | |
| ## | DILAG | MELINDA | F | 41 | TEAM TIERRA |
| ## | NICOLAS | CARINA | F | 43 | DAVID'S SALON CLUB |
| ## | ALBARILLO | ALDRICH | M | 18 | MAPUA |
| ## | LUMAR | JOMAR | M | 22 | |
| ## | MIRANDA | KEVIN | M | 22 | |
| ## | ANYAYAHAN | JOLO | M | 23 | PMMA MULTISPORTS |
| ## | SIENA | KEVIN ANGELO | M | 24 | |
| ## | NUGUID | ALAIN KENNETH | M | 24 | |
| ## | BORBE | AARON | M | 25 | UNISON |
| ## | MIRANDA | MARK BRIAN | M | 26 | |
| ## | AYALA | ALEXANDER | M | 30 | IT'SDER MULTISPORT |
| ## | TUASON | ANDREW LEE | M | 30 | UNISON |
| ## | TAN | JORGE CARLOS | M | 31 | |
| ## | CABUNTAS | JOHN LORD | M | 31 | |
| ## | BARNACHEA | MICHELLE | F | 26 | TEAM GIANT |
| ## | LEONOR | TANYA ALEXANDER | F | 32 | |
| ## | ABANTE | KIKO | M | 33 | SCOTT TRIATHLON TEAM |
| ## | GO | HAROLD ANGELO | M | 33 | UNISON |
| ## | LEONOR | MARTIN CHRISTIAN | M | 33 | PLDT |
| ## | MUNDO | NINO | M | 34 | ALPHA ALLYANZA |
| ## | GARCIA | ARIEL | M | 35 | TEAM TIERRA |
| ## | OFLAS | BHOYET | M | 35 | TEAM TIERRA |
| ## | SERRA | ANTHONY | M | 36 | MPD-DPSB |
| ## | MAPALO | LORENZO | M | 31 | TEAM CUCARACHA |
| ## | DILAG | RODERICK | M | 37 | TEAM TIERRA |
| ## | SAN DIEGO | RODNEY | M | 38 | TEAM GODSPEED |
| ## | RONE | JOSEPH | M | 39 | ST CYCLING CLUB |
| ## | ESTARIS | JERRY | M | 39 | TEAM TIERRA |
| ## | RAPADAS | CLAUDIO RONALD | M | 40 | |
| ## | CASTILLO | RANIEL | M | 40 | |
| ## | CABAY | ELFREDY III | M | 40 | IT'SDER MULTISPORT |
| ## | BRACAMONTE | JOSE FRED | M | 41 | CHEVRON |
| ## | MENDOZA | MANUEL | M | 41 | |
| ## | GO | DEXTER | M | 42 | UNISON |
| ## | CASTILLO | RONALD | M | 42 | |
| ## | CATUDIO | ARNOLD | M | 42 | IT'SDER MULTISPORT |
| ## | ARMOCILLA | JONATHAN | M | 42 | |
| ## | TAN | GEORGE | M | 42 | |
| ## | BINAMIRA | DONDON | M | 43 | ST CYCLING CLUB |
| ## | CHING | MELVIN | M | 43 | |
| ## | PAMBUENA | KIM JASPER | M | 44 | |
| ## | AQUINO | NORBERTO III | M | 44 | |
| ## | DE PADUA | CENEN | M | 45 | XYCOS |
| ## | ANTONIO | RAMON | M | 45 | FRANZIA WINES CYCLING |
| ## | VERGARA | LAZARO | M | 45 | METROPOLIS CYCLING CLUB |
| ## | TSAI | FRANK | M | 45 | UNISON |
| ## | GONZALES | GERALD | M | 45 | UNISON |
| ## | MIRASOL | MAR | M | 46 | METROPOLIS CYCLING CLUB |
| ## | ZAMORA | MARVIN | M | 46 | |
| ## | TORRES | RUBEN | M | 47 | |
| ## | PANOPIO | ANGELO | M | 47 | PEPEDALS |
| ## | CRUZ | RHOY | M | 48 | METROPOLIS CYCLING CLUB |
| ## | ESTARIS | FERDINAND | M | 49 | TEAM TIERRA |
| ## | AJENA | ERNAN | M | 50 | PMI |
| ## | MANAOIS | RONALD | M | 50 | TEAM PSG |
| ## | FRESCO | JESUS JR. | M | 51 | |
| ## | SANTIAGO | RAMON | M | 53 | UNISON |
| ## | LEE | GLENN | M | 53 | TEAM BONT |
| ## | SABBALUCA | DANILO | M | 54 | |
| ## | NIONES | RENATO | M | 59 | METROPOLIS CYCLING CLUB |
| ## | GALLARDO | FRANK | M | 59 | TEAM TIERRA |
| ## | NIDOY | EDUARDO | M | 59 | TEAM TIERRA |
| ## | CUEVAS | CHRISTOPHER | M | 31 | TEAM CUCARACHA |
| ## | MEJIA | EUGENE | M | 31 | |
| ## | BAUTISTA | JOHN PAUL | M | 31 | TEAM TARRA |
| ## | VALENZUELA | JENNIFER | F | 33 | |
| ## | RAMOS | LENIE | F | 35 | LENIE'S BIKE SHOP |
| ## | BALDONADO | WENNIE | F | 35 | |
| ## | TAGUILASO | GERALDINE | F | 36 | BSM |
| ## | MOLATO | SANDEE | F | 35 | TEAM PRAETORIAN |
| ## | SANOSA | AIMEE ISABELLE | F | 34 | BSM |
| ## | MELO | RICHARD | M | 31 | |
| ## | SANTOS | TIMMY | M | 31 | TEAM ADRENALINE |
| ## | TAYOTO | BUDZ | M | 32 | |
| ## | LOPEZ | TERRENCE | M | 32 | BSM |
| ## | MADRIDEO | KEVIN ANTHONY | M | 32 | BSM |
| ## | STA. ANA | DENNY | M | 33 | |
| ## | AVANZADO | JOSE LAURENCE | M | 34 | BSM |
| ## | OMOLON | JUN | M | 35 | TEAM GIANT |
| ## | MIRANDA | FERDINAND | M | 36 | XIKAD MULTISPORT |
| ## | DUCUSIN | KRISTOFFERSON | M | 37 | |
| ## | FORTUNA | ARNOLD | M | 38 | BSM |
| ## | URSUA | ERWIN | M | 40 | QC MAMAWS |
| ## | MATUTINA | ERICSON | M | 43 | |
| ## | VIBAL | JOHN | M | 43 | |
| ## | DIOSO | BOY | M | 43 | TEAM GIANT |
| ## | JULAG-AY | JOVY | M | 44 | XIKAD MULTISPORT |
| ## | VALENZUELA | NEIL | M | 46 | |
| ## | SUGAPONG | RONALD | M | 47 | XIKAD MULTISPORT |
| ## | NOGOY | MICHAEL | M | 47 | ARQUITECTONICA INTERNATIONAL |
| ## | APARIS | DANILO | M | 50 | XIKAD MULTISPORT |
| ## | DAYO | BRENT | M | 50 | BSM |
| ## | RAMOS | ROMEO | M | 50 | TEAM PRAETORIAN |
| ## | CHING | EDWIN | M | 55 | TEAM GIANT |
| ## | BUGARING | FERDINAND | M | 50 | |
| ## | CAMARILLO | RODOLFO | M | 45 | |
| ## | VIRATA | JAIME | M | 45 | |
| ## | SAJORDA | ERICSON | M | 47 | IT'SDER MULTISPORT |
| ## | PUNZALAN | ELIJAH MIGUEL | M | 15 | |
| ## | OBENA | JAN LOUISE | M | 19 | |
| ## | VILLACAN | EDMON | M | 19 | |
| ## | CHUA | JERICO | M | 30 | |
| ## | GREPO | DARWIN | M | 32 | |
| ## | JALMASCO | EDWIN | M | 34 | |
| ## | MENDOZA | MICHAEL | M | 34 | |
| ## | LUJERO | JOSHUA GEORGE | M | 37 | |
| ## | DOMINGO | LOUIE JAY | M | 37 | |
| ## | BELARMINO | MICHAEL ANGELO | M | 39 | |
| ## | PUNSALAN | ROELLE | M | 40 | |
| ## | CAMINA | MICHAEL ARTHUR | M | 41 | |
| ## | HERVAS | JINGO | M | 45 | ARMY NAVY SOUTH TRI |
| ## | BALUYOT | ACHILLES | M | 45 | GIANT-LIFECYCLE |
| ## | GUSILATAR | JORGE | M | 47 | PADYAKIDS |
| ## | ESGUERRA | MARVIN | M | 31 | SILANG MOUNTAIN BIKERS |
| ## | MIL | ROBERT JASON | M | 33 | |
| ## | PAKINGAN | RONALD | M | 34 | |
| ## | MOJDEH | MOHAMMAD | M | 35 | THE VILLAGE SPORTS CLUB MULTISPORT LEAGUE |
| ## | TUSCANO | TIM | M | 35 | |
| ## | GARCIA | MARLON | M | 36 | |
| ## | DELA CRUZ | JEPHTIE | M | 37 | |
| ## | CAMILON | ALLAN | M | 38 | ARMY NAVY SOUTH TRI |
| ## | CULIBRA | ALLAN | M | 38 | |
| ## | LAW | JEFFREY | M | 38 | GIANT-LIFECYCLE |
| ## | YANG | STEVIE | M | 38 | GIANT-LIFECYCLE |
| ## | PICHAY | PHILIP JR. | M | 39 | |
| ## | REYES | CALVIN | M | 39 | |
| ## | BANZUELO | JOSEPHUS | M | 39 | |
| ## | BANAL | ERNESTO | M | 40 | |
| ## | CRUZ | YUYOO | M | 41 | AVANTI |
| ## | REYES | IAN | M | 42 | |
| ## | VALDEZ | AMBROSIO | M | 44 | ARMY NAVY SOUTH TRI |
| ## | SAN JOSE | LEODIGARIO | M | 46 | |
| ## | MOJDEH | JOAN | F | 34 | THE VILLAGE SPORTS CLUB MULTISPORT LEAGUE |
| ## | PIZA | SHARON FAYE | F | 36 | |
| ## | ESPIRIDION | RUBY | F | 40 | |
| ## | BONALOS | MAY | F | 49 | |
| ## | TAGUILASO | KENNETH | M | 36 | BSM |
| ## | SARMIENTO | JONAS | M | 45 | SHELL VPOWER NITRO+ |
| ## | LLOREN | LEO | M | 48 | SHELL VPOWER NITRO+ |
| ## | SIAPUATCO | DANNY | M | 45 | SHELL VPOWER NITRO+ |
| ## | LUCAS | BRYAN | M | 31 | SHELL VPOWER NITRO+ |
| ## | DONEZA | ANTONIO | M | 52 | SHELL VPOWER NITRO+ |
| ## | TATOY | EMMANUEL VICTOR | M | 41 | |
| ## | CASIANO | JONALD | M | 42 | |
| ## | LU | WILLIAM | M | 49 | |
| ## | PEDROSA | JOSEPH | M | 39 | |
| ## | DACALLOS | RAUL | M | 32 | |
| ## | ONG | MANUEL JR. | M | 41 | |
| ## | IBERIA | WILNAR | M | 32 | |
| ## | FABIANA | FRANCIS DALE | M | 29 | GREENHILLS TRI TEAM |
| ## | ROMERO | JOHN DANIEL | M | 16 | GRC-MIDEA |
| ## | VERGARA | RIEL JOSHUA | M | 19 | ADAMSON UNIVERSITY |
| ## | SIBAYAN | SAUL ANTHONY | M | 25 | UST |
| ## | SALVILLA | RALPH ALVIN | M | 26 | |
| ## | PINTO | NICOLAI | M | 26 | Fit Academy |
| ## | RABINO | REYNEL | M | 28 | |
| ## | CRUZ | JOEL | M | 30 | |
| ## | FRANCISCO | ALLAN GERARD | M | 31 | SCOTT TRIATHLON TEAM |
| ## | NAVARRO | ROMMEL | M | 31 | |
| ## | GUTIERREZ | DON ARMAND | M | 31 | |
| ## | NILLO | ERIC | M | 32 | TEAM SCOTT |
| ## | OGSIMER | WENDELL | M | 33 | |
| ## | DELA CRUZ | ANTONIO | M | 34 | |
| ## | CUSTODIO | MARLON | M | 34 | |
| ## | VALERO | NERI | M | 35 | PRO EX |
| ## | CANTOR | JAYJAY | M | 35 | |
| ## | UY | NEIL WINCENT | M | 35 | TRIMAC |
| ## | SANTOS | CARLVIN S.A. | M | 31 | Asian Hospital & Medical Center |
| ## | FERNANDEZ | CARLO JAY | M | 36 | PRO EX |
| ## | MENDOZA | RODEL JR. | M | 36 | |
| ## | CARINO | JASON PAUL | M | 36 | |
| ## | MONSANTO | KENT | M | 36 | |
| ## | ACOSTA | MIGUEL | M | 36 | THE BRICK |
| ## | ZAIDE | JEAN-LOUIS | M | 37 | SCOTT |
| ## | CHAN | CLARENCE | M | 37 | TEAM SCOTT-ON |
| ## | ENRIQUEZ | LEROY | M | 38 | THE BRICK |
| ## | ORTIZ | ADO | M | 38 | THE BRICK |
| ## | COLLADO | GUTHRIE | M | 38 | THE BRICK |
| ## | DIMAYA | ROMULO | M | 39 | |
| ## | NOZOT | HERNAN | M | 39 | |
| ## | LAUS | CHRISTOPHER | M | 40 | |
| ## | GAN | ENJOY | M | 42 | |
| ## | NOLASCO | GILBERT | M | 42 | |
| ## | YULO | ROLANDO | M | 43 | |
| ## | LEDESMA | MICHAEL | M | 43 | |
| ## | ROMERO | DON | M | 44 | GRC-MIDEA |
| ## | AGNO | ENRICO | M | 44 | |
| ## | QUERIJERO | FERDINAND | M | 46 | |
| ## | NAVAL | BOBBY | M | 49 | |
| ## | MAUNAHAN | ANGELITO | M | 52 | |
| ## | ONG | ROBERTO | M | 58 | |
| ## | CASTILLO | JOJO | M | 2014 | |
| ## | TY | CECILLE | F | 39 | TEAM SCOTT-ON |
| ## | POLLOSO | JOY | F | 43 | |
| ## | DE GUZMAN | FLOR | F | 37 | |
| ## | LLOVEROS | ROCHELLE | F | 27 | St. Lukes Medical Center BGC |
| ## | MATABANG | JASMINE | F | 28 | |
| ## | ONG | JENNIFER | F | 28 | |
| ## | SOBERANO | JOSE GABRIEL | M | 18 | CEBU TRI TEAM |
| ## | RAMOS | PATRICK HANZEL | M | 20 | UST |
| ## | RAMIREZ | PATRICK JOHN | M | 22 | |
| ## | MENDOZA | JUAN MIGUEL | M | 24 | |
| ## | MANGAKO | NICHOLSON | M | 25 | TEAM CUCARACHA |
| ## | CANONO | JOSEPH RAINIER | M | 26 | |
| ## | SAYOC | ADDISON | M | 26 | UST-MEDICINE |
| ## | IBLAN | CHRIS | M | 27 | TEAM SANTE BARLEY |
| ## | DE PAZ | RASEL | M | 28 | CHUNGDAHM |
| ## | MORTEL | PAOLO ANTON | M | 28 | AKTIBO TRI TEAM |
| ## | ALGAR | JAN IDRIAN | M | 30 | ST. LUKES MEDICAL CENTER |
| ## | SAMPAGA | GENE GREGOR | M | 30 | Schneidier Electric |
| ## | SISTOZA | CHITO PAUL | M | 31 | ST. LUKES MEDICAL CENTER |
| ## | TACMO | JONATHAN | M | 32 | |
| ## | MABILANGAN | JENSEN RUSSEL | M | 32 | |
| ## | PALACIO | CRIS | M | 32 | |
| ## | ANDAL | DENNIES | M | 33 | |
| ## | ZALDUA | ROY | M | 33 | |
| ## | DEL ROSARIO | GERALD | M | 34 | CORRATEC-LIPA |
| ## | CONSTANTINO | RYAN | M | 35 | |
| ## | ROBLEADO | ULYSSES | M | 36 | |
| ## | GARCIA | OLIVER | M | 36 | |
| ## | SALAZAR | RICHARD | M | 36 | TEAM CUCARACHA |
| ## | ATANANTE | MIKE | M | 36 | TEAM GEA |
| ## | HERVIAS | ROY WYNDELL | M | 38 | TIMEX-GOLD'S GYM TMM |
| ## | CASTILLO | MARLON | M | 38 | TEAM FREEDOM |
| ## | ONG | FILOMENO IAN | M | 39 | |
| ## | UY | ANTHONY CLARK | M | 39 | TEAM CUCARACHA |
| ## | OLIVAR | JESS | M | 39 | TEAM GEA |
| ## | PANGANIBAN | BENJIE | M | 41 | PMI/3RD TRANSITION |
| ## | ERMITA | VICTOR | M | 42 | |
| ## | QUION | ROMMEL | M | 43 | |
| ## | CARRANZA | MARLON | M | 47 | PRO EX |
| ## | MERCADILLO | JOSEPH | M | 48 | SEAFOOD ISLAND-ESC |
| ## | GALLAZA | ARSENIO JR. | M | 48 | LAKAD TAKBO FITNESS CLUB |
| ## | CAGAS | DANTE | M | 90 | |
| ## | AQUINO | JERRY | M | 2014 | |
| ## | CHARLTON | DAVID | M | 59 | POLO TRI |
| ## | DE OCAMPO | JJ | M | 47 | POLO TRI |
| ## | STROEM | RUNE | M | 52 | POLO TRI |
| ## | DOCTOLERO | ROMULO | M | 48 | TIMEX-GOLD'S GYM TMM |
| ## | LAPENA | SAMUEL | M | 42 | TIMEX-GOLD'S GYM TMM |
| ## | TEMPLO | OLIVER | M | 42 | TIMEX-GOLD'S GYM TMM |
| ## | CARREON | JUNY REX | M | 35 | TIMEX-GOLD'S GYM TMM |
| ## | ROSIN | ENRICO | M | 48 | TIMEX-GOLD'S GYM TMM |
| ## | NACPIL | JOSEPH MICHAEL | M | 41 | TIMEX-GOLD'S GYM TMM |
| ## | CUNANAN | FERNANDO JR. | M | 40 | TIMEX-GOLD'S GYM TMM |
| ## | BERNARDO | TOBIAS MIGUEL | M | 36 | TIMEX-GOLD'S GYM TMM |
| ## | TORRES | BENEDICTO KIM | M | 38 | DMCI MULTISPORT TEAM |
| ## | GO | MERCY | F | 35 | TIMEX-GOLD'S GYM TMM |
| ## | TORRES | CHRISTINE INA | F | 35 | DMCI MULTISPORT TEAM |
| ## | INFANTE | HAZEL | F | 40 | DMCI MULTISPORT TEAM |
| ## | SALCEDO | ROSANA | F | 50 | DMCI MULTISPORT TEAM |
| ## | LOPEZ | KATHERINE KAYE | F | 32 | DMCI MULTISPORT TEAM |
| ## | MALIGAYA | MARI GRACE | F | 36 | DMCI MULTISPORT TEAM |
| ## | AMISTOSO | MARIA KATRINA | F | 29 | DMCI MULTISPORT TEAM |
| ## | BOBIS | ARMAN | M | 33 | DMCI MULTISPORT TEAM |
| ## | BANAAG | ALBERT | M | 55 | DMCI MULTISPORT TEAM |
| ## | ONG | RALPH | M | 31 | DMCI MULTISPORT TEAM |
| ## | SALCEDO | MIGUEL ANDRES | M | 49 | DMCI MULTISPORT TEAM |
| ## | WILLKOMM | GUISSEPP | M | 39 | DMCI MULTISPORT TEAM |
| ## | BARRIDO | GERALD | M | 45 | DMCI MULTISPORT TEAM |
| ## | QUINTANA | NILO | M | 45 | TRIMONKEYS TRIATHLON TEAM |
| ## | CAPULONG | RESTY III | M | 40 | TRIMONKEYS TRIATHLON TEAM |
| ## | LINGAD | ANTHONY | M | 33 | TRIMONKEYS TRIATHLON TEAM |
| ## | MANALESE | ARIES | M | 27 | TRIMONKEYS TRIATHLON TEAM |
| ## | POLICARPIO | AARON | M | 25 | TRIMONKEYS TRIATHLON TEAM |
| ## | CALARA | JESSIE JAY | M | 38 | TRIMONKEYS TRIATHLON TEAM |
| ## | AGAPITO | ARMIN RENZ | M | 20 | TRIMONKEYS TRIATHLON TEAM |
| ## | POLICARPIO | JOMEL | M | 31 | TRIMONKEYS TRIATHLON TEAM |
| ## | HIZON | AHDRO | M | 34 | TRIMONKEYS TRIATHLON TEAM |
| ## | POLICARPIO | MARVEN | M | 27 | TRIMONKEYS TRIATHLON TEAM |
| ## | PANGILINAN | ANTHONY JOSE | M | 25 | TRIMONKEYS TRIATHLON TEAM |
| ## | ALLADO | JAMES | M | 19 | TRIMONKEYS TRIATHLON TEAM |
| ## | BALTAZAR | MIGUEL ANTONIO | M | 27 | TRIMONKEYS TRIATHLON TEAM |
| ## | POLICARPIO | KEVIN | M | 23 | TRIMONKEYS TRIATHLON TEAM |
| ## | GARCIA | JOHANNES | M | 42 | TRIMONKEYS TRIATHLON TEAM |
| ## | URBANO | JUNY REX | M | 41 | TRIMONKEYS TRIATHLON TEAM |
| ## | GUZMAN | ALEKHINE | M | 42 | TRIMONKEYS TRIATHLON TEAM |
Comments
comments