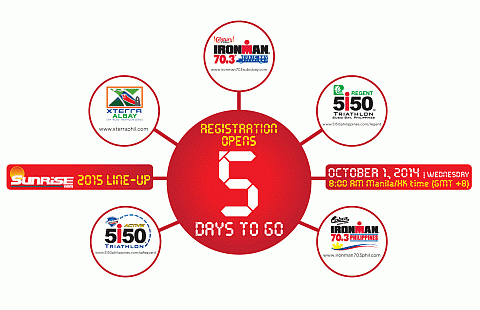 Triathletes of all ages! SAVE THE DATE! Registration for all Sunrise Events, Inc. Triathlon Races (Xterra Albay, Century Tuna Ironman 70.3 Subic Bay, Regent 5150 Philippines, Cobra Ironman 70.3 Philippines, and Safeguard Activ 5150) OPENS OCTOBER 1! Assure yourself of a slot in all SUNRISE EVENTS races!
Registration opens October 1, 2014. 8am Manila/HK time!
Last year, the 2014 Cobra Ironman 70.3 Philippines registration closed in just 4 hours! Prepare your computers and secure your DSL connection! Don't miss out on this one!
Comments
comments