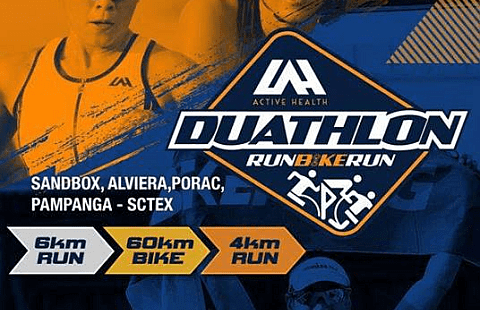 ---
Congratulations to the winners and finishers of the Active Health SCTEX Duathlon 2014! A scorching hot 6km Run, 60km Bike, and a 4Km Run! Rest up and recover well, SBR.ph Nation! You deserve it!
Rate the race using our ratings system above! Share your thoughts about the race in our comments section! 
SWIMBIKERUN.ph is a proud media partner of the Active Health Duathlon 2014.
---
QUICK RESULTS 
RANK BIB FIRST NAME LAST NAME TEAM CATEGORY RUN BIKE RUN TOTAL
1 169 Robeno Javier Navy Standard Insurance M Elite 0:22:25 1:36:38 0:16:35 2:15:37
2 5 Benjamin Jr Rana Unilab Active Health M Elite 0:23:37 1:34:45 0:17:28 2:15:50
3 71 Robinson Esteves Sante Barley M Elite 0:23:01 1:36:00 0:17:11 2:16:12
RANK BIB FIRST NAME LAST NAME TEAM CATEGORY RUN BIKE RUN TOTAL
1 8 Mirasol Abad Team PHI F Elite 0:26:11 1:49:00 0:20:47 2:35:58
2 9 Miscelle Gilbuena Team PHI F Elite 0:26:12 1:55:22 0:21:18 2:42:53
3 785 Rowena Valdez Sante Barley F Elite 0:29:42 1:56:36 0:22:58 2:49:16
Robeno Javier of Navy Standard Insurance was able to overtake Unilab Active Health's Benjamin Rana in the final kilometers of the run  to win the Active Health Duathlon 2014 with a time of 2:15:37. Rana finished second, just seconds behind Javier, with a time of 2:15:50. Robinson "Big Boy" Esteves of Sante Barley capped off the podium with a 2:16:12 finish time.
In the women's elite division, Mirasol Abad of Team Philippines simply dominated the race from start to finish. She finished in 2:35:58, a full 7 minutes ahead of Miscelle Gilbuena, also from Team Philippines who finished in 2:42:53. Rowena Valdez finished third with a time of 2:49:16.
The race was an absolute scorcher as athletes raced under the intense heat of the sun. The intense uphill sections of SCTEX didn't help either :) "Hindi pala patag ang SCTEX! Ang kunat!" most of the participants said after crossing the finish line.
---
Want to join more Duathlons? Don't forget to join SBR.ph's final event for 2014! The Duaman Duathlon X2 happening on September 21, 2014 at Nuvali, Sta. Rosa, Laguna. The distances are 12km Run, 40km Bike, and a 6km Run (double of the first Duaman Duathlon). Registration is still open till Friday!
---
Pictures will be posted on our facebook page! Check it out at www.facebook.com/SWIMBIKERUNph
RACE RESULTS
Click here to view the race results.
Comments
comments