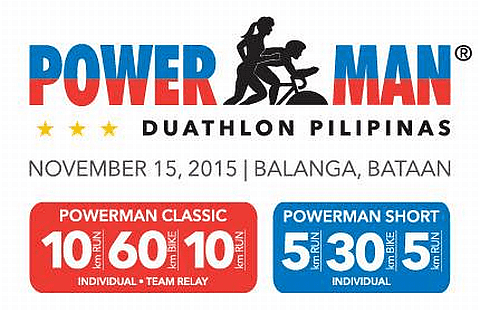 And that's a wrap! Powerman Duathlon Pilipinas rocked the local duathlon scene as it made its debut at the Bataan Tourism Center in Balanga, Bataan, in November 14-15, 2015, participated by duathletes and professional athletes from all over the world.
SBR.ph is a proud media partner of Powerman Duathlon Pilipinas.
---
Rob Woenstenborghs of Belgium powered his way to first place as he conquered the inaugural Powerman Duathlon Pilipinas. Woenstenborghs finished the race in 2:43:42 followed by Nicolas Benoit of France who finished the race in 2:46:16. Thomas Bruins of Netherlands wrapped up the Men's Elite podium by outpacing Gael le Bellec on the final run, finishing third in 2:49:34. Le Bellec, the current Powerman world champion and Powerman Duathlon Pilipinas ambassador just couldn't find his pace as he finished just outside the podium at 2:57:22.
Trivia : At 39 years old, the race was also Rob Woenstenborghs curtain call as he retires from racing and bids Powerman good bye. A nice fairy tale ending. :)
In the Women's Elite division, it was the undefeated IM 70.3 Filipino Elite champion, Monica Torres who dominated the women's race from start to finish. Besting out Airi Sawada of Japan who finished in 3:26:55. Torres executed the perfect race as she finished 5 minutes clear of Sawada, in 3:21:46. Miscelle Gilbuena of Standard Insurance gutted it out and was able to snatch third.
WATCH : Powerman Duathlon Pilipinas Official Race Video. Click here to view the direct link.
POWERMAN DUATHLON PILIPINAS from iC3 Photography on Vimeo.
This is the first time a duathlon event of this magnitude was held in the country. As the only Powerman event in Asia, the race had a total of close to 700 participants from the Philippines and all over the world. The picturesque city of Bataan proved to be the setting as it provided the heat, hills, and heart required to finish the race.
"I believe that duathlon has a very huge potential in the Philippines and bringing in Powerman here will elevate the level of the sport and give avenue for both local and international athletes to have an avenue where they can showcase their talents. Adding to the prestige of the Powerman brand, I believe that Powerman Duathlon Pilipinas sets itself apart from other race for its local elements that was very well exemplified by the City of Balanga," says Raymund Magdaluyo, F&F International Events Group, Inc. CEO and President.
Powerman Duathlon Pilipinas served as a qualifier for the 2016 Powerman Zoefingen World Championships. 
Powerman Duathlon Pilipinas is sponsored by Blackbeard's Seafood Island, Pier at Claw Daddy's, New Orleans, The Red Crab Alimango House, Garmin, Silverworks, Glass Solutions Premiere, Peak Form, Schwalbe, Diamond Rent-A-Car, Skechers Performance, E-gel, Yurbuds and JBL, Chris Sports, Omega Pro, Velotrix, Smirnoff Mule.
---
Don't forget to share your thoughts about the race in our comments section!
Comments
comments