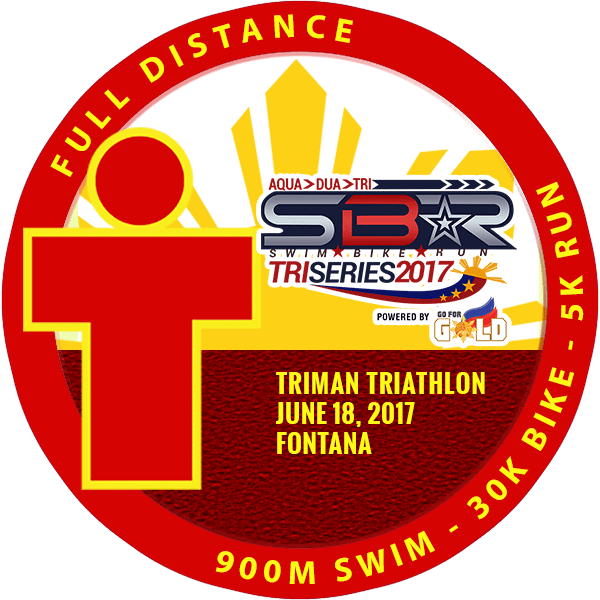 The Triman Triathlon 2017 is here! Are you ready, Trimans? Get ready for the grand finale of the SBR.ph Tri Series 2017 Trilogy! Check out the info below for the official race info, gun start, course maps, and the start list!
---
*note: details are subject to change without prior notice.
Triman Triathlon 2017
June 18, 2017
Fontana Hot Spring Leisure Parks Resort, Clark
6:00 am Race Start
FULL Distance : 900m Swim – 30k Bike – 5k Run
LITE Distance : 600m Swim – 20k Bike – 2.5k Run
MP3 players and other music devices are ALLOWED on the RUN but IS STRICTLY PROHIBITED on the bike
The race is DRAFT LEGAL.
Absolutely no helmet, no ride.
All race kits will be available on Sunday morning (come early!)
Optional race kit claiming on Saturday (Venue and Schedule : TBA)
NO CUT OFF TIME
START LIST
For start list inquiries, email us  at [email protected] DO NOT send us a message via social media, sms, etc.
CLICK HERE to view the start list.
RACE SCHEDULE
*note : release time is subject to change without prior notice
3:00 A.M. : Race Packet Claiming / Body Marking / Bike Check In
5:45 A.M. : Race Briefing
6:00 A.M.  – WAVE 1 : ALL FEMALE LITE
6:15 A.M. – WAVE 2 : MALE LITE 30-39 / MALE LITE 40-49 / MALE LITE 50-ABOVE
6:30 A.M. – WAVE 3 : MALE LITE 15-19 / MALE LITE 20-29
6:45 A.M. – WAVE 4 : ALL RELAY / FEMALE FULL 15-19 / FEMALE FULL 40-49 / FEMALE FULL 50-ABOVE
7:00 A.M. – WAVE 5 : FEMALE FULL 20-29 / FEMALE FULL 30-39
7:15 A.M. – WAVE 6 : MALE FULL 15-19 / MALE FULL 20-24 /
7:30 A.M. – WAVE 7 : MALE FULL 45-49 / MALE FULL 50-54 / MALE FULL 55-59 / MALE FULL 60-ABOVE
7:45 A.M. – WAVE 8 : MALE FULL 40-44
8:00 A.M. – WAVE 9 : MALE FULL 35-39
8:15 A.M. – WAVE 10 : MALE FULL 25-29
8:30 A.M. – WAVE 11 : MALE FULL 30-34
10:30 A.M. : Awarding
12:00 P.M. : Race End
*BIKE CHECK IN WILL CLOSE STRICTLY AT 6:30 AM. PARTICIPANTS WILL NOT BE ALLOWED TO CHECK IN THEIR BIKES AFTER 6:30AM.
RACE VENUE
Directions going to Fontana can be found here.
LINK : http://www.maplandia.com/philippines/region-3/pampanga/angeles/buildings/fontana-resort-clark-pampanga/
RACE KIT
When can I claim my race kit on Sunday? 
All race kits will be available at the expo area on race morning. Come early! We will announce if we will have kit claiming on Saturday.
Ack! I lost my registration slip! How can I claim my kit?
Please bring a valid government id with picture.
What's inside my race kit?
Your race kit will contain the following :
1 Swim Cap
1 Race Bib (Your race number)
1 Bike Sticker
1 Helmet Sticker
4 Safety Pins
1 Wrist Tags
Aquaman Race Kit. (Triman will be colored red)
For the relay, your race kit will contain the same except it will have 12 safety pins and 2 or 3 race bibs and wrist tags. (Depending on the number of athlete's per team)
For a faster transition, and if you don't want to "make tusok tusok" your expensive tri suit, we will have race belts available at the SBR.ph booth.
How come there are so many stickers?! What will I do with the wrist strap?
You must wear your wrist strap at all times, you will not be allowed to enter the race course and transition area without it.
What about the timing chip?
Timing chip will be provided and will be available on race day.
EXTRA SECURITY
As an extra security measure, please be reminded of the following :
No one will be allowed to enter the transition area except for participants with the official wrist tag.
After the race, no one will be allowed to get their bikes UNTIL THE LAST BIKER leaves transition for his/her final run.
The number on your bike MUST MATCH with the number on your wrist tag, race bib, helmet sticker, and body marking.
What if you lose my wrist tag? You will NOT BE ALLOWED to exit the transition area with your bike unless you can show proper identification.
RACE COURSE
*racecourse is subject to change without prior notice.
SWIM COURSE
Athletes will be released in waves (by age groups). Athletes will complete 3 loops of 300m and then after completing the swim, athletes will run to the transition area for T1. For safety purposes, diving is allowed (but will be highly discouraged). Please exercise extreme caution when entering the pool. Let's remember that this is a FUN race.
*TRIMAN LITE participants will do 2 loops.
*For the relays : The other relay team members must wait for their teammate at the transition area. 
BIKE AND RUN COURSE
The bike course is a 2 loop ride (for the FULL Distance Participants) which go around the famous "THE WALL" of Fontana and Clark. The course is virtually traffic free which is a major concern as 90% of our participants are newbies. The bike course starts with a VERY LONG downhill section and then goes back up after the u-turn.. so CONSERVE ENERGY!  
 Upon entering T2, athletes will run 2 loops around the scenic and very homey atmosphere of Fontana Leisure Park before heading to the finish line. Please note that there will be plenty of aid stations along the run course but there WON'T BE ANY AID STATIONS along the bike course so make sure to bring enough hydration with you!
As the saying goes, it's every athlete's responsibility to know the course and count their own loops. So stay focused and remember your loop count! A nice tip would be to wear *goma* or any other reminder that you can peel off after every loop.
* TRIMAN LITE participants will do 1 loop of both the bike and run course.

EXTRA TIP!
Like what we always say to our participants, just enjoy! ? Most importantly, don't forget to share the fun and camaraderie of the SBR.ph Tri Series among'st other participants. If you see someone struggling, give them an encouragement by tapping them on the shoulder or saying the famous words, "let's go!" or "go! go!, Triman".
.  Good luck!
YOU "WILL BE" A TRIMAN!
Comments
comments