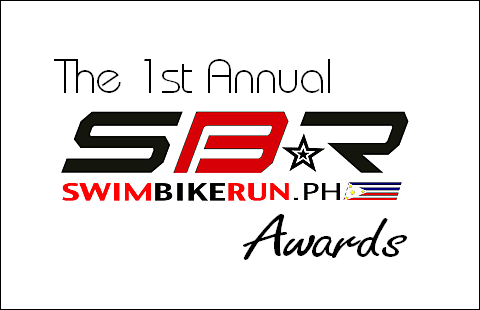 Congratulations to the winners of the 1st Annual SWIMBIKERUN.ph Awards! It is the ultimate goal of SBR.ph to promote and give recognition to our talented local athletes. The 1st Annual SWIMBIKERUN.ph Awards is our first step towards that goal. We also hope that by this awards, we inspire and give all the athletes the extra motivation they need in order to train and push harder this 2012 season.
It's been a huge guessing game as to whether or not public voting is the way to go with our 1st Annual Awards. With the way things turned out.. I guess no one can really question the winners right? They all deserve to win So kudos to the voting public!
We would like to thank all our nominees and the tireless voters who voted and campaigned non-stop for their favorite athletes. Thank you to all our sponsors as well. Without you guys none of this would have been possible! Now that we're slowly starting to get our feet wet in event organizing, you can be assured next year we're going to step it up big time! Here's a hint.. red carpet, formal attire.
The 1st Annual SBR.ph Awards is brought to you by :

In cooperation with :


Special thanks to :
WINNERS OF THE 1st ANNUAL SBR.ph AWARDS 2011
(click on the name to view profile)
Men's Elite Triathlete of the Year (Local)
Arland Macasieb
Women's Elite Triathlete of the Year (Local)
Men's Elite Triathlete of the Year (Foreign)
Pete Jacobs
Women's Elite Triathlete of the Year (Foreign)
Chrissie Wellington
Men's Duathlete of the Year
August Benedicto
Women's Duathlete of the Year
Monica Torres
Men's Age Group Triathlete of the Year
Abe Tayag
Women's Age Group Triathlete of the Year
Pia Cayetano
Coach of the Year
Team of the Year
TriMac Tri Team
Race of the Year
Bike of the Year
Gadget of the Year
Running Shoe of the Year
Youth Triathlete of the Year (Kids)
Comments
comments