Master fitter and President of Elite Bicycles, David Greenfield, is returning to the Philippines to provide advanced bicycle fitting and education to all interested parties.
He will be in Manila on November 10 and 11 to provide bike fitting services, as well as provide custom Elite bicycles to athletes. Fitting service costs Php 14,500 (350 USD), but athletes have the option to book and pay for their fit service for only P 12,500 (USD 300) on or before October 21, 2012. Contact Triton Endurance Sports, official Philippine partner of Elite Custom for inquiries.
"The Perfect Fit begins with an understanding of the athlete's ambitions and abilities in order to educate them on achieving their goals and ultimately building a position that maximizes power, comfort, and handling without losing the bike's ability to evolve with the rider." – David Greenfield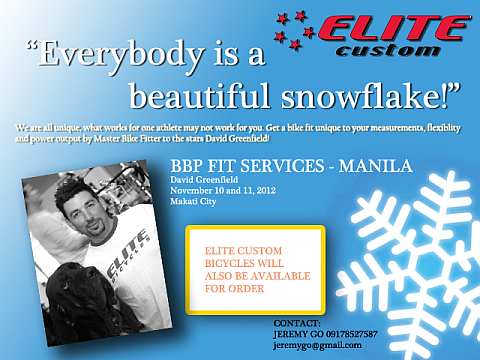 Bio-mechanical Bicycle Positioning (BBP Fit Protocol) offers many advances over typical Fit practices, by focusing on the athlete as the primary functional moving machine, and following the natural flow of the human animal. Riders will benefit from guaranteed improvements in performance, enhanced comfort, greater stability, injury prevention and education that including pre-habilitation information and instructions for athletic advancement. The Protocol can be used to modify an athlete's current position with re-configuration of their existing bike to match the riders needs for a perfect fit, or can be the first step to an entirely custom cut to measure bicycle, or as a guild to the best fitting stock bicycle available in the local market.   This detailed fitting process will take about four hours.
Every fit session is a comprehensive multi-layered approach to determine an athlete's best biomechanical position. The fitters begin with an interview to learn more about the athlete and his or her goals and lifestyle and physical history, after which Elite's positioning protocol is explained and justified. The athlete is then put through an extensive series of tests to assess physical and functional discrepancies and anatomical movement that includes a comprehensive evaluation and stabilization of the complex human foot. This learned information allows David Greenfield to help the athlete create a sustainable, balanced, and safe position that maximizes the athlete's abilities.
BBP fitting consists of the following:
1. The Interview
A quiet, private setting for Q&A, feedback, & extensive pre-fit info.
Physical, medical, sporting and lifestyle history of the athlete.
2.  The Explanation
Use of props & physical interaction in an effort to…

Explain and demonstrate the concept of an Athletic Stance.
Explain and demonstrate the concept of Spine Neutrality.
Explain and demonstrate how to achieve a vestibular dominant environment of proprioception.
3.  The Measurements and Tests
Using body measurement tools, length of limbs and other body proportions are measured and recorded.
Physical and physiological discrepancies are also noted.
Using the same practices as physical therapists and industry recognized functional movement screens, we utilize a massage table and various other tools to test flexibility and range of motion of each individual athlete.
Torsion and alignment are also considered.
Following guidelines of applied kinesiology, we also test muscular engagement and pelvic obliquity.
Using methods applied by Perdorthist and Podiatrists alike, we record the structure of the complex human foot and use the information gathered to properly support the foot creating a stable platform to start a fit.
4.  The Fit
The fit features technique and learned information from all manner of fitting protocols, including but not limited to those from FIST, SICI, Bike Fit, Fit Kit, and Elite's BBP.
The information learnt thus far from testing is used as a basis for the fit to help create a neutral spin environment on the bike, proportionately distribute body weight and effective pressure points, consider center of gravity in a performance based position and most importantly to maximize the athlete's kinetic ability to enable and sustain a faster pace with increased comfort level.
Along with the fit, we teach proper cycling techniques for efficiency, enjoyment and longevity of the ride.
Provide an element of Pre-habilitation by teaching stretching and strengthening techniques to advance muscular patterns that are currently inefficient or adversely affecting performance.
As a part of this pre-habilitation, techniques to help create balanced muscular force partnership throughout the entire human & each individual muscular system are also taught.
*Everyone is a beautiful snowflake.
Over the years Elite Bicycles and the BBP protocol has continually been rewarded through its hard efforts in custom bicycle design and or its advanced fitting services with USA and Foreign National and World championship titles in many of the athletic endeavors its supports. This includes both Professional and Age Group categories.
Multiple Ironman and Ironman world championship wins
Multiple ITU triathlon world championship wins
Olympic top ten finishes
Multiple Duathlon World Championship wins
UCI Track world champion with a world record
Multiple USA national and foreign nations, Triathlon and Duathlon championship wins
Multiple USA State and National cycling championship wins
Multiple USA national Track championship wins
Multiple Domestic Pro and Pro Tour riders have utilized the BBP services in advanced fitting.
Elite Bicycles, Inc. is a Philadelphia based, USA manufacturer of high performance, Racing Bicycles. Elite Designs, Builds, & Paints Semi-Custom & Full Custom Triathlon, Road, Mountain, Cross, & Track Bicycles. Elite Bicycles, Utilizing the highest quality material available, and are recognized  as industry leaders in Bio-mechanical Bicycle Positioning (Fitting) with heavy emphasis on testing all aspects of the riders' functional movement, muscular engagement, range of motion & applied physiology. Elite also offers a strong element of Prehab & education for our clients.
Founder, David Greenfield was a professional Triathlete 1996 to 2000, multiple Triathlon and Cycling win, Jamaican national champion for Olympic and Ironman distance triathlon, and Duathlon. Member of the Jamaican national team for the Caribbean and Continental games and the Pan Am games. Competed in ITU World Championship events for the Olympic distance in 1997, 1998, 1999, and the Ironman world championships in 1999.
The study of advanced cycling science and bicycle fitting begins 1995 to present day, for both traditional industry sources, for material and construction, and fitting protocols, to outlying sources of information that can benefit the applied cycling science.
David's credentials include:
Educated and certified through all of the recognized industry leaders in fitting:  SICI, Retul, F.I.S.T., Bike Fit, Fit Kit, and the creator of BBP
Personally educated by industry pioneers for bicycle fit: John Cobb, Steve Harad, Dr. Andy Pruitt, Steve Hogg.
Learned skills of bicycle build and design by time spent with: Scott Warren, Jim Felt, and Dan Empfield
Consulted with and learned Pedorthist principles and applications taught by Bill Peterson C.Ped and further education with podiatry instructor and foot and ankle Surgeon Paul DeMarco DPM, FACFAS
Certified by Pedorthist Scott Peterson as only other person able to teach and certify new users with his revolutionary CycleSoles custom foot bed molding process.
Privately tutored by Princeton University, Physical therapy professor Stephanie Muth.
Additional edification provided by  Dr. Pamela Wilson, Aleck Wong, DC, Johnny King-Marino DC, CCSP,.
Studied applied kinesiology with field leading practitioner Natalie King, PTA, CIMT.
Attended multiple seminars on Functional Movement, with additional one on one training with Mike McCann a specialist in this arena who works with many professional boxers and football players.
Comments
comments