By: CDG
There are 2 magical numbers when it comes to iron-distance racing. 7:41:33 and 8:18:13. Done guessing? Those are the two fastest iron-distance finish times ever recorded. The first one, was set by Andreas Raelert last 2011 and the second, by Chrissie Wellington, also on 2011.
Some would say the universe conspired and gifted the 2011 batch with perfect racing conditions to set the record. But one thing still remains, those records were set at Challenge Roth.
Challenge Roth is considered by many as a special race. A dream race for most of us. Because not only does it have the best crowd support and atmosphere of any triathlon on the planet, it is also the fastest race on the calendar.
But is it really?
This 2014, three Filipinos made history as being the first Pinoys to compete (and finish!) Challenge Roth. Let's welcome on SBR.ph the triumphant trio of Coach Ani de Leon-Brown (12:15:18), Arland Macasieb (13:10:57) and Noelle de Guzman (13:55:44),
The numbers beside their names, are their respective finish times. Got your attention now?
Let's get on with the interview.
---
SBR.ph : Welcome to SWIMBIKERUN.ph Coach Ani, Arland, and Noelle! Welcome back to Coach Ani and Arland! A special welcome to SBR.ph first timer, Kikay Runner!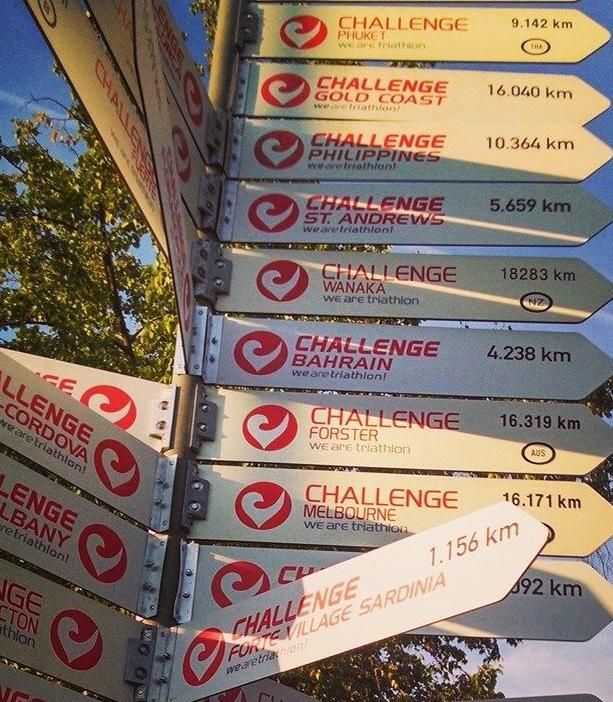 Noelle : Thanks! Happy to have been part of this endeavor and race alongside two giants of Philippine triathlon.
Arland : Thanks Carlos!  It was a true honour and privilege to be the first batch of pinoys to race in this epic event.
Ani : Thanks for having us!
SBR.ph : First of all congratulations for being the first Pinoys to finish Challenge Roth! Tell us about your race. Coach Ani and Arland, I'll go straight to the point. What happened?! Can you give us a short breakdown of your race from start to finish?
Arland : Well I don't know if there is ever a short way to talk about an iron distance!  But basically I had an ok swim in the canal a good first 90K of the bike and then the wheels started to come off.  I'm not sure if it was because my stomach was not used to the High 5 nutrition on the course or it I caught some other bug during the week but I wasn't able to drink or eat on the bike as my stomach would reject whatever I tried to get down even the water.  In retrospect I should have just forced myself to vomit as soon as these symptoms started, but in true ironman form I just kept going and hoped that they would pass.  I wound up stopping several times on the bike as I was starting to cramp.  But it was great that all the aid stations and spectators were more than willing to help out.  Eventually I made it to t2, and headed straight to the medical station which was part of the t2 tent.  I got I think a half liter of IV fluid which took about an hour to get down.  Then I headed out on the run course.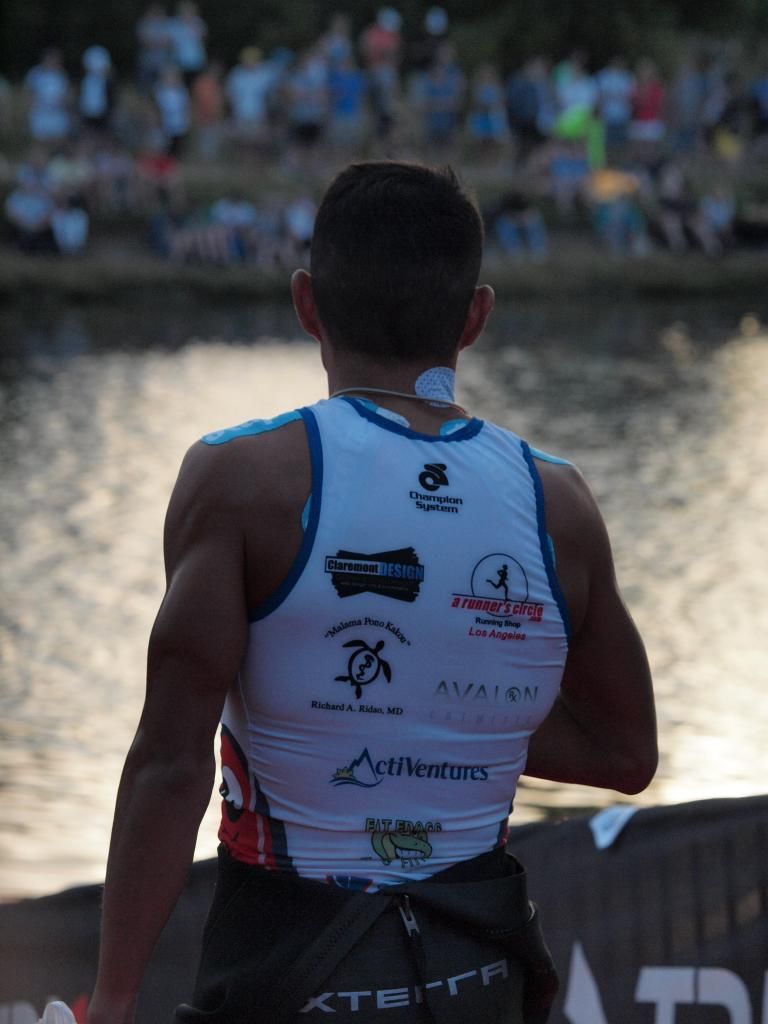 The run was a series of these long out and backs along the canal which was nice, but by that point in the race, started to get crowded and muddy as people were dumping cups on the soft dirt.  Toward the end of the run it started to rain a bit also.  I was able to see Ani and Noelle on the out and back so that was cool.  I also got to run with the Challenge CEO Felix Walshoefer for a bit so that was nice.  But finally my gut caught up with me and I vomitted about halfway into the run.  I walked it off for about a km and then started to jog again.  But at that point without any calories or electrolytes in my system it was all about survival and trying to make the 15 hour cut off.  I finally got to the stadium and was able to do my handstand finish.  Definitely a forgettable race but an unforgettable experience.
Ani : I felt good on the swim and so far was really enjoying the water temperature and seeing the spectators lined up along the side of the Canal. I was bent on having faster transitions as every second counted. I came out of T1 with no problems whatsoever, which was great! I then proceeded to the bike course, which was also lined up with spectators. After some time I realized I was working harder than I wanted to and I had not even reached the "faster portion" yet. Haha. As you know this course is known for producing fast times, so I was excited to have a PR as well. It finally dawned on me at around kilometer 60 that this was not going to be a fast bike split for me. I just had to accept that I had not trained enough for the hills. Bit of a bummer, but then I told myself, "Ani, look up and check out the beauty surrounding you!" I started to change my mindset and it was then easy to remember all the special people who made sure I got to this race. This was for them. At around the 70k mark when I climbed up Solarer Berg I was literally crying going up and had goosebumps all over. This was really a magical moment. The second lap of 90k was a slug, as I had to work hard mentally to stay with a decent-ish pace. I was so drawn out before I even started the run. It would be one of my slowest marathon times ever, but I am happy I made it to the finish line in one piece and injury-free. The crowd support definitely helped me get through it.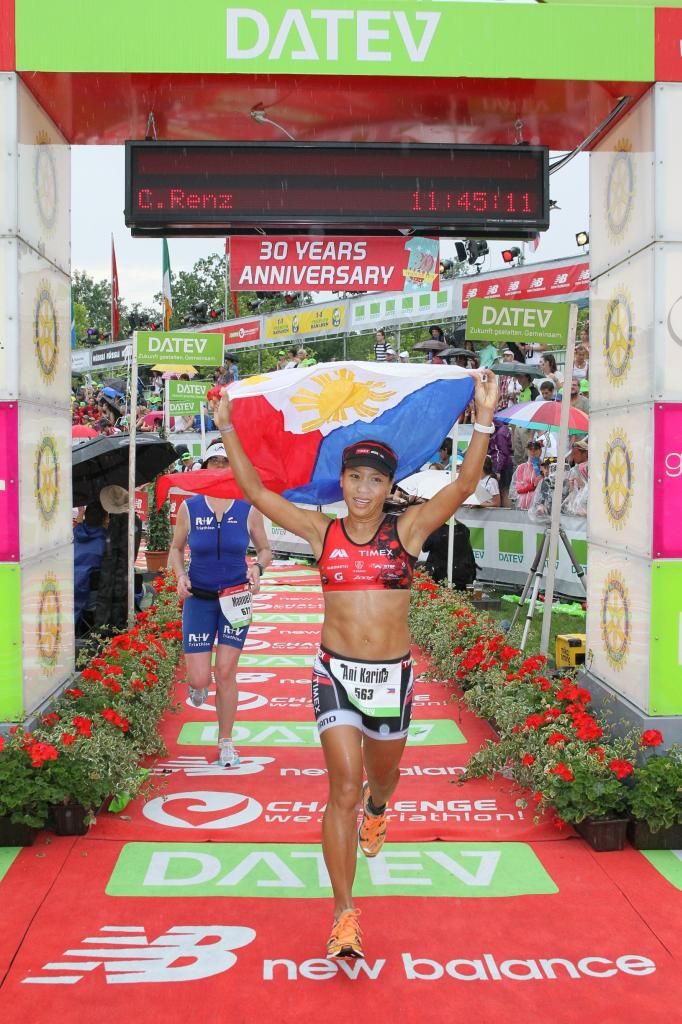 SBR.ph : Noelle tell us about your race. It's not everyday a Filipino gets to do Challenge Roth as her first Iron-distance race! Tell us about your Challenge Roth experience from gun start to crossing the finish line.
Noelle : I tried to treat it as just another race, just twice as long as my longest one. I knew if I looked at it in its entirety I would be overwhelmed with the distance, and I was aware I was very much a rookie at this. My focus was to experience the race, adapt as it unfolded, and get to that finish line no matter what.
The gun start was amazing as the buoy line in front of us lifted and over 600 other women surged forward. I thought I was swimming quite comfortably, but then something started to go wrong with my breathing; it was as if I couldn't get enough oxygen. I recognized it as a sign of an asthma attack, which has been known to happen when you swim in colder temperatures than you're used to. So just like in my first open-water triathlon, I flipped onto my back and completed most of the swim with backstroke! It was either that, or risk dropping out during the swim.
On the bike I managed to reset mentally and was making really good time. There were no real difficult sections to deal with, and the toughest longest climb was the Kalvarienberg, which you rarely hear about because everyone's focused on the Solarerberg. Because I'd trained for and done Challenge Philippines earlier in the year, Kalvarienberg was quite easy to deal with!
Unfortunately there are some technical descents after that climb, and although I was handling them quite well I couldn't account for the carelessness of the athletes around me. Some guy behind me overcooked the downhill and plowed right into me. I'm just happy I didn't break anything, and my bike was unscathed too so I had no excuse but to continue.
The thought occurred to me that if I quit then, I would then have to do another full distance race to get that monkey off my back. Considering all that I'd just gone through, I didn't want to waste the effort. And so I got onto the run course.
I think physically I could have gotten through the distance much faster, but I was demoralized from all that had happened, and when it started to rain halfway through the marathon I wanted to give up again. My planned nutrition gave me the runs, too.
I had nothing left and found myself praying for a way to end my suffering. Haha! But just when I started praying for help is when it came. The volunteers started serving hot soup due to the rain, which made my stomach feel so much better. I also found a rabbit to chase down (another competitor); I've always done better in races when I'm on the hunt as it gives me focus and fire, and that's how I was able to finish. The last motivator was thinking about unfurling the Philippine flag and flying it through the 10,000-seater stadium to the finish. That was a magical moment after almost 14 hours of the most horrible day ever.
SBR.ph : Coach Ani, Arland, and Noelle : Answer this question truthfully. Did you, in any way, underestimate Challenge Roth?
Ani : YES! Haha. The truth hurts :)
Arland : Absolutely!  I knew the world records were on this course and the week before I felt fast on the hills and downhills.  I actually prefer hills over flats anyway as it gives you a chance to change position and use different muscle groups.  But with over 5,000ft of climbing, the Roth bike course is not fast at all!!  It's the quality of field that makes this course fast.  All the Germans and Europeans are so fast esp on the bike, they set the pace for fast performances, also July is summer so most of the athletes here are in their peak fitness.  I on the otherhad was totally undertrained for this event.  So one of these years I will be back and make bawi.
Noelle : The bike course is actually quite easy compared to Challenge Philippines, and since I'd been riding in loops during training, having only to do two loops on the course was a relief!
I think I underestimated how mentally draining the run course could be. You go for long stretches along the canal and then realize that you'll have to run back the same way as well; it definitely beats you down.
Because this was my maiden full distance I had prepared myself mentally for a difficult day, but I didn't understand until race day how much determination it really takes to keep yourself on the course and finish.
SBR.ph : Coach Ani, Arland, and Noelle :  Tell us about your journey to Challenge Roth. We all know registration for the race closes within minutes! How were you able to get your slots?
Ani : I got mine through Felix Walchschoefer, the owner of Challenge. Dan is good friends with him :) My girls at GRFB (Girls Run For Breakfast) helped me pay for my ticket and Unilab took care of registration. Love them for that always.
Noelle : I have to thank Challenge Philippines for the opportunity because I registered really late for Roth. I was one of the local ambassadors for Challenge Philippines and when I mentioned to Dave Voth (the license holder in the Philippines) that I was interested in going to Roth, he gave me complimentary entry to the race and paid for my flights and accommodation. I don't think it would have been possible for me otherwise to be a part of such an iconic race!
Arland : Noelle and I have had the fortune to have been selected as Challenge Philippines Ambassadors and were given this opportunity to race in Roth.  So I really have to thank Raymund Magdaluyo and David Voth from Challenge Philippines for this opportunity.
SBR.ph : Coach Ani, Arland, and Noelle : Talk to us about the infamous Solar Hill! Was it really like what we see in the youtube videos? How crazy was it?!
Arland : Solar Berg as they call it German definitely is the greatest memory I will savour from this race!  It is ever cyclist's dream to ride the Tour De France and have spectators line the streets as your climb.  This is the one opportunity to have this experience in a triathlon.  It was awesome!  Having all the cheers really boosts your energy, and what's cool is that you get to do it 2x!  as the bike course is 2 loops.
Ani : I'm on my 28 cog and barely keeping it together. I was so emotional. Goosebumps and sobbing. They hardly give you any room to go through…I wanted more room but at the same time I loved that I could touch them as I went past. It was amazing.
Noelle : Because of my bike accident (which happened before I could get up Solar Hill for the first time), I rode up Solar later in the day but the crowd was still unbelievable! I could physically feel the noise they made.
Of course on my second round the crowd had thinned out considerably, but I was surprised anyone was still out there at all — I thought they'd have packed up the banners and barricades by then. :)
SBR.ph : For Coach Ani and Arland : How does this rank among your multiple iron distance finishes? How does Roth compare to Kona?
Ani : Kona's Alii drive is wonderful. The vibe of the whole Island and the event is very meaningful. Compared to Roth though, the crowd support is significantly less. In the lava fields there is no one there, it's just you, your bike, the wind and the heat. In Roth you just have people along the course 80% of the time. At the end of the day the place and the people make the event great. They both do an excellent job, it's just a whole different atmosphere being on a hot windy Island and a quaint Bavarian town.
Arland : For sure Roth is up there.  In terms of the number of the organization, the expo, the spectators, our home stay, the after party, the overall experience was perhaps the best long distance I have done.  Kona was just as special as  also have a special place in my heart for hawaii as it is truly a magical place and the one place where I really feel like I belong as a Filipino American.  But even Kona does not have the community rally around their event as much as Roth does.  Both athletes and non athletes really love this event, in Hawaii it's almost like there is this invasion of foreigners for race week and then everyone leaves.  But this race is really like combining the camping community of Wildflower and the high level field of Kona into one.
SBR.ph : Noelle, let me be the first one to say this. Welcome to the (iron-distance) club! We have a saying, you never forget your first, does this apply too to your Challenge Roth experience?
Noelle : Thank you! I'm glad I did Roth as my first full distance. It is one of the jewels of triathlon in Europe, it was a banner year celebrating 30 years of triathlon in the region, Felix Walchshoefer of the Challenge Family raced it for the first time, it was my first time in Europe and Germany, and if I could only do one iron-distance race ever in my life I'm glad it was this one!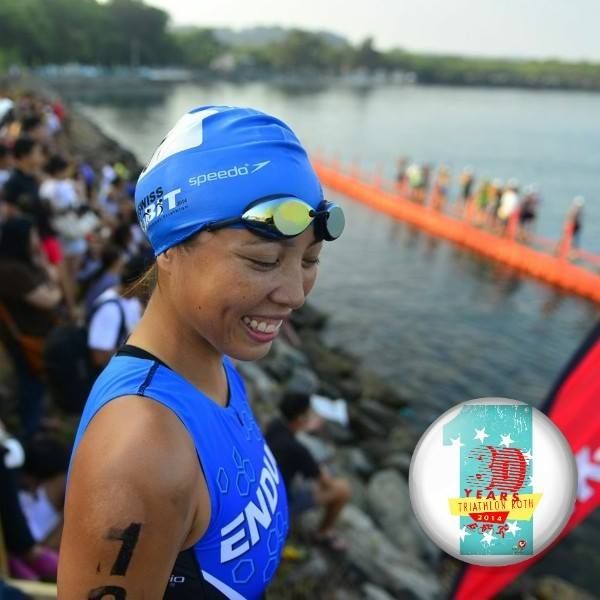 If I ever start to forget, I think my road tattoos will be a permanent reminder. :)
SBR.ph: Arland and Ani. Training wise, how different was your training to Challenge Roth compared to your other iron distance races?
Arland : Well like is said I was very underprepared for this race as this season has been an off year for me dealing with some injuries and being busy with opening a bike shop here in NJ I really haven't had the time to train as I should for a long distance.  Also I had just raced Challenge Atlantic City full distance just 3 weeks before Roth so I was pretty tired to say the least.
Ani : I always feel like I could have done more training, but realistically with my schedule nowadays I can barely make the minimum sessions required to finish an IM decently much more finish it with a superb performance. So I have to admit that I toed the start line in Roth a little less fit than in my good IM races.
SBR.ph : They say Challenge Roth is the fastest iron-distance race on the planet, but you guys were so much faster in Ironman Melbourne. Did fatigue play a factor? Can we now say Roth is harder than Melbourne??
Ani : Melbourne is definitely a faster course, no question about it. Yes I had fatigue on the bike, but I won't use that as an excuse as you always have fatigue off the bike in an IM! Haha.
Arland : For sure Roth is harder, you just have to look at the elevation profile.  The Roth Swim is faster, and the Roth run is nicer since most of it is off road but all in all Melbourne, IMWA, FL and AZ are the fastest Ironman Courses.
SBR.ph : Noelle, talk to us about your training for your first Iron distance race. It's no secret you trained really hard for it (your multiple podium finishes, prior to Challenge Roth, is a good indication). Some even told us that you were the dark horse in this competition. Tell our readers about your journey from being a runner, to a Challenge Roth finisher.
Noelle : I never thought I would want to do a marathon, but in 2010 when the Milo Marathon Manila eliminations fell on my birthday, I thought it'd be a great gift to myself. Challenge Roth was much the same way; I always thought I'd do a full distance somewhere in Asia or just in the Philippines maybe in a few years' time, but the opportunity to do Roth in my birth month this year was too good to pass up.
I think I put in the mileage and effort to enable myself to finish, and that benefited my short-course performances. But it's really funny to have been considered a "dark horse". In iron distance unless you're really talented, inexperience puts you at a disadvantage. You don't know how your body will deal with the distance and the fatigue until you're actually out there and doing it. I was just happy that Ani and Arland were there; if anything, I learned from how they kept their composure and how they prepared both physically and mentally.
SBR.ph : For Coach Ani, Arland, and Noelle : If you can rewind the race and start everything all over again, how far would you go back and what would you change? Will you change anything about your training? Your approach to the race? Will you do a different race strategy?
Noelle : I would really prefer not having had the asthma attack in the swim, so I would probably have done some acclimatization and practice swimming in colder water in the week leading up to before I left for Germany. Otherwise, the amount and kind of training I did for all disciplines for my target times was ideal.
I would probably have avoided the accident had I been a few minutes earlier or later on that downhill, but you can't really plan for an accident.
Ani : More bike volume, more run volume. More hills. I just didn't do enough. In terms of my race, I'm happy with what I did considering the circumstances. I enjoyed it and that's what matters.
Arland : Oh man I would have done everything different!!!!  JK I guess for me the biggest thing would have been to figure out my race day nutrition and test the high 5 stuff beforehand.
SBR.ph : For Coach Ani, Arland, and Noelle. To satisfy the curiosity of those thinking whether or not they can do the distance. Can you give us a 1 week block sample of what your training looked like prior to the taper?
Arland :  Well I didn't actually follow a plan prior to this event but as a coach I would suggest you try to hit all the major energy systems in all 3 sports on an almost weekly basis.  So that would be: 1 long swim, some fast swimming, 1 long bike bike ride with some hills, and turbo trainer session, 1 long run, 1 speed session.  Switch the speed sessions between shorter faster sessions and longer sustained tempo efforts weeks to week and have a recovery week after every 2-3 weeks.
Ani : Swim 1x week
Bike 125-150k once every two weeks
Run 30k at least 3x before the event.
That's my bare minimum formula for Ironman training. For myself. Disclaimer: This may not work for everyone.
Noelle : I teach seven hours of group exercise classes every week, so I slotted my training around that and went for quality sessions instead of quantity. I think at peak I did about 15 hours of exercise/training total.
Tuesday – 2 group exercise classes (1 cardio, 1 conditioning); speed bike trainer session; speed swim session
Wednesday – 2 group exercise classes (1 cardio, 1 conditioning); long swim session
Thursday – strength fartlek run session; strength bike trainer session; form & technique swim session w/ coach
Friday – 1 group exercise class (cardio); optional swim
Saturday – long ride
Sunday – long run
Monday – active recovery with 2 group exercise classes (1 cardio, 1 conditioning)
SBR.ph : What was your nutrition plan for the race?
Noelle : The plan: on the bike, I would alternate drinking plain water and electrolyte (which I mixed myself). I trained on High-5 energy and sports bars, which were available on the course. On the run I would use High-5 fructose gels, which were also available on the course.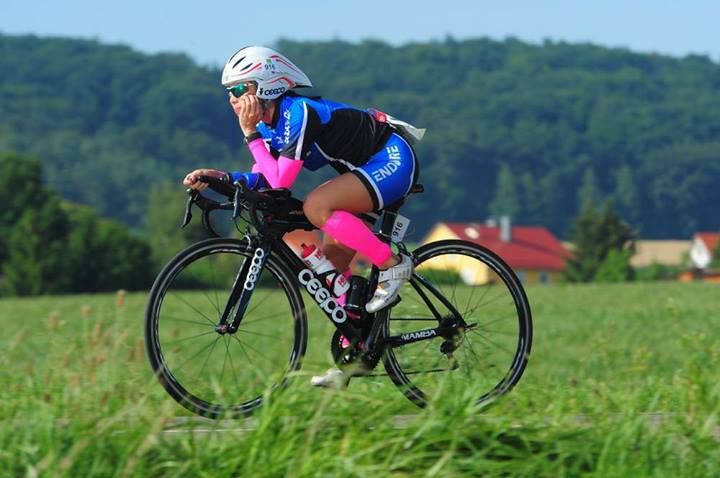 The reality: bike nutrition went according to plan until around Kilometer 160, when I felt I couldn't eat another sports bar. Instead, I started drinking cola.
On the run, I had GI problems from taking just one gel, so I chucked that and went to cola, water, salt, and soup.
Arland : I've been experimenting with a new product called Vitargo and have had some pretty good success with it.  I only had 1 bottle of it for the race and used some Hammer Perpetuem.  I try to get a least a bottle of the high calorie stuff each loop of the bike (on a 2 loop course) and then supplement with gels, bars and bananas.  I try to get in some electrolyte ever 15-20 min but I strongly suggest you get used to what's going to be on the course beforehand!  On the run I tried to alternate between electrolyte and coke – but the bubbles were really hurting me this time around.
Ani : I have Gatorade/ Ensure/ UNILAB gels, bananas, and salt sticks on the bike.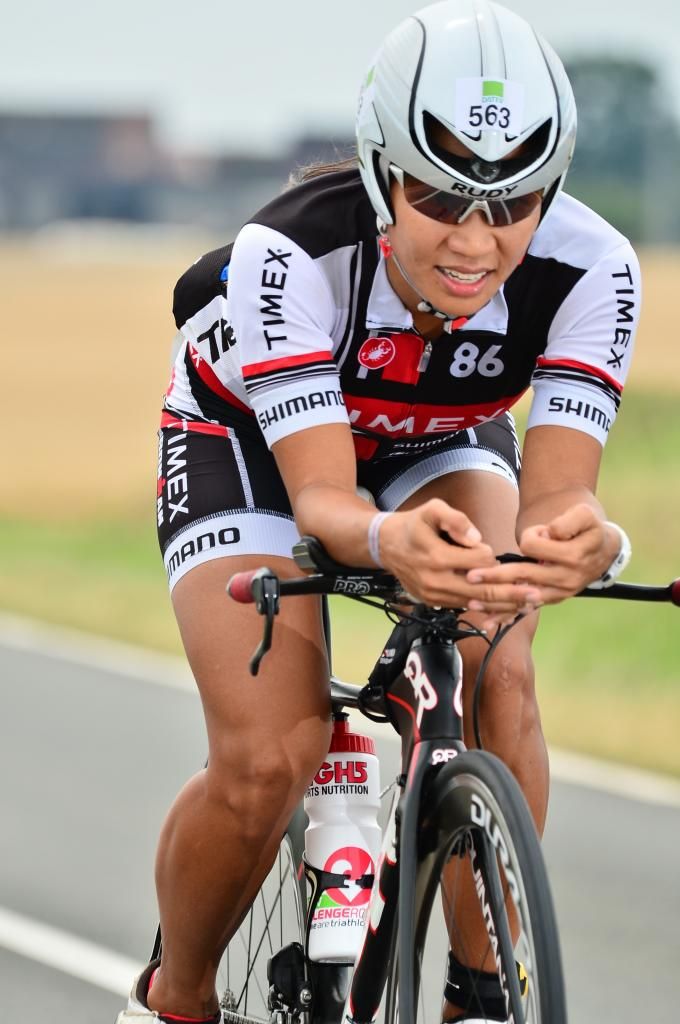 On the run I have a lot cola, apples and bananas.
SBR.ph : For Coach Ani, Arland and Noelle. What's the next race on your hit list?  What else do you want to do/fulfill as a triathlete?
Ani : Well am 50/50 still on whether I will actually start in Cebu 70.3 next Sunday. I will see how my body goes. But I will be there either way as I am directing Alaska Ironkids the day before. I am doing Enervon Activ 226 this December in Bohol. Next year it's either IM Taupo or IM Taiwan or both, and IM Arizona.
Arland : Well for 2014, I'll be in cebu for the 70.3, and then to Legaspi for the first even Mt Mayon Triathlon!  Then back to NJ for the NJ 70.3 on my birthday.  Then I'll be back at the end of the Year for the Bataan International Triathlon and perhaps the new 113 in Dumaguete.  I'm not sure if I can do the 226 this year.  I've done 3 already!
Noelle : For now I can't even think about doing another iron-distance race. It's too much pain for too long a time, and when I talked to Pete Jacobs post-race about it and wondered how the pros can do it over and over again, he laughed and said, yes, it's not healthy.
I think the Olympic and half-distances are my sweet spot, where I can still enjoy the training and racing and perform well. I'd love to go to the 70.3 world championships some day, and also represent the Philippines at the ITU Age Group World Championship.
SBR.ph : Is it off season now for you guys?
Arland : Hardly!
Noelle : Not quite yet. I had signed up for Ironman 70.3 Philippines before I found out I was going to Roth, and everything's already been booked and paid for. Pete said I'd be fine doing Cebu, but will really need to rest and recover after that race. I'm just going to go out there and enjoy myself; I really love the character of the Cebu race and there's nothing like it in the world either, not even in Roth. There's no place like home, right?
At the end of August I'm heading to Thanyapura Phuket for "Super Camp." I'm looking forward to smashing myself learning how to train from Macca and Jurgen Zack. It's a peak camp for people who are heading to Kona (which I am not) but I think it will help me level up anyway.
Ani : Nope. But I'm very relaxed a few weeks after an IM race, my program has no structure. I mean, t has even less structure than normal, hahaha
SBR.ph : Talk to us about your sponsors and your team who helped you in this journey. 
Arland : As I mentioned earlier the Challenge Philippines team: Raymund and David.  Mona Merz and her awesome family who hosted Noelle and I all week.  Elite Bicycles for my new sweet funny bike.  A Runner's Circle who has helped me out with my footwear this season, Xterra Wetsuits and Rudy Project helmets and Sunglasses.
Noelle : The biggest thanks goes to Team Endure for their endless enthusiasm, encouragement, and love. They are not only my friends, but are my triathlon family. I'm so proud to have carried our team name into Roth.
Greg Banzon and Century Tuna stepped in when I was on the brink of giving up. Thank you for giving me the opportunity to share my dream with you, and thank you for wanting to be a part of it!
Thank you Mizuno for the support. They have been there for me ever since I started taking endurance sport seriously. Glad to continue working with them.
Jerry Santos and Ceepo, thank you for believing in me and for letting me use the Mamba for my first full distance.
I am indebted to Maiqui and Gianina Dayrit of Cascos Inc. for providing me with great gear and accessories during my training and racing: Yurbuds, Salice Eyewear, and Zensah compression.
Thank you Lightwater and OtterBox.
Thanks also to Ces Hufana for the good luck pink Headsweats cap, and Tin Ferrera for the Simple Hydration bottles.
Ani : As mentioned before, Girls Run For Breakfast and UNILAB are my main backers for this ROTH journey. Of course I have to thank those who support me full time too- Timex, Gatorade, Rudy Project, Zoot/ Light'N'Up Marketing, Yurbuds, and my ULAH teammates and my boys Tyrone Regaliza, David Almendral and Maiqui Dayrit. These people are my rock.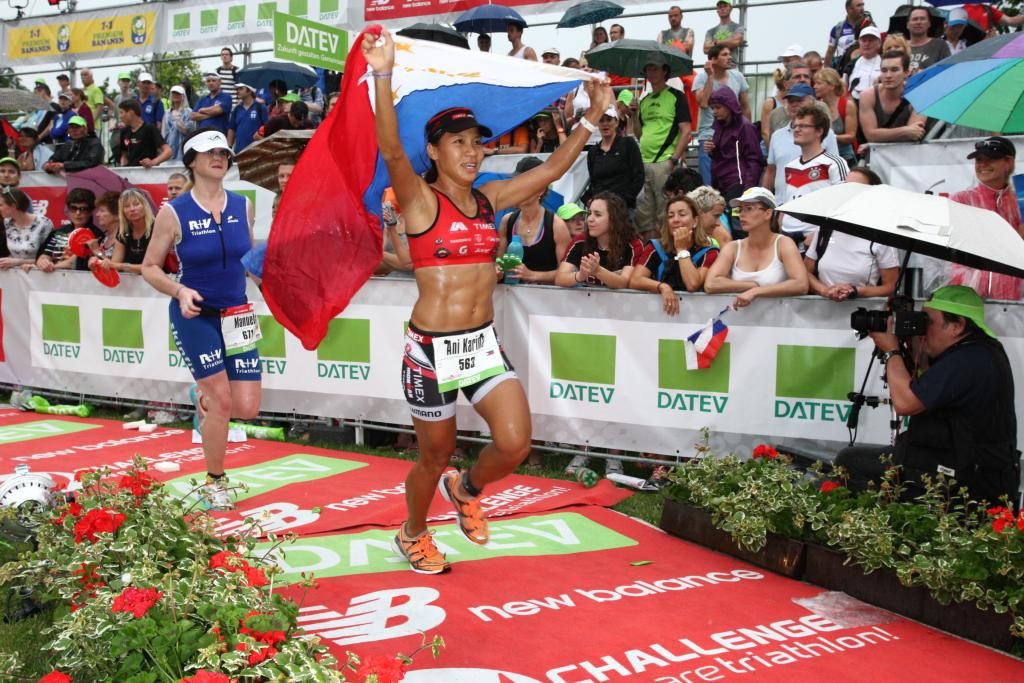 SBR.ph : As a true SBR.ph In[FOCUS] tradition, may gusto ba kayong batiin (anyone you want to greet)? Any last words/advice to our readers?
Ani : Thanks to the people I mentioned above, and of course my ever loving family, Dan and Dash, the de Leons, Sarabias, and the Browns. My Team Transformers Claire and Epoy, Ben, Philip and Mark :). Also my homestay family the Wölfels and Dan's homestay family the Wölfs.
Noelle : Hello to Chris McCormack and Aaron Franklin of MaccaX :D I also want to give a shoutout to my family and all who followed my journey on my blog and social media. Thank you for the support and encouragement.
I learned that if you really want to achieve something, be relentless until you get it. Also, God loves you, prayer helps, and never give up on yourself. :)
Arland : "The journey of 1,000 miles begins with a single step."  Don't be afraid to take that step!
SBR.ph : Thanks for the time Coach Ani, Arland, and Noelle! Recover well and congratulations once again!
Arland : Thanks pare!
Noelle : Thanks! See you at the next race.
Ani : Thanks again!!!
Comments
comments