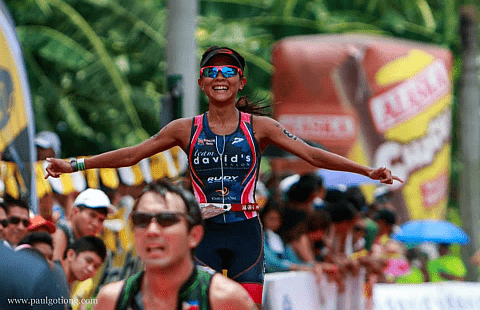 #PocketRocket | Joyette Jopson | Cobra Ironman 70.3 Philippines Filipino Elite Champion | Little Age Grouper No More
By: CDG
As they always say, great things come in small packages. Add the word "fast" in the equation, and you got yourself one heck of an athlete. Not a stranger to SBR.ph, we've featured her multiple times on our website. She's also a consistent nominee to the SBR.ph Awards where she won the Women's Age Group of the Year trophy last 2012.
Without further ado, we're proud to welcome back and present to you, the 2014 Ironman 70.3 Philippines Filipino Elite Champion, Joyette Jopson.
---
SBR.ph: Hey Joyette! Welcome back to SBR.ph and congratulations for winning the 2014 Ironman 70.3 Philippines Filipino Elite Women's Division!
Joyette: Hi Carlos! Thank you for having me! It's an honor to be an In[Focus] athlete for the 2nd time! :-D
SBR.ph: We were covering the race from start to finish and knew that you (41:11) were at least 10 mins behind swim leader Jenny Guerrero (30:41). Which wasn't a surprise at all since everyone knows she's a strong a swimmer. Were you expecting this and what was your strategy as you were heading out of t1?
Joyette: I've been having bad swims since the start of the season because this starting with the Pros and Elites is a huge disadvantage to me – I don't get to draft!! :) Knowing this, we really worked on the bike and did a lot of swim-bike bricks to prepare. Coming out of T1 Matty told me Maria was 6 minutes ahead of me, and he didn't say about how far ahead Jenny was… I guess it was good I had no idea so mentally I was only thinking about the 6 min lead… :-P
SBR.ph: You won by less than a minute against Maria Hodges. At what part of the race did you say, "Screw it, I'm making my move NOW". That was an EPIC battle!
Joyette: I came out of T2 3 minutes behind Maria. At the 5km turn-around I saw where she was and I knew I was gaining ground. At 10km I was only 1 minute behind her. So I knew I was running a better pace. I knew better than to get excited and surge lest I blow my load; so I decided slowly but surely was the way to go. I passed her at the last turnaround point – with 5km to go.
SBR.ph: Can you us a short run down of your race? When did you know that you had the title in the bag? Describe to us what was going thru your mind in the final kilometer? You got a little emotional during your awarding speech. :)
Joyette: After I passed Maria – I kept telling myself "you are in 1st place, now go home with it!" – coz you know, you can be leading the race at some point and then lose it right? So I focused on getting to that finish line as fast as I could. I did not dare celebrate until I was at the finish chute, because I know nothing is certain until you cross that line :)
SBR.ph: From being the 2012 SBR.ph Awards Women's Age Group of the year to the 2014 Cobra Ironman 70.3 Philippines Champion. Not a bad resume J What made you and when did you decide to finally race as an elite?
Joyette: Last year I already considered racing Elite but decided against it because I was not ready and did not have the confidence. Had I raced Elite, I would have gone 2nd to Jenny Guerrero in Century Tuna 5i50 and 2nd to Sandra Araullo in Cobra Ironman 70.3… So not only did I miss out on Filipino Elite podium awards, I also missed out on some cash prizes. This year I did not want to make the same mistake. :)
SBR.ph: Back in the day when I still used to race a lot, I'll be honest, I always targeted you and aimed for a "sub-Joyette". Which unfortunately, never happened. LOL. Hey at least I can say now that I got defeated by a Filipino Elite champion! Doesn't sting that much anymore :). How long did you prepare for this? Is it safe to say that the 2014 Cobra Ironman 70.3 Philippines was your "A" race of the year?
Joyette: Thank you for the kind words J Yes it is definitely my A race – it is for most Pinoys, isn't it? J It's the biggest, most prestigious race locally!! Earlier in the year I also won Challenge Philippines and XTERRA Philippines. But yes, I really really wanted this 3rd Fil Elite title this year – the mother of them all!! :-P Having said that, I've been training and racing consistently since the start of the year, and just added a little bit more load in July to prepare for Cobra. :)
SBR.ph: What can we expect from Joyette for the rest of the 2014 season? Hey, if you want to join the Duaman Duathlon X2 on September 21, you have a free slot waiting you! :) *shameless plug* :) Are you going to race as an elite in all races from now on?
Joyette: Oh wow, thank you so much! Please sign me up!! :) Okay so now I have the Duaman on Sept. 21 in Nuvali; and then my IM debut in Langkawi on the 27th! :) I don't have race plans yet for Q4, will play it by ear :)
I will race Elite for now locally until maybe next year.. I refuse to jump from Filipino Elite to Age Group and back to Fil Elite in a given calendar year. So if a race has no Elite or Over-all category I will not race to be fair to all other competitors :) In the real world (outside of the Philippines), I am just an age grouper, so I will race age group. ;-)
SBR.ph: It's no secret that you're being coached by Mathieu O'Halloran.  Can you give us a 1 week sample of your training program? :) What's the biggest difference in your training this year compared to the previous years?
Joyette:
| | | | |
| --- | --- | --- | --- |
|   | Morning | Mid-day | Evening |
| MondayKenyan Day | Wake Up Run | Gradient Treadmill Run | Flush Run |
| TuesdayT1 Brick | | Speed Swim + Outdoor Strength Bike | |
| Wednesday  | Heart Rate Run | | Heart Rate Swim |
| ThursdayLegs Off | | Strength Swim | |
| FridayDouble Bike | Outdoor Hill Repeats Bike | | Indoor Aerobic Control Bike |
| SaturdayDouble Run | Progressive Run | | Flush Run |
| SundayT2 Brick | Indoor Power Bike + Fartlek Run Off | | Flush Swim |
I teach barre3 on weekends and yogilates classes on weekdays; and do freelance work in between. My trainings are all calendared – like my classes and meetings. I need to respect my training schedule or else the other things I need to do in the day can and will be affected.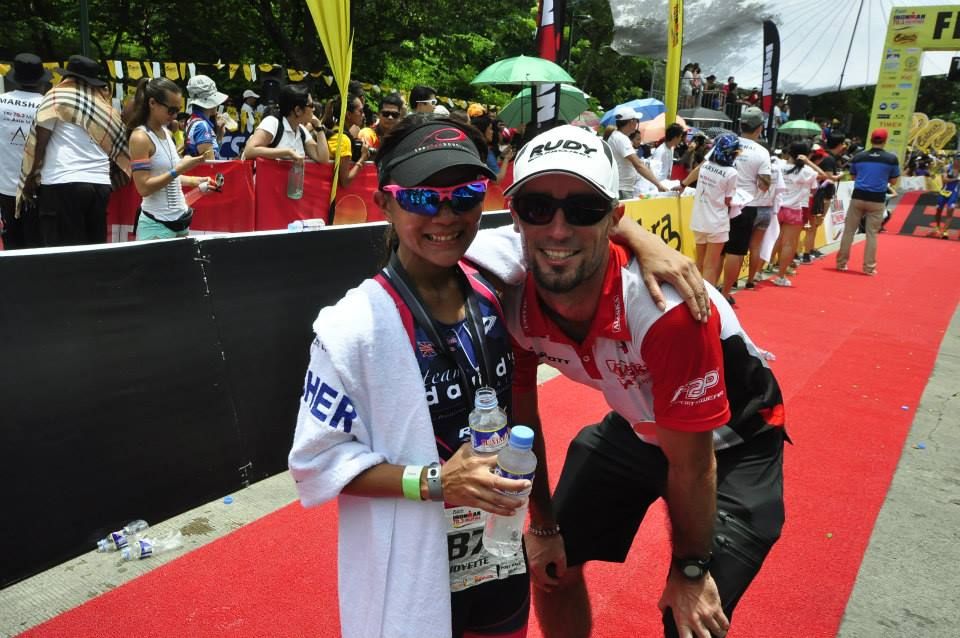 That said, as compared to previous years I have more control of my time now, and equally have to be disciplined. I've been coached by Mat for 5 seasons now and you know, I'm not getting any slower ;-)
SBR.ph: Training wise, what did you have to work on the hardest leading up to the race?
Joyette: Bike because we knew I will be behind from the swim, so I needed to close the gap from the bike and then use my weapon (run) to cinch the deal :)
SBR.ph: Looking back, if there's one thing you can change about your  race strategy/performance, what would it be?
Joyette: I felt I executed as we had prepared and planned for, and made good decisions given the circumstances on race day. No regrets :)
SBR.ph: What was your nutrition plan for the race?
Joyette:  Shotz gels every 45 mins – 1 hour, hydrate every 10 minutes. On the run apart from the gels, I took whatever I could – Gatorade, Cola, water because it was so hot and I could feel some muscle cramps creeping up.
SBR.ph: Talk to us about your sponsors. Anyone you would like to thank? :)
Joyette: I am supported primarily by David's Salon, the best corporate sponsor any girl can possibly dream of!! And they are more than just a sponsor – thank you David, Ms. Joy and DSI for the support to our team and making us part of the family. ..
Rudy Project provides me with technically cool Italian made gear (eyewear, helmets, gloves, bags). Thank you Gabriele, Shaunna and Mike.
Mizuno – has been in the business since the early 1900s in Japan making really good shoes!! I was hesitant at first because I am picky with running shoes, and in fact made it part of the contract that I do not need to race in their shoes. BUT I've been very impressed, and fell in love at first run!! They are my absolute favorite now, specially that I won in them.  I'm very proud to be part of #teammizuno. Shoutout to Mikee and Aisha!!! J
Vantage One – a financing company owned by one of my best friends' and teammate Carmela's family. If anybody needs a loan, I can hook you up ;-P Thank you Carmela, tita Menchu and baby Bella.
The Brick Multisport Store – my favorite bike store with branches in McKinley Hill, Taguig and IT Park, Cebu… I think they have a surprise for me for Langkawi!! J Thank you Leroy, kuya Noy, Philip and Migs! Also special shoutout to Cecille Ty of Unison Bikes. <3
Garmin – Love love love my 610!! I train on my own 95% of the time, so really – my Garmin is my training partner. Thank you Mark, Neil, Nikko.
Beach Hut sunblock – I'm not scared of the sun because of them!! J  Seriously, I love their products, tried tested and trued!!
Balls Channel – love their shows and proud to be supported by them
Union Jack Tavern – an English pub at Festival Mall also owned by David. Love the fish and chips, Indian buffet lunches and wide selection of beers :)
F2P – our apparel sponsor, which also makes the apparel of world champions Pete Jacobs and Carline Steffen; and our own Alaska Tri Aspire. Hi Todd!
Zensah – compression socks and they make great sports bras that never chafe!! Shoutout to Maiqui and Gianina Dayrit – I have very fond memories of Hawaii with them! :)
Mathieu O'Halloran – my coaching and current bike sponsor ;-)
Apart from those I mentioned, I am open to sponsorship, :-P
SBR.ph: We're curious, are you going to change the title of your blog now? Thelittleelite looks cute (and scary fast!)
Joyette: Ahahaha! Maybe not.. I will remain an age grouper at heart :)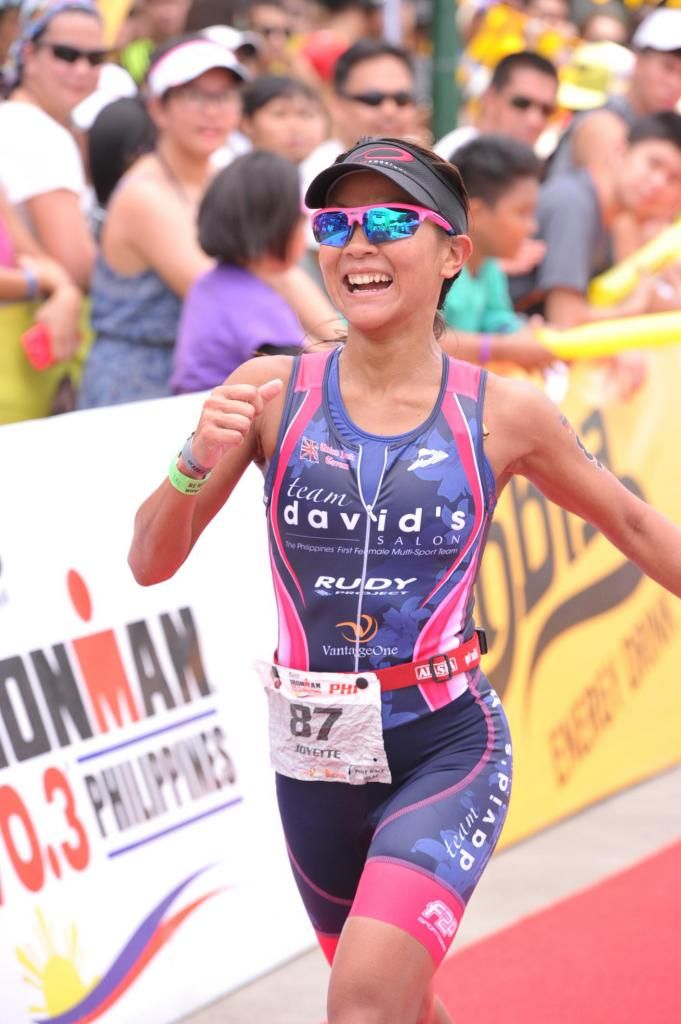 SBR.ph: In one sentence, what advice can you give to all the newbies out there aspiring to finish the 70.3 distance?
Joyette: Believe in yourself, respect the process and enjoy the journey!!
SBR.ph: Any last words to our readers? Anyone you wanna greet?
Joyette: Thank you for taking time to read my interview!! :)
How much space do I have to greet? :)  Hi Matty!! Hi mom, titos and titas, kuya Noy and Amale, Risa and Nick, Gabby, Migi, Mikele, Rafa, Pia, Joaquin, all my cousins, Andrea, Redg, Ogs, Gette, Ella, An & Kosmas, my teammates at David's Salon, Alaska Tri Aspire, Princess, David, Jola, Nina, Ria, Lexy, Lyne, Jasmin, MR, Jerome, Nestle, Veron. Barre3, Joie, my co-teachers, students, and neighbors who have become such dear friends  :)
SBR.ph: Thanks for the time Joyette. Congratulations once again and see you at the Duaman Duathlon X2!
Joyette: My pleasure Carlos!! Thank you also and more power to SBR!
---
This is an exclusive SBR.ph In[FOCUS] / T.A.G. double header featuring two special athletes. One who finished first in the Filipino elite women's division and the other, with two seconds left on the clock. We wanted to make this a special double header because we wanted to show that it's not always about how fast or how slow you cross the finish line. Each person has a different purpose as to why they decided to embark on this special journey, the morning of August 3, 2014. For all finishers, the medal may look the same, but that doesn't mean the meaning of it is.
Comments
comments