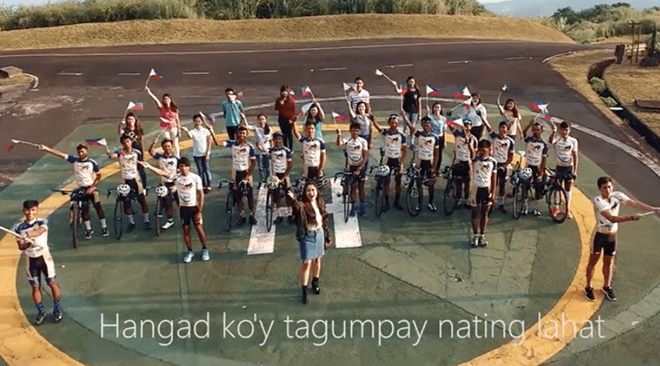 "Tagumpay nating lahat", the new hit song written by Gary Granada and vocalized by Pop-Rock Superstar and OPM Hitmaker Yeng Constantino is now the battle cry of every Filipino athlete.
---
Originally by Lea Salonga, this hit song perfectly ensembles the struggles faced by every Filipino athlete, amidst the trials, trainings, and hardships, only one goal makes it all worth it – and that is to represent the country and bring home the gold.
The music video is produced with the cooperation of the Go for Gold program of Powerball Marketing and Logistics Corporation, the licensee of PCSO for the product ScratchitTM. The video was inspired by the perseverance and hardwork of Filipino athletes to attain success and accomplish their goal beyond the struggles and failure, giving a positive remark that the success of our athletes is for the whole nation.
With the heart for Filipino athletes, Yeng Constantino proudly supports Go for Gold programs which aim is to encourage young individuals to pursue excellence through physical literacy and sports development in the country.
"I believe Ms Yeng is a role model for us Filipino people where she continuously does what she is passionate about and she does very well in the field of Music. Her support has greatly influenced her millions of fans to support what we do as athletes and that feels very heart warming." 2015 SEA Games gold medalist Nikko Huelgas pointed out regarding the project.
Go for Gold also released the video to inspire and support Filipino athletes bound for the Sea Games 2017 in Kuala Lumpur, Malaysia. Nikko Huelgas and John Chicano, who will be joining triathlon, and Jerry Aquino, Ryan Cayubit and George Oconer competing in cycling, were all in the video.
And upon asking what we can expect from the team for the biennial meet, here is what they said; George Oconer, for his third time joining the competition, "We are working hard. And we have been training for months now. It is an honor to represent the country. Without a doubt, we will do our best to snare gold in SEA games."
"It's a year of preparation, strengthening their weaknesses, practicing strategies and most especially preparing their mind and emotions. Putting God on top is our key." Elite Triathlon Coach Melvin Fausto stated.
The triathlon team is currently in Singapore preparing for the Sea Games. "It's quite tough but it's also an exciting feeling to compete again. I just try to stay grounded all the time and focus on what I needed to improve on myself to gradually set the bar high for myself and be able to show my co-Filipino Elite Triathletes to do the same and take PH Triathlon to the next level." Nikko Huelgas, the defending triathlon gold medalist admitted.
To help support our Filipino Athletes, watch and share the Tagumpay nating lahat music video on https://youtu.be/FUgrj0SmNQc
Let's support this advocacy. To know more about Go For Gold, visit www.facebook.com/Go4GoldPH
Comments
comments