From Carbon to Bakal: How One Triathlete's Search for a Budget-Friendly Ride Led to a Timeless Steel Steed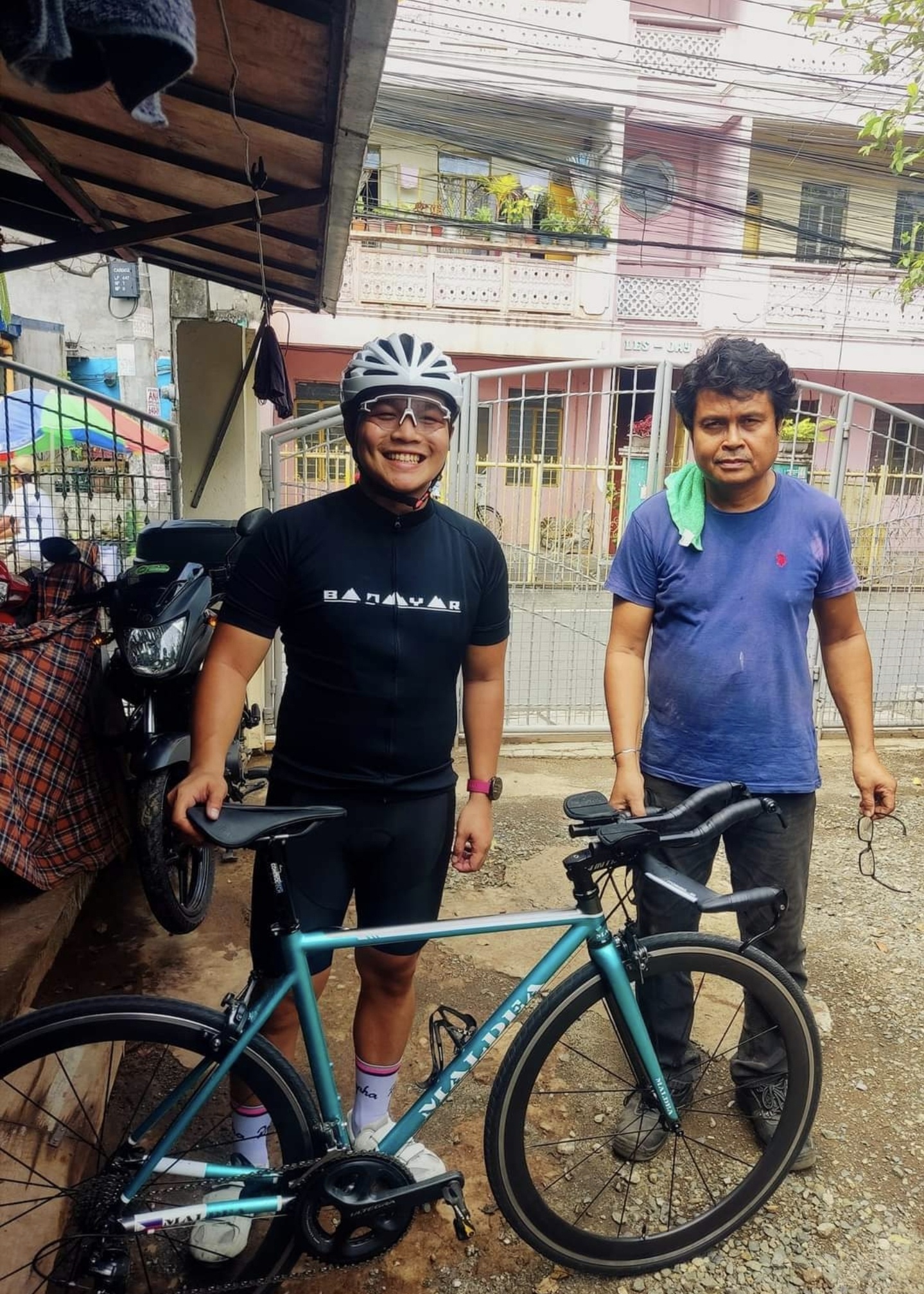 When it comes to training and racing as a triathlete, it's easy to get caught up in the idea that you need the latest and greatest gear to be successful. But as Jason Añonuevo proves, that couldn't be further from the truth. He sent us a DM and submitted his steel bike after reading one of our articles entitled "The Frugal Triathlete," which featured a steel bike as the featured image.
When asked why he chose a steel bike, Jason cited easy repair as a main factor. He explained that there is a bike shop near his house, run by a man named Mang Ave Maldea, where he can easily have any repairs or changes to the frame done. Additionally, he finds steel bikes to provide a more compliant and comfortable ride, as well as a classic look that he finds timeless. Maldea is known for his quality and craftsmanship, he's been building bike frames for years and has a reputation for producing high-quality steel bikes that are built to last.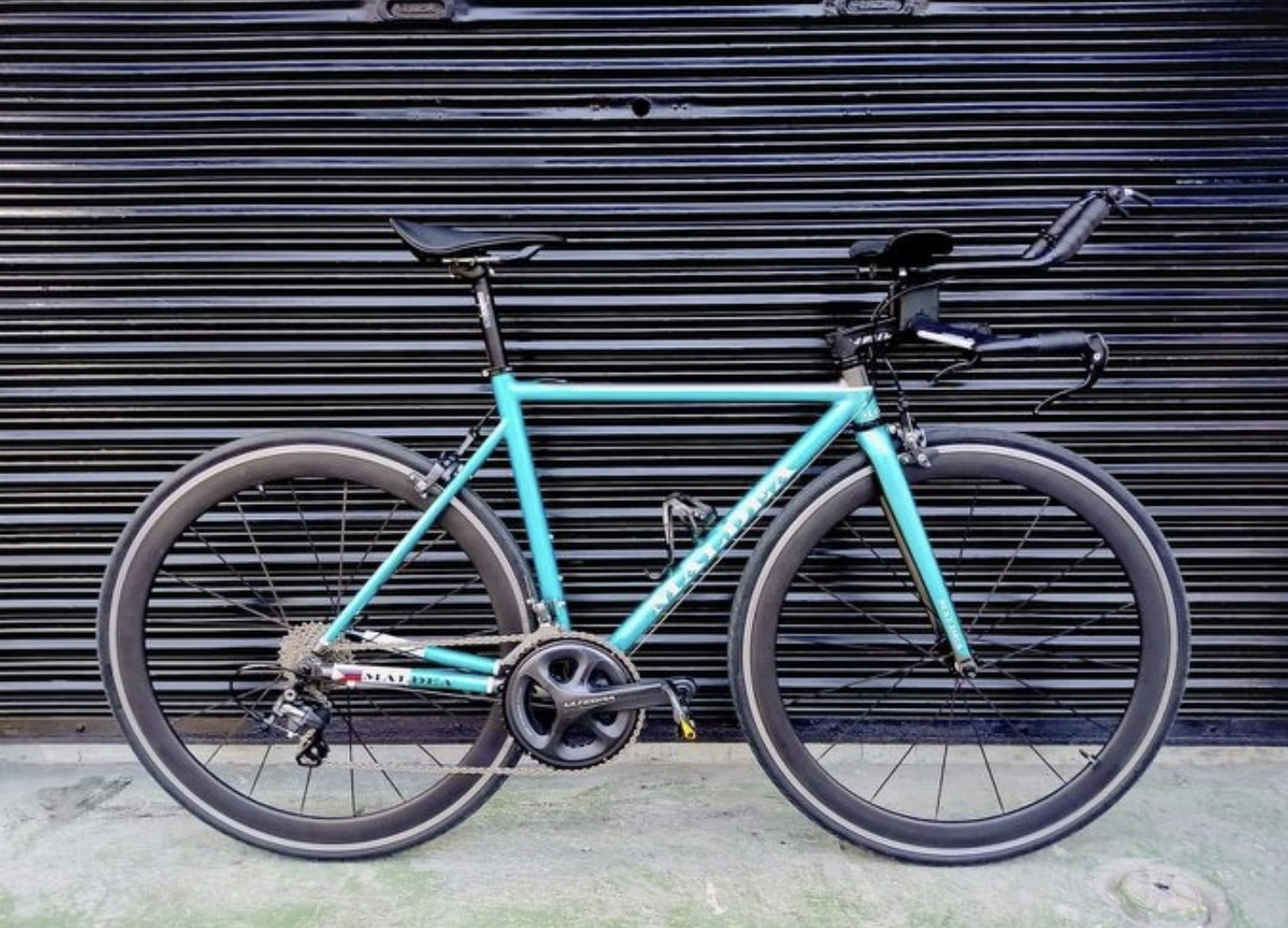 Despite his initial love for his full carbon Cervelo P2 tri bike, Jason found that he was not completely satisfied with the experience it provided during training and racing. He desired something different and found that steel bikes were able to provide that for him.
When it comes to cost, Jason stated that he was able to build his steel bike for a very low cost by shopping on Facebook Marketplace, Lazada, and Shopee for deals. He even joked that he had to clear the purchases with his wife to avoid any potential conflicts. (Happy wife, happy life!)
As for the specific parts on his bike, Jason listed the following:
Frame: Ave Maldea (BNEW)
Fork: Tsunami (BNEW)
Groupset: Ultegra 6800 crank (2nd hand) Ultegra RD, FD, Caliper 6700 (10spd) (2nd hand) Microshift Bar End Shifter (10spd) (2nd hand) Tektro Brake Lever (2nd Hand)
Cockpit: Salamat shopee aerobar and seatpost (no brand) -pro missile basebar -selle saddle
wheelset: rigida xpro 10spd (oldies na hubs but smooth padin naman, nahalungkat lang sa isang local bike shop)
The build process took Jason a total of around 10 months to complete due to the pandemic and the long lines at Mang Ave Maldea's bike shop. He also had to spend 2-3 months searching for deals on the other parts online.
Despite this being his only training bike, Jason also owns a Mosso road bike which he is planning to sell in order to invest in his business. He uses both bikes for daily rides, training, and races. Jason can attest to the fact that you don't need an expensive bike to be a successful triathlete. In fact, he even jokes that he's used the aerobars on his steel bike to hold his baby's diapers.
In terms of races, Jason and his friends frequently participate in duathlon races in Batangas. However, due to the pandemic, there were limited races for him to participate in after building his steel bike. This year, he plans to participate in more triathlon and duathlon races.
Lastly, Jason estimates that he has put around 800km on his steel bike, not including any coffee rides or meetups with friends to search for deals on bike parts.
So, the next time you're tempted to drop a small fortune on the latest carbon wonder bike, remember Jason and his trusty steel steed. You might just be surprised at how far a little bit of frugality can take you.
Comments
comments