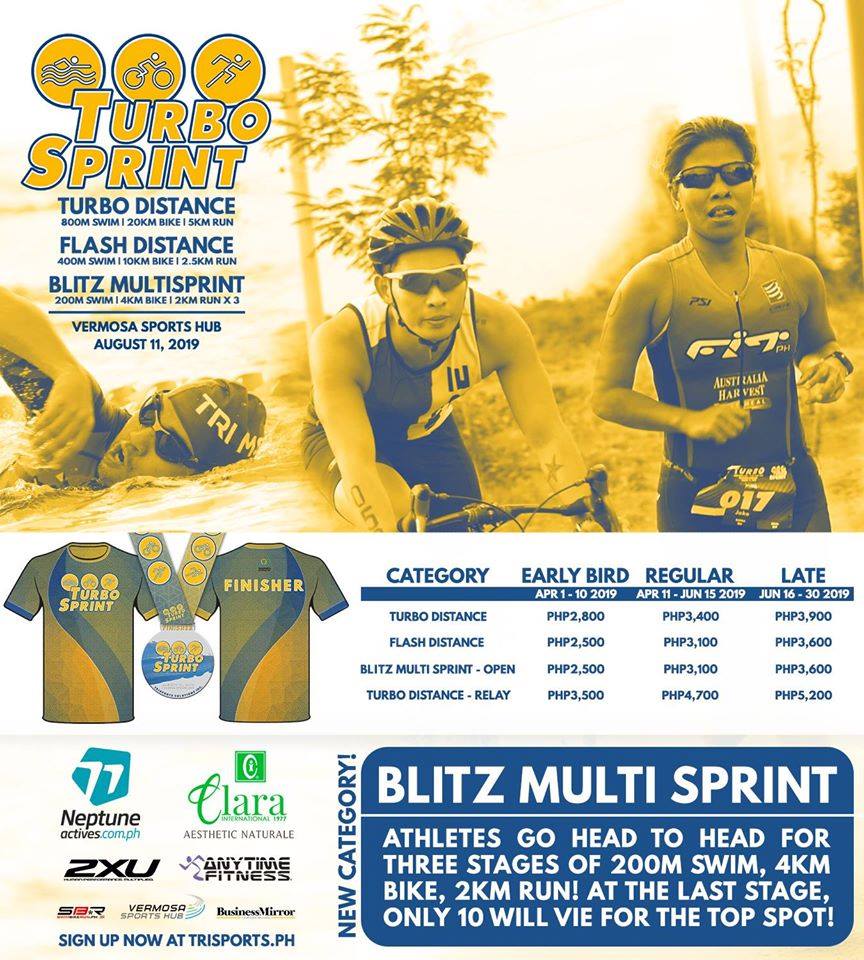 Registration is now on-going for the Turbo Sprint Triathlon happening on August 11, 2019 at the Vermosa Sports Hub!
SBR.ph a proud media partner of the Turbo Sprint Triathlon.
---
QUICK FACTS
WHAT: Turbo Sprint Triathlon
WHERE: Vermosa Sports Hub
WHEN: August 11, 2019
DISTANCES: 
Turbo Distance : 800m Swim / 20k Bike / 5k Run
Flash Distance : 400m Swim / 10k Bike / 2.5k Run
Blitz Multisprint : 200m Swim / 4k Bike / 2k Run (X3!)
ORGANIZER: Tri Sports PH
Registration for Turbo Sprint is now open and Tri Sports is introducing a new category: the Blitz Multi Sprint!
WARNING: This race category is not for newbies or for the faint of heart!
It's composed of three stages of 200m of swimming, 4km of cycling, and 2km of running. The winners will be chosen by way of ELIMINATION. Of all participants, the fastest 15 to finish the 1st stage will qualify for the 2nd stage of the race, which will then eliminate 5 more. Only the top 3 fastest, strongest, and toughest athletes will earn the honor of being the first ever Blitz champs!
REGISTRATION
CLICK HERE to register or visit http://trisports.ph/turbo-sprint-2019-reg
---
Via : Tri Sports Philippines
Comments
comments