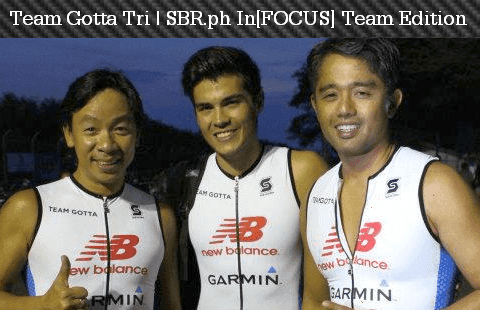 Once in a while a team shows up that for some reason, you know is just going to be really special. For this month of July, we're featuring the newest and hottest team on the tri circuit, Team Gotta Tri!

One of the most star-studded teams in the country, Team Gotta Tri turned heads when they join the Subic International Triathlon and the Century Tuna 5150 – and for good reason.
They are fast. These guys are the real deal.

Representing Team Gotta Tri, we talk with "Kuya" Kim Atienza and Erwan Heusaff.
---
SBR.ph: Welcome to SBR.ph Kuya Kim and Erwan! Team Gotta Tri!
Kuya Kim : It is such an honor to be featured here bro! thanks for featuring us, I feel so unworthy.
SBR.ph: First of all, what's with the name? Why Gotta Tri Who thought of the name?
Kuya Kim : Erwan thought of the name. The original name is "Team New Balance-Garmin" team. Among us, it actually means "guwapong trying to be triathletes". Qualifier: it was erwan who thought of the acronym ha?
Erwan : I actually came up with the name, its actually an acronym for a phrase that we told ourselves we would never divulge to the public! But it turns out that when people hear Gotta, they immediately think "I've got to try".
SBR.ph: How many members do you currently have in your roster? Who are your members?
Erwan : We currently have 7 members: Kim Atienza, Gilbert Remulla, Mark Gorrocieta, Kevin Fule, Mark Hernandez, Isabelle Daza and myself.
SBR.ph: How was the team formed?

Erwan : Kim and Mark started running together since the beginning of last year, then Gilbert joined them and they decided to get bikes sometime in the latter part of 2011; in December I spoke to Kim about being interested in triathlons and he told me to start running with them, I started swimming again and was coerced into buying a bike by February 2012; and from then on we just kept adding new people.
Kuya Kim : We are all students of the best coach in the world coach Ige (ok ba Ige?) and the idea of forming a team just came naturally since we were all very passionate about tri-ing and were always together training anyway
SBR.ph: Now that most of you "TRI"ed already, what's next for Team Gotta Tri? What are your races for the rest of the year?
Kuya Kim : All our sights are set for Cebu 70.3. With or without a race, all the members are passionate about training itself. We all look forward to the pain coach Ige gives us (masochistic laugh) di ba gilbert?
Erwan : Next stop will be our big race this year with the Cebu 70.3. After that we are all pretty excited to join any sprint, bike road race, running race that may come our way.
SBR.ph: Let's talk team dynamics! Given your busy schedule, do you guys train together? If so, how often and where?
Erwan : Funnily enough, we probably see each other almost every day. We are all free in the early morning right before work starts, so we get to swim, run and bike together. We usually train together 4-5 days a week, and all of us train 6-7 days per week.
Kuya Kim : We do our run intervals in forbes-dasma tuesdays and thursdays and our long runs on weekends, bike intervals in MOA wednesdays and long bikes daang hari, bugarin or sierra madre weekends. We squeeze in 3-4x a week swim sessions with our own swim coaches. Mine is Nonoy Basa, Erwans is LC Langie and Isabelle's is Kevin Fule.
SBR.ph: Kuya Kim, based on your tweets alone, looks like the tri bug bit you pretty hard huh?
Kuya Kim : Oh yeah! though I look forward to races, I also love training itself. This is my second life, when I swim bike and run, I am always thanking the Lord for this life he gave me. To recover completely and be fitter than I ever was in my life. Very few are given this opportunity. I am living my second life to the fullest.
SBR.ph: What's the scientific name of the Tri Bug? =P
Kuya Kim : Tri-anusaurus rex. It packs a mean bite eh. Pag nakagat ka, yari ka talaga. Kay erwan, tri anne-usaurus rex. (curtis) self explanatory!
SBR.ph: How did you guys get into triathlon/multisport?
Erwan : It just suddenly fell upon me. I decided I wanted to do an ironman 70.3, so I just started swimming and running by myself (nothing more than 5k haha) and joined an off-road sprint. I loved it so much that I tried to get involved in the community to see how best I could reach my goals and thats when I met all these guys.
Kuya Kim : My tri career (naks as if there is one) started when I was doing daily slow walks rehabilitating from my stroke almost two years ago. I would do 3-5 rounds of the polo field, when I saw coach ige and his students doing their intervals. I told myself, when i am totally well, I will run as fast as them.
After a couple of months, I approached Ige to teach me how to run. That's when the bug bit. The run became a run/bike for cross training and since I am doing two sports na, might as well learn to swim. Gilbert and I signed up for Ironman 70.3 cebu in November not knowing how to swim on pure guts and lakas ng loob.
I was introduced to coach nonoy basa who taught me the basics of total immersion swimming.  I started doing laps only last february and am surprised how easily i am able to swim 3-4k now continuously and painlessly.
I was surprised w myself with my 33 minute 1.5km swim split in the recently concluded 5150. T.I. rocks!
SBR.ph: Erwan not bad for your first Olympic distance race bud. That was a quick 10k! Did you come from an athletic background? You have a site called the fat kid inside, what's up with that?
Erwan : Thanks! Well I used to be really fat (240 pounds fat) and then I cooked myself to health and added a fitness element to keep fit. On my site I try to talk about a how easy it is to incorporate a healthy lifestyle in your day to day, through instructional cooking videos and tips. Before triathlons I did quite a bit of plyometrics, turbulence training and squash; but never anything long distance (my longest run up until December was 5km)
SBR.ph: We noticed that you can cook! If you were to cook the perfect breakfast and recovery meal for triathletes, what would it be? Is beer included? 😛
Erwan : It depends how much time you have for breakfast, most triathletes I know workout at around 7am, so unless you want to get up and eat at 5am nothing heavy is going to cut it. I usually have a banana with some home made almond butter, or a small bowl of steel cut oats with honey and dried fruits; to give you the carbs you need for fuel. After working out though I have a protein shake with fruits (to replace the carbs lost and repair/build muscle) and usually some eggs with cheese (for your healthy fats). I'll start writing tips for SBR soon hopefully! Once I get my schedule in order!
SBR.ph : Do you guys have a coach? If ever, do you guys follow a standard program? Or does each of you have a customized training program?
Erwan : Our running and biking coach is Ige Lopez, he gives us a specific program and keeps us on our toes. Our swim coaches are personal; I train with LC Langit, she's awesome and makes me train hard, I've never felt so strong in the pool.
SBR.ph : Aside from running and multisport events, what others sports are you or is the team into?
Erwan: I still do some plyometrics and core as I believe it can help in the race and keep overall fitness, but I'm now scared to play sports like squash again because of the injuries.
Kuya Kim : I like watersports. I used to windsurf in caliraya a lot in my younger years. I also used to be into aerobics, weights and the whole fitness craze in the 80s and 90s. I had an aerobics tv show in the 90s called "muscles in motion" w anna unson. It was historical because I was the first ever male to wear lycra tights on primetime national tv hehehe. "Felix ba-kat"
SBR.ph: Kuya Kim that was you?!?!? Ok I think this deserves a YouTube witchhunt! First person to find or upload Kuya Kim's Muscles in Motion stint gets a prize from SBR.ph! Ok back to topic. We have a full iron distance event happening on December – the TIMEX 226 Bohol Triathlon? Any plans of going full monty and join the full iron distance?
Kuya Kim : Don't think I am ready this December. I have a feeling i may be ready next year. Hope to make the training "singit" in my very hectic tv sked
Erwan : Hell no. Not this year nonetheless!
SBR.ph: I won't be surprised if companies are lining up to sponsor you guys. Who are your sponsors for the 2012 season?
Erwan : Our main sponsors from the beginning have been New Balance and Garmin, and they are really supportive to our team. We've just recently added CEP, SMITHS, Karat World, Island Cove, 100 plus and Summit water to our line up.
Kuya Kim : We are so thankful to our major sponsors new balance and garmin who really takes care of us. mark tan of garmin runs with us in dasma whenever he can
SBR.ph: Kuya Kim, been wanting to ask you this for the longest time! See the common problem with bikers is that when they wake up and they see that it's raining, they will most likely call the ride off, (ok that's just probably me) only to find out that the sun showed up a minute after they went back to sleep! Are there any benefits of being a weather newscaster when it comes to training rides? I take it you can accurately predict if it's going to rain or not during a bike ride! =)
Kuya Kim : Hahaha yes of course but the weather is quite erratic nowadays because of climate change. The secret is to get an all weather cycling vest. I bought one and works perfectly. I like biking running and swimming in the rain. It never stopped me. Doing it in the rain is like meditation, it has a cleansing effect on me, tanggal lahat ng nega vibes,
SBR.ph: Have you ever considered doing the run part of a triathlon with your signature "crocodile hunter" hat? Hehe.. I think he should.
Kuya Kim : I may 🙂 I would like a dry-fit technical ultra light weight safari hat though. I may also do one carrying a snake on my shoulders on the run…hehehe just kidding
SBR.ph: I heard that you guys have a member named Mark Hernandez who recently went ALL OUT-BALLS OUT and built a bike with no regards to cost at all! Tell us about that member of yours.
Erwan : Mark Hernandez is an ultra-marathoner, lots of respect for people like him who complete those distances! He also works with different time zones making training that much harder, but he always shows up.
Kuya Kim : Mark is intense. He inspires me to be faster. He has a mean sked working as a manager in a call center and his sleep times are erratic yet he manages to workout intensely and perform well.  I joked him about his bike being ten times the price of his tiny car hehe. We triathletes have priorities di ba?
SBR.ph: With Gilbert Remulla also in the team, I take it you guys never run out of things to talk about during long rides.
Kuya Kim : Oh yeah. Gilbert and I come from political families. We vent our frustrations about certain political personalities when we do conversational pace runs. Gilbert is a great guy.
SBR.ph: Erwan, if someone played the song, "Call me maybe"…. you will……
Erwan : Tell them to shut it off.
SBR.ph: Now for the 999999999 million dollar question, any chance the other peeps in the video will get into triathlon as well? If so, who's the most likely candidate?
Erwan : Very unlikely, they all make fun of how I'm a lolo now. I'm trying to get Adrien and Nico to join but we will see.
SBR.ph: Come on man! You know THAT'S NOT who we wanted to hear! We were hoping those with the initials G.W. , A.C., of even S.H. will get into triathlon too! Hehe.. Ok seriously, if someone wants to join the team, how can they join? Are you open to new members or is the team via invitation only? Is having sexy and fit body a requirement to join the team? *crosses fingers*
Erwan : We usually all agree on who we want to invite in the team, and yes, unfortunately, you need to be sexy
SBR.ph: *Sigh*
Kuya Kim : We were initially reluctant about having a female join the team since we did not want the wives to give us less support because of jealousy issues. We spend so much time away from them di ba? The wives know Isabelle very much since she is Gilberts niece in law and her mom Gloria is a good friend of my wife Felicia. She is also the best friend of Erwans' gf Anne Curtis. So Isabelle is a safe/harmless member.
SBR.ph: How can people reach you guys? Or the team in particular?
Kuya Kim : They can approach our manager Carlos of SBR.ph. He has all our email. Serious, they can approach any of us anytime my email is kuyakimatienza@gmail.com and Erwan's is ——— Erwan has become our de-facto team manager. He is very o.c. and is very good at it. We love the guy!
Erwan : I'm the self-proclaimed relunctant team manager. You guys can get in touch with me on thefatkidinside05@gmail.com or through my facebook page www.facebook.com/thefatkidinside
SBR.ph : Any last words you want to say to our readers? Or to your fans?

Erwan : If you never tri you'll never know!
Kuya Kim : If you enjoy the training, the fast splits will come as a bonus. For me, that is the only way to excell in multisport. I am so looking forward to Ige's painful gut wrenching, suka inducing run intervals tomorrow. I really really am.
SBR.ph: Thanks for the time Kuya Kim and Erwan!
Photo Credits : Facebook Pages of Kuya Kim, Erwan Heussaff, New Balance, and the rest of the cast.
Comments
comments