2015 SBR.ph Tri Series | Aquaman Aquathlon / Duaman Duathlon / Triman Triathlon
Let's go NEWBIES (and newbies-at-heart)!  Start the year right and get ready for the 2015
SWIM

BIKE

RUN

.ph Tri Series! #newbieready #getreadytotri

For questions and sponsorship inquiries : contact [email protected]  
What is the SWIMBIKERUN.ph Tri Series?
Going on its third year, the SBR.ph Tri Series 2015 is the much awaited series of the Philippines' biggest triathlon website, SWIMBIKERUN.ph. The SBR.ph Tri Series 2015 is the ONLY race that is designed and organized for newbies and amateurs.  Whether you're a newbie or a tri veteran who just wants to "play", the distances of the SBR.ph Tri Series 2015 are designed to be challenging enough for the experienced athletes, yet still doable enough for the newbies.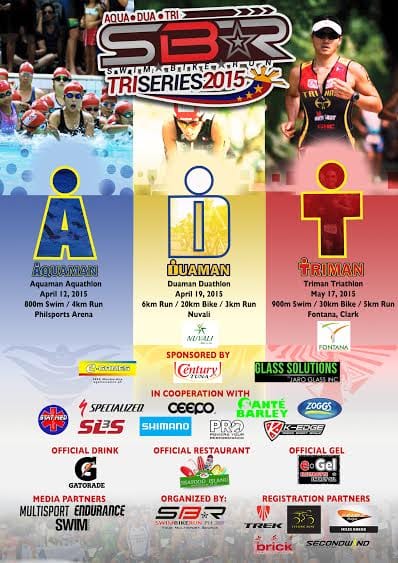 Our races has become the birthplace of some of our finest rookies/sophomore triathletes today.
The SBR.ph Tri Series caters to everyone. We will allow MTB's, Folding Bikes, Road Bikes, and even your loved one's hand-me-down bike, in short, you can use any bike that you have in your garage! What's important for us is that we get you out there and start living an active lifestyle!
CHOOSE YOUR RACE! (Click on the logo to register)

When are the races and what are the distances?
THE AQUAMAN AQUATHLON
April 12, 2015
800m Swim, 4k run
Philsports Arena (formerly Ultra)
7am
The perfect event for athletes who are just starting to get their multisport feet wet and not that comfortable yet with their bike handling skills. The Aquaman Aquathlon is an 800m swim followed by a 4k run. The distance is challenging enough even for the seasoned hard core aquathlete's (or Aquaman's in SBR.ph terms!).
Last year, the Aquaman Aquathlon had close to 400 participants and served as a kick starter for most of the multisport athletes for the 2014 season, the race was composed of a mix of newbies and veterans of the sport.
THE DUAMAN DUATHLON
April 19, 2014
6k Run, 20k Bike, 3k Run
Nuvali
6am
The Duaman Duathlon is the second leg of the SBR.ph Tri Series. We designed the distance of the Duaman Duathlon to be short and doable enough for the newbies and is tough and lung-busting enough for our seasoned duathletes (or Duaman's in SBR.ph terms!).
With over 680 participants in 2013, the Duaman Duathlon is considered to be one of the biggest duathlon events in the country.
THE TRIMAN TRIATHLON
May 17, 2015
900m Swim, 30k Bike, 5k Run
Clark Fontana
6am
The grand finale of the SBR.ph Tri Series! The Triman Triathlon is a 900m swim, 30km bike, and then a 5km run.  It is considered to be the de-facto training/breeding ground of all triathlon newbies before they embark on bigger events like the 70.3. The event is the most newbie friendly triathlon in the country and will be held at the world class resort of Fontana Leisure Park in Clark!
Over 500 triathletes participated in last year's grand finale. After the series, people were starting to call themselves an Aquaman, a Duaman, and a Triman, something that is clearly not in the dictionary, but is something that is uniquely, SBR.ph.
The graduates of the 2015 SBR.ph Tri Series, or those who will complete our 3 events, will receive a special award from SWIMBIKERUN.ph!
Prizes/Categories:
Top 3 Overall Male / Female
Php 3,000, Php 2,000, Php 1,000 and trophies respectively
Male Age Categories
• Trophies for Top 3 16-19, 20-24, 25-29, 30-34, 35-39, 40-44, 45-49, 50 & Above
Female Age Categories
• Trophies for Top 3 16~19 yrs, 20~29, 30~39, 40 & Above
All finishers will receive a custom Aquaman, Duaman, Triman, and Duaman X2 shirt and medal!
Registration Fees:
Aquaman Aquathlon
Individual :P1,300
Relay 2-man : P2,300
Duaman Duathlon

Individual : 1,500
Relay 2-man : P2,500
Relay 3-man : P3,500
Triman Triathlon

Individual : 1,800
Relay 2-man: P2,800
Relay 3-man: P3,800
Tri-Pack (Aquaman, Duaman, Triman Package) / For Individual Racers Only!
Entries are non-refundable, non-transferable and non-applicable to future races. Race numbers are non-transferable.
Registration Procedures
You have 2 ways to register : You have the option to register and pay bank deposit or via our registration partners. Check out the options below!
1. Bank Deposit via SWIMBIKERUN.ph
Carlos de Guzman
Bank of the Philippine Islands (BPI)
3379-0967-69
or
Carlos de Guzman
Banco de Oro (BDO)
132-024-11-99
Email us the completed registration form along with the deposit slip (with your name) to [email protected]
Write on the subject 2015 SBR.ph Tri Series Registration to make sure its filtered properly.
Wait for a confirmation email from us. If you didn't receive an email, kindly resend your email registration or contact us via our facebook and twitter page (@SWIMBIKERUNph).
Keep a copy of the completed registration form and the deposit slip for safekeeping.
2. Via our official registration centers:
Note : Registration via our official registration partners will open on January 30, 2015
REGISTRATION CENTERS
SECOND WIND QUEZON CITY
45 Malingap St. Teachers Viillage QC
Tel: 238-4005
Store Hours:
Monday to Friday 11am to 8pm
Saturday & Sunday 10am to 7pm
SECOND WIND ORTIGAS
Unit 3A, Ortigas Home Depot, Julia Vargas, Pasig City
Tel: 914-0283
Store Hours:
Monday to Friday 11am to 8pm
Saturday & Sunday 10am to 7pm
SECOND WIND GREENHILLS
Unit 107, G-Strip, Greenhills Shopping Center, San Juan
Phone: 945-7856
11am-8pm EVERYDAY
THE BRICK MULTISPORT STORE
Unit 1, Woodridge Apartments, McKinley Hill, Taguig City (across Venice Piazza, just at the bottom of that deadly hill we all dread at races!)
Phone : 9854890
CYCLING ZONE
Shell Pacific Gas Station, Alabang-Zapote Road, Muntinlupa
Tel.: 02-809-6736
TREK BICYCLE STORE
3Oth Ave., Two Parkade, Bonifacio High Street, Makati City
Tel: 02-553-2445/0906-2263266
PRIMO CYCLES 
Forbes Town Center, Burgos Circle Rizal Drive Bonifacio Global City, Fort Bonifacio, Taguig, Metro Manila
Tel :(02) 836 7455
BIKERS' CAFE
SM CITY MALL OF ASIA, Seaside Boulevard, Pasay
(02) 556 0680
Important Reminders:
– Entry fee is non-refundable, non-transferable, and non-applicable to future races.
– Race numbers are non-transferable.
– NO HELMET, NO ENTRY, NO REFUND.
– FOLDING BIKES ARE ALLOWED
– MOUNTAIN BIKES ARE ALLOWED
– Your Dad / Brother's hand me down bike is also allowed
Comments
comments