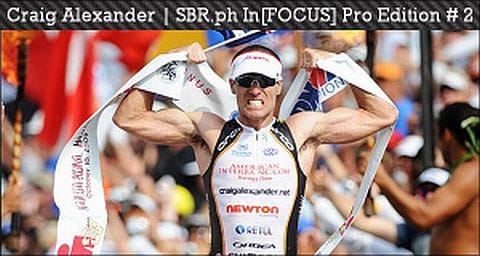 Pro Athlete: Craig Alexander

By: Carlos de Guzman | SWIMBIKERUN.ph | Philippines' Multisport Source
The Ironman World Championship in Kona, Hawaii is considered to be the biggest prize in all endurance sports. Win it and your legacy is cemented. Win it twice in a row, and you now become part of the exclusive list of certified Kona kings.
Since the race's inception in 1978, only 3 people have won the event two times in a row. Our next In[FOCUS] Pro Athlete, Craig Alexander, became the fourth when he did the double in 2008 and 2009. Not to mention getting second place in his Kona debut, a year after winning the Ironman 70.3 World Championship.
SWIMBIKERUN.ph is very much honored to have "Crowie" on board for a quick chat, read along as we take a peek into the life of the two time Ironman World Champion.
---
SBR.ph: Welcome to SWIMBIKERUN.ph Crowie! Awesome to have you here! Thank you for the opportunity. You've had a quiet 2011 season so far, having only done Abu Dhabi International Triathlon. Tell us about your goals or key races for this year. Is everything now centered on Kona?
Crowie: My season was turned a little upside down with a virus that last about 8 weeks, and ended up in me cracking a rib. I am gradually getting better, but went ahead with some reservations and raced Coeur d"Alene IM last weekend. It ended up being a solid race. I had a win, as well as broke the run and race record. I have now validated my spot for Kona, so that is a big relief.
SBR.ph: Viral infection forced you out of Ironman Australia this year and with the new qualification rules, it means that you need to do another Ironman event in order to qualify for Kona. What do you think about the new qualification procedure? As a two time world champion and as a certified Kona legend don't you think you should be given a lifetime pass to race in Hawaii?
Crowie: I don't write the rules, I just follow them. If the rules say I need to qualify my spot, then that is what I have to do, or I won't be on the start line. It doesn't mean that I necessarily agree or disagree with them.
SBR.ph: Fearing your run, Macca was very vocal about attacking you on the bike in Kona last year. What difference have you done in training this year? Did you do more bike work? Or did you train just as the same?
Crowie: My year has obviously started quite differently to previous years, with the early season IM prep and now IM in June. I got in the gym earlier than I usually do. Obviously I am on track, as I also broke the bike record in CDA IM, but so did Maik Twelsiek( he did by about 9 mins).
Macca didn't stop there.
Crowie hits back.
SBR.ph: You have a lot of fans here in the Philippines. Is there by any chance we'll get to see you race here for the Ironman 70.3 Philippines? We have one of the hottest 70.3 races in the calendar. Could be a good prep for Hawaii
Crowie: I actually race well in the heat, so don't count it out.
SBR.ph: It's a rare opportunity that we get to talk to a 2 time Ironman World Champion. Can you give us a glimpse of what your typical training week looks like?
Crowie: Well, I guess it is probably similiar to any of the pro athletes out there. 30 or more hours of training, as well as the usual recovery things. Massage, chiro, ice baths, stretching, gym etc. I also have a family of 2 kids, so throw in some tennis, pool afternoons and some mini golf and that would just about wrap it up. I also churn out any number of interviews, meetings with my manager, or training advisor as well as sponsorship appearances. I often wish for a few extra hours in the week to hang out with my wife of 12 years, Neri.
SBR.ph: With the cancellation of Ironman China, 30 slots have been awarded to the Ironman 70.3 Philippines. So that probably means we'll have the biggest Filipino contingent in Ironman Hawaii in history this 2011. What advice can you guys give to those lucky enough to qualify for Hawaii?
Crowie: You guys will have it nailed. Dealing with the heat and humidity of Kona which will be normal to you guys, and will definitely give you an advantage.
SBR.ph: As a pro, you do a lot of travelling for races, sponsorship commitments and the likes. How do you balance everything? And most important of all, how do you get your training in?
Crowie: Well, training and family are my number one priority. It certainly is a juggle, but I also have a resposibilty to represent my sponsors. It is all a prt of my job. Luckily my wife Neri is pretty organized and helps me to keep most of the balls in the air, most of the time. This is not to say I am on time much of the time !!!
SBR.ph: Without giving too much away, can you give us a peek at your race day nutrition? For the run, you always run with a fuel belt on, you once said in an interview before you mix gels in it with water. Is that what you still use as primary fuel for the run?
Crowie: I like to carry my fuel for the race as a liquid. I have found for me, that if I water my gels down a bit I can absorb them better. I also like to have either flat redbull or coke on the run in an IM.
SBR.ph: Talk to us about your team and your sponsors. Is there anything new for you in the bike department?
Crowie: Most of my sponsors have been long term relationships and that's the way I like it.
SBR.ph: You already won triathlons prized jewel twice and there is no doubt, that you're already considered as one of the best triathletes to ever walk on this planet. What else is on your hit list achievement wise?
Crowie: Well, I am going to have a go at the double this year. The IM 70.3 WC in Las Vegas and IM WC in Hawaii a month apart. I would love to be able to take both titles in the one year !
SBR.ph: Who do you think this year would be your biggest threat in your attempt to win Kona for the third time?
Crowie: Well, you can't go past Marino after his recent performance in Austria. Also the Raelert brothers are now doubt going to be a threat. Rasmas Henning, Eneko, Potts, Fred Van Lierde and Raynard Tissink are all serious contendors.
SBR.ph: Thanks for the time Crowie! Goodluck in Kona!
Photo credits: www.craigalexander.net, www.flickr.com/photos/craigalexander/, google pics.
Comments
comments